Amana vs. Carrier Furnace, Carrier is a renowned brand in the HVAC industry, especially when it comes to furnaces. The firm offers high-quality central AC units and furnaces.
The Carrier brand has been around for over 100 years, and it's one of the most reputable home heating and furnace replacement brands. Carrier compares to other famous furnace brands like Amana.
Amana furnaces are slightly expensive, and its warranty package is widely celebrated. That means that Amana and Carrier furnaces are different. Therefore, does it mean Amana furnaces are better than Carrier furnaces, or it's vice versa?
To find the correct answer, let's review each brand differently while noting the advantages, disadvantages and the price ranges.
Amana vs Carrier Furnace: Overview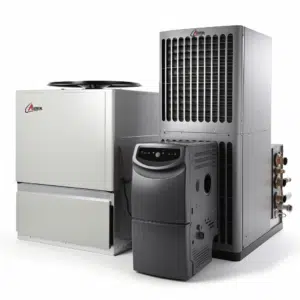 Amana furnaces are known for their dependability and durability and have been supplying homes with warmth for more than 80 years. It provides many furnace models, including budget-friendly starter versions and more expensive ones with innovative features and technology.
All Amana furnaces come with a great warranty, and the majority have high AFUE ratings plus the ENERGY STAR certification. If you're thinking about buying an Amana furnace, you should anticipate the following;
Advantages
Amana is a mid-priced brand that provides decent efficiency and warranty coverage value. Amana furnaces are competitively priced but less than Lennox and Carrier and more than Goodman.
Generally, Amana has a long history of dependable goods and a wide choice of heating systems. They provide high-efficiency furnaces with AFUE ratings ranging from 92 to 98 percent and modulating, two-stage and single-stage models.
Many Amana furnaces are ENERGY STAR certified. Therefore, they're all built for quiet operation, and the higher-end versions have a few extra features not found in a regular furnace.
Finally, Amana offers one of the finest warranties, even for their entry-level models.
Disadvantages
If there is one area where Amana does not always outshine its competitors, it is in the area of innovative technology.
They provide the CoolCloud HVAC software and ComfortBridge technology, giving customers more control over their home's temperature.
Although these are attractive selling points, Amana isn't the only company that offers such technology.
Amana Furnace Price range
The majority of furnace manufacturers provide entry-level, mid-range, and top-tier furnaces. Top-tier products have the best features, high-efficiency ratings, and most extended warranties, whereas entry models will have shorter warranty periods, basic features, and lower AFUE ratings.
Within that product like, prices of Amana Furnace vary as follows;
Top-tier models: $5,500 to $6,500

Mid-range models: $4,500 to $5,500

Entry-level models: $3,500 to $4,500
Finally, always check for discounts and rebates from the manufacturer, the government, utility providers, and local contractors since these may save you hundreds or thousands of dollars on your furnace.
Amana Furnace Series
Best; AFUE rating going up to 98%.

Better; AFUE rating going up to 96%.

Basic; 92% AFUE rating.
Carrier Furnace Review
Carrier offers a variety of furnace types, and the option you pick should be based on your budget, desired efficiency rating, and other amenities.
Their Infinity models may be an excellent alternative if you have a significant budget and need the most efficient and advanced furnace.
Do you want something that's a touch less expensive but has a lot of features and is efficient? Try one of their Comfort versions, which are the most affordable. Then there is the Carrier furnace ranked as the Performance model, which is in the middle.
A licensed HVAC technician can help you choose a Carrier furnace that will give the necessary heating output and the specific type and sub-model. However, consider the following pros and cons of Carrier Furnace;
Advantages
Carrier offers high-efficiency furnaces with AFUE ratings ranging between 92.1 and 98.5 percent. Carrier furnaces are ENERGY STAR certified and have additional heat exchangers and ECM blower motors on all mid-range and premium models.
Variable-speed, modulating, two-stage, and single-stage furnaces are available from this company, ensuring that there is something for everyone.
Suppose you're worried about the environment or want to optimize efficiency and save money. In that case, the Infinity Series furnaces feature the highest AFUE ratings in the Carrier spectrum, with one model reaching 98.5 percent. It's a wise investment that will save you money on your heating expenses.
Carrier also has a few cutting-edge innovations that help you feel more comfortable by enhancing humidity management, temperature consistency, and air circulation.
Several of their innovations also have energy-saving features, so a Carrier furnace might help you save money on your energy expenses.
Disadvantages
Carrier's warranties need improvement. The same warranty is offered on all of their furnaces, and although it's a solid one, it's also quite normal in the HVAC industry. It's not exactly ground-breaking for a premium brand.
Carrier prices are higher than average, as they are with any luxury brand. You'd think that for the extra money you'll spend for a Carrier furnace, they'd provide more warranty coverage than other companies, especially for the premium models, but that is not the case.
Furthermore, the Carrier brand doesn't provide free labor guarantees or unit replacement assurances like other companies like Amana.
Another attribute of Carrier furnaces is that most optional features and technology are not included. Instead, most of the capabilities are developed by combining technologies.
Therefore, you may need to buy extra equipment to use the advanced functions. Greenspeed Intelligence, for example, is only accessible when you buy Carrier's Infinity System Control and install it.
Carrier Furnace Price range
Tiers are also used to categorize Carrier furnaces. Tier determines the extra features you get and, in some cases, the warranty duration and cost. The pricing ranges for Carrier furnaces may be split down into three tiers:
Top-tier models: $6,170 – $7,500+

Mid-range models: $4,835 – $6,170

Entry-level models: $3,500 – $4,835
Carrier Furnace Series
Best; Infinity Series Gas Furnace

Better; Performance Series Gas Furnace

Basic; Comfort Series Gas Furnace
Amana Vs. Carrier Furnace; Which One Should You Go For?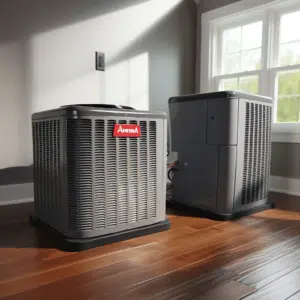 Amana has a well-deserved reputation for producing high-quality, dependable furnaces. They offer a good assortment as well.
While Amana furnaces aren't the cheapest, they aren't the most costly either. Amana furnaces also have good design features, such as self-diagnostics and secondary heat exchangers. The hallmark of Amana furnaces is the excellent warranty to safeguard your investment.
Carrier has been making furnaces for more than a century and has an outstanding reputation for quality. Carrier furnaces are of excellent quality, dependable, and long-lasting.
Unfortunately, Carrier charge higher prices for their furnaces, but you may find more affordable and durable furnaces from rival companies like Amana.