Bissell 1806 vs 1940 steam mops, Vacuums and mops make your cleaning easy. But to what extent do these products remove germs and bacteria? Yes, they clean perfectly, but they leave germs and bacteria behind. To troubleshoot the issue, we've got steam mops.
Just like the name, these mops bring a complete transformation in cleaning. They sanitize surfaces using steam, eradicating germs and bacteria. With dozens of steam cleaner brands in the market, Bissell 1806 and Bissell 1940 are among the best steam mops from the Bissell brand.
This piece looks deeper into their features, benefits, downsides, and how they function to help you make a better choice. Let's dive into the details 
Bissell 1806 vs 1940 – Quick Specs Table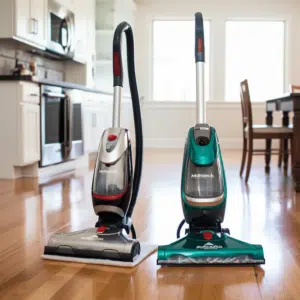 | Features | Bissell 1806 | Bissell 1940 |
| --- | --- | --- |
| Size | 9.5" x 13" x 46" | 11.6"  x 7.1" x 28.6" |
| | | |
| Power | 12 Amps | 12.5Amps |
| | | |
| Power Cord | 25ft | 23ft |
| Steam Abilities | 99.9% of germs and bacteria eradication  | 99.9% germs and bacteria eradication |
| Steam Settings | High/Low | High/Medium/Low |
| Extra Cleaning Abilities | Onboard Spot boost brush | Flip Down Easy Scrubber |
| Water Tank Capacity | 16 ounces | 16 ounces and removable |
| Water Heat Up Time | 30 seconds | 30 seconds |
| Surfaces | Ceramic, marble, linoleum, Sealed hardwood, Granite | Marble, linoleum, sealed hardwood, ceramic, Granite |
| Cleaning Path | 12- Inches | 12- Inches |
| Warranty | Two years limited | Two years limited |
| Accessories | Measuring jug, two fragrance discs, two mop pads | Two mop pads, two fragrance discs, measuring jug |
| Weight | 6.2lbs | 6.2lbs |
What Are the Key Differences between Bissell 1806 And 1940
Both steam mops have many similarities in design to their application. The two Bissell mops have fundamental differences, too, such as Bissell 1940, which has a removable tank and more steam levels, which makes it easier to work with yet affordable compared to Bissell 1806.
Let's make a side-to-side comparison more comprehensively.
Both models are structured for similar cleaning functions and apply to the same surfaces.
The steam mop heads consist of two attached mopping cloths- one is soft for delicate floors and a more rigid pad for grime and stains.
They both are equals in performance.
Steam mop tank capacity ranges from 10 oz. to about 16 oz. A larger tank is a plus as you don't require regular refilling. No matter the size of your house, both steam mops have a tank capacity of 16oz, shared with a steamer that can heat the water within 30 seconds and for the mops to begin generating hot steam.
However, there is a difference between the two tanks. Bissell 1806 has an in-built tank (permanent) with a capacity of 0.56L with a measuring jug for refilling purposes. Whereas Bissell 1940 has a detachable water tank of 0.47L capacity, you can use any faucet to supply.
Ease To Use/ Maneuverability
Both models have a 12-inch cleaning path (standard width) and a 25ft power cord, allowing you to reach room corners without changing the power outlet. Both Bissell 1806 and 1940 have onboard cord storage.
Assembling the two models is effortless. Connect the handle and the cleaning head to the central unit, join the mopping pads, fill up the water tank, and start your cleaning.
Bissell 1806 has a lightweight 5.7lbs design and a spin cleaning head, allowing users to spotlessly clean the hard-to-reach places like sofas, kickstands, under baseboards, etc. The same applies to Bissell 1940, although it is slightly heavier.
Both steam mops have similar surfaces such as sealed hardwood, Granite, linoleum/vinyl, marble, and ceramic tile.
Bissell 1806 contains three digital buttons. The first button controls the turning on and off power while the other dual enables you to choose the steam levels- high or low.
On the contrary, the Bissell 1940 comprises an innovative control pad with three steam level options – low/medium/high. That means 1940 was more flexible and enables you to regulate the steamer based on various levels.
Both models entail two screening windows.
A steam mop with a longer cord is crucial to avoid getting stuck during cleaning. Bissell 1806 and 1940 have a 23 and 25ft foot cord, respectively. Nonetheless, this has close to zero effect when deciding which to buy.
The Bissell 1940 is said to have 1500 watts translated to 12.5 Amps, and the Bissell 1806 has a 12 Amp steam mop. Therefore, they have power similarity, meaning that both kill 99.9% of bacteria and germs.
To purchase a Bissell steam mop, accessories connected to the devices are essential. These models serve the same purpose and feature the same accessories, more so on steam pads. One significant difference between Bissell 1806 and 1940 is the fragrance slot/ location.  
It has a tiny slot to keep the fragrance disc- a feature 1950 lacks, with the 1940 fragrance discs fitting into a mesh pocket on the mop pad's inner side
Bissell 1806 and Bissell 1940 Pros and Cons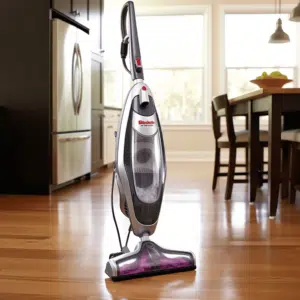 Bissell 1806
Bissell 1940
Pros

Ideal for tall people at 46-inches

25ft cord length

16oz water tank capacity

Onboard spot boost brush for effective removal of sticky and tough messes

Imparted with a micro ban to stop the development of odor- leading to bacteria on the pad

The fragrance discs leave for a fresh and clean scent

Pros

1500 watts power

3 setting levels-low/medium/high

Scrubber allows easy flips down to reach crevices with ease

It has a swivel head and a 23ft power cord for maneuverability

Steam power to kill 99.9% of germs and bacteria

Cons

Slightly at 1450 watts

2 steam settings- low/high

Susceptible to clogging issues

Cons

23ft cord length

Unfavorable  for tall people at 28.6 in length

Inadequate pad thickness
 Bissell 1806 and Bissell 1940- Verdict
The Bissell brand is among the best with unique products. Comparing two of their products is challenging because they are more similar but worth a plus to your home hygienic supplies.
Both are great devices with a slight difference. Nevertheless, Bissell 1940 leads because its tank capacity is higher and contains three steam levels, unlike Bissell 1806, which has 2. Now that you have the information, the decision is yours to make.