Your best time to buy an oven might have arrived and you're overwhelmed with the variety of options available in the market. Well, from the endless choices you picked online or from friends, you won't miss the famous brands like Bosch and Thermador.
Now, will you go for the Bosch oven or Thermador oven? Again it's more confusing. However, to overcome the dilemma of picking one between the two, this article will help you make the right decision. Continue reading to know the best option that works for you.
Bosch and Thermador are renowned producers of wall ovens, ranges, and cooktops. The industry secret that you might not know is that Bosch is technically the owner of Thermador. However, that doesn't mean that the brand's appliances have the same features.
Bosch and Thermador are not equal in any way; they're unique. The experience gained after using an appliance from Bosch and Thermador appeals to different sets of buyers.
That is why you will find a customer going for a Bosch oven while the neighbors use a Thermador oven. The two appliances do the same work, but the features and specifications make them different from each other.
To help you know more about Bosch and Thermador ovens and which one to buy, we will compare Bosch vs. Thermador wall ovens and help you decide on the ideal option. Let's get started;
Bosch Oven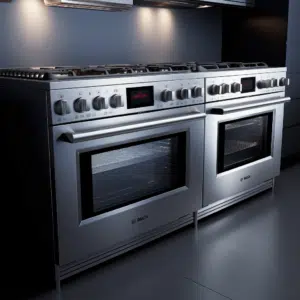 Bosch ovens have always been the customer's favorite for quite some time now due to several generations of Bosch ovens that have undergone significant transformations, giving them edge-cutting engineering features and user-friendly designs. Therefore, Bosch ovens make the household task more efficient and more straightforward.
Generally, Bosch produces the wall oven with sizes ranging from 30-inch, 27-inch, and 24-inch. The size variability also matches the diversity in configuration. For example, you will find a single, double, or a combination Bosch oven.
The favourite incentive you will receive by buying the Bosch oven includes powerful cooking methods such as steam add and European convection.
Thermador Oven
It's important to note that the Thermador family appliances cater exclusively to your kitchen, while the Bosch appliances are for every room within your home.
Therefore, Thermador will be considered the best expert in creating inspirational ovens with luxurious innovations. Professional chefs usually use Thermador ovens.
Thermador wall ovens are more expensive than the Bosch ovens when it comes to pricing. Two famous Thermador collections include the Masterpiece and professional models. Each collection has an impressive lineup of cooking methods and configurations that even pros admire.
The high-end features that you will find from the Thermador ovens include steam add, convention, steam with convection, and Wi-Fi compatibility for a seamless user experience.
Thermador ovens are the largest appliances in their class, measuring up to 4.5 cubic feet. The 30-inch profile has triple, double, and single oven configurations.
Bosch vs. Thermador: Overview
Durability
The durability competition of Bosch and Thermador ovens are always neck-to-neck since the two brands promote quality manufacturing and modern engineering.
Each brand is worth your investment since the best materials and excellent craftsmanship is employed in the designing and production.
According to the various reviews, it's reported that the Bosch oven lasts for approximately 10 years while the Thermador oven can be used for up to 15 years.
Price
The price of a single wall oven from Bosch's entry-level 500 Series ranges from $1,750 to $2,250. Ovens of the 800 Series, which are in the middle-range, cost between $2,500 and $3,000. The company's high-end Benchmark Series models sell for $3,000 and above.
Thermador oven is a luxurious brand with some varieties costing $20,000 and above—cheapest ones selling at around $4,000.
Why choose Bosch Oven?
What's the bottom line? Are Bosch ovens a suitable choice for your kitchen? Well,Bosch's wall ovens should be at the top of your list if you're searching for a dependable, efficient, and feature-rich wall oven with rapid and uniform heating. The convenience of self-cleaning is also an important aspect to consider, and Bosch oven offers exactly that.
The Bosch ovens have a reputation for being extremely useful, typically reliable, and modestly attractive. They have a solid and hard appearance. Even when your hands are filthy, the touch screen is big, legible, and responsive. Some types feature circular dials, while others have buttons. Choose the sort that appeals to you.
Even though the design is clean and elegant, fundamental activities like changing the clock are unnecessarily tough. You may need to consult the owner's handbook for instructions on doing some settings.
On the positive side, Bosch wall ovens are well-made, well-engineered, and come with most of the features you'd expect from an oven appliance within its price range. The kid lock option is impenetrable; locking and unlocking the oven requires a deliberate five-second touch.
Bosch oven Customers in Canada and the United States receive a standard 1-year warranty, whereas customers in European Union member states receive a 2-year warranty.
Why choose the Thermador Oven?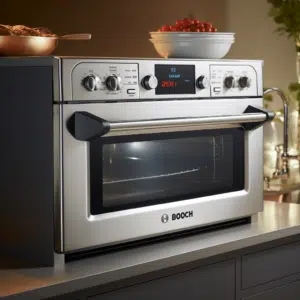 Now, why should you consider a Thermador oven? One of the greatest brands of wall ovens on the market is Thermador. With a lifespan of 15 years, you will find the Thermador oven to be fairly dependable. In addition, the factory offers a two-year warranty for the spare parts and labor. The warranty period is twice as long as most other models.
Because of its massive capacity, a normal Thermador oven can cook the complete Thanksgiving meal, including that large turkey, unlike any other oven brand like Bosch.
Thermador ovens have Wi-Fi connectivity, which is missing from most wall ovens including the Bosch oven. The features of assisted cooking are also found in Thermador alone.
Final Verdict
Thermador oven is the way to go if you want a premium appliance with classic elegance and top-rated performance.
Generally, Thermador has a sophisticated collection of smart ovens (Masterpiece and Professional) with Wi-Fi connectivity and other advanced features. Culinary enthusiasts may use Thermador convection to explore food without boundaries.
Of course, you'll pay a lot more than Bosch for that experience. As a result, the Bosch oven is the recommended solid runner-up and a viable option for buyers looking for an enhanced cooking experience at a reasonable price.