Crestron vs Lutron, Do you want to save your energy expenditures with a smart home lighting control system or secure your commercial property with AV integration tools?There are two significant players you should consider – Creston vs Lutron.
The two are renowned brands with a track record as unmatched leaders in the industry of home automation. Each serves different functions, property types, or audiences, enabling business owners and private tenants to have complete control over their space with a single button touch. Which of the two suits your situation? Read on to learn more.
Crestron vs Lutron- Differences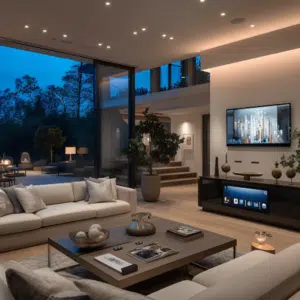 The main difference between the two brands lies in their lighting control systems. Each has its pros and cons.
In a panel-based system, Crestron enables more loads per panel than Lutron, which isn't a primary issue if you own a big basement but essential if you have an area that doesn't have a basement, thus having limited space for electrical and mechanical systems.
Regarding keypad styles and colors, Lutron takes the lead over Crestron. It has suitable styles and colors, offering you multiple choices that will match your design's preference.
Crestron is a complete automation solution, making it ideal for entertainment purposes. Lutron offers many colors and faceplates.
Lutron is a lighting industry veteran, but Crestron vs Lutron desire to control anything like Audi, equipment control, HVAC, etc. Crestron is a perfect choice.
Overall, both lighting control systems are superb.
What is Lutron?
It is the best-renowned lighting control system manufacturer globally. They produce complete home lighting control systems that permit control of home lights. Instead of switching lamps at the entry of each room or regulating dimmers, just a single button press on a lighting keypad switches at your preferred level, ensuring your home has a splendid visual effect.
You can modify the lighting by splitting it into separate channels/circuits and dimming them individually, permitting you to set moods for various occasions, from a relaxing evening watching a movie or a romantic dinner with your loved one to a productive workstation in the office.
Lighting keypads support several scenes with endless choices and friendly user configurations to set and recall the ideal lighting for every room. You can switch all the lights off in the home with the lighting switch at the front door or illuminate several rooms when you enter through the door.
The Lutron lighting control system allows you to control the external lights with the keypads in the home or is automated to be on at a scheduled time or sunset. All these can be done through an iPad at home or away.
Lutron creates very reliable, adaptable, and proficient lighting control systems. A single, accessible, easy-to-use interface through keypads installed into your property, tablets, laptops, and desktop devices, or remote control.
Why Lutron?
The brand stands out as the leading home automation system focusing on intelligent home lighting control. It is a brand to consider if your core purpose is light and energy. Its costs match that of Crestron.
What about Crestron?
One of the major home automation and entertainment equipment manufacturers, it has a vast range of devices. The products regulate lighting, audio, and video. Crestron has provided scalable home automation and entertainment systems for complete and semi-homes for over 50 years. From AV integration and home theater setups to intelligent lighting control and future energy management. Custom-built units created by the system programmer can integrate most of your home's electrical gadgets and third-party machines.
Regarding lighting control, the two brands are at par for functionality and flexibility. However, Crestron has the additional benefits of a tighter combination with other entertainment and home automation systems.
Crestron's front-door switch turns off lights, audio, video, and heating, unlike Lutron's. Crestron allows you to set the security system alarm to automatically close the home and unset it for time-based events.
Separate control areas can have different processors to ensure reliability and scalability.
The homeowner gets complete control due to the wide range of interfaces- custom-made touch screen wall panels via the remote regulators and iPads offer easy use.
Crestron system
User profile plays a primary role in restricting the devices that can access, Crestron vs Lutron necessary, or display various user interfaces for multiple users where they're given control even in varying languages.
The Crestron system is very flexible but potentially complicated, requiring one to be skilled to set it up. Therefore, as an aspiring buyer, you must research your installation company very well to avoid disappointment.
Nevertheless, a whole home Crestron system will help you save significantly on energy because the lighting control systems lower the energy used while keeping your home presentable.
Temperature controls integrate with blinds and motorized windows to regulate the home temperatures. The heat from the warmed rooms by the sun is also distributed to other parts of the home through integrated heat recovery systems.
Crestron projects are more expensive than Lutron but have more scalability and flexibility, making it one of the most flexible home automation and entertainment systems.
Between Crestron and Lutron- Which Is Better?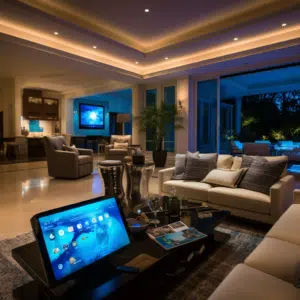 Crestron's lighting system effortlessly creates a haven with its home lighting solutions. It automatically switches on the lights and turns off as you exit. It enables you to turn off the lights and further lower shades while reducing the temperatures if need be.
Lutron's lighting system creates an ambiance with the perfect aesthetic and pleasing, intuitive controls allowing home users to change the scene moods with a button touch. The keypads by Lutron light solutions are exceptional and enable different tasks, including voice commands.
The two manufacturers are the leaders in lighting control systems. The choice is yours to make as to the one you should select. However, both are great in their way.