Dyson Cordless and Corded, A vacuum is an incredible appliance for cleaning the daily messes such as pet hair on the floor or dust in our homes. When selecting the best for your household, how do you know the one to buy with an ever-expanding product spectrum? Is it a cordless or a corded vacuum?
In this article, we will make it simpler for you by sharing some critical features and differences between the Dyson cordless and Dyson corded, including some tips on specs to assist you in making your preference.
Dyson Cordless vs Corded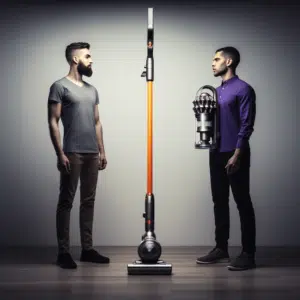 Dyson is renowned for its advanced filtration system, innovative design, and power, thus being one of the most resort vacuums in the market. Let's explore the features that make each stand- out.
Unique Features of Dyson Stick Vacuum
They have a motor inside these vacuums' brushes, turning its bristles deep into the carpet to collect dust and debris. Below is a snippet of their features:
Drop-in docking 
Each Dyson cordless vacuum contains a drop-in mounting station to recharge its battery alongside a way to store your vacuum's extra accessories. It is advisable to mount your docking station close to an outlet, as it is essential to a power source to get the vacuum charged.
Hygiene bin emptying
They use the point-and-shoot method to empty the bin. You put the bin over a garbage can and administer the mechanism to open the canister. This way, the debris in the vacuum will eject in one smooth and easy motion.
Convertible to a hand-held vacuum
A Dyson cordless vacuum easily converts to a hand-held vacuum making it suitable for small chores around the house, in your car, stairs, etc. With a click of a button, you can remove your vacuum's pole and insert one of the several available accessories.
Click on a crevice tool for the hard-to-reach areas, using a dusting brush to lift dust and allergens from various surfaces. The mini-motorized head is excellent for cleaning furniture and small areas.
Different cord-free power modes 
These vacuums have multiple power modes to apply various intensities of suction. Based on the power mode, the battery can run for about 60 minutes on a single charge.
Remember, the time it runs depends on the suction mode and your Dyson's model.
Dyson Corded Vacuum Features
It is popularly known for its ball technology. It doesn't disappoint when it comes to suction. 
The cyclone technology channels the airflow through the center of its assembly and optimizes suction power, capturing the microscopic dust particles.
Ball Technology
It is the most Iconic feature of the Dyson corded vacuum. The ball technology plays multiple roles, like helping with maneuverability and stability. Its turning circle tightens when the axis tilts, resulting in easier steering.
The ball is made of propylene, glass reinforced to secure the motor and 100 main components inside the vacuum.
Self-Adjusting Head
Dyson vacuum can clean all types of floor types. The base plates automatically adjust as you move from surface to surface.
The powerful brush bar does a thorough cleaning throughout the entire house. The hose and wand release and stretch to 15 feet in a single swift motion meaning you can clean the stairs and the hard-to-reach spaces.
Washable Filters
It doesn't cost extra to buy filters, for they are washable and can be reused over time. 
Dyson corded vacuum Pros and Cons
Pros
They have more powerful

They're the best option for carpeted floors

They have ideal for large houses

They're better for removing pet hair

They have a large canister to hold more dirt

They run longer without any battery inconvenience
Cons
Corded vacuums are nosier

The power points limit you

They are heavy to carry and bulky to keep

They are not flexible; thus challenging to get into hard-to-reach spots with them.

Their cords get in the way.
Dyson Cordless Vacuums Pros and Cons
Pros
They are perfect for smaller homes

They're easy to store for they don't require much space

They're quick and convenient.

Cordless vacuums have no cord to get in the way

They don't require a power source 

It is very flexible, thus making it easy to clean awkward places

They're more portable and lighter to carry 
Cons
They tend to be less sturdy than corded models

They have got a smaller filter and canister to capture dirt

They have a shot battery lifespan
A Comparison Glance of the Cordless vs Corded Features plus Benefits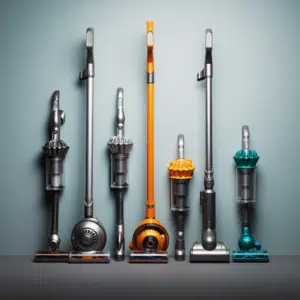 Without much ado, let's dive into the much-debated topic of Corded and Cordless.
Suction Power
The primary function of a vacuum depends on its suction power. 
For Dyson cordless vacuum, the battery is in charge of generating the suction power. Therefore, it is natural when the battery starts to drain and deplete, and you will experience lower suction power. 
Even though a lithium battery can offer continuous suction power, only top-quality cordless vacuums can function similar to the corded models.
If your preference is the cordless stick vacuum, focus on a high-voltage lithium battery model as they offer more robust suction than the corded vacuum, which depends on the plug-in spots.
The standard models are the best for carpeted floors and contain more reliable suction power than lithium-powered vacuums. However, the sticking vacuums can operate just as efficient.
Flexibility
A Flexible vacuum allows you greater cleaning versatility. Dyson cordless vacuums are incredibly light, unlike the corded options with average weight below7 pounds.
Additionally, their cord-free design makes them portable, meaning you can use them to clean several places like stairs, deep crevices, etc., cleaning the hard-to-reach areas.
Corded vacuums are heavier and bulkier, thus limiting your movement options and arduous maneuvering. The cord compels you to use a plug to keep it running, making you struggle with keeping it under your feet with a possibility of tripping on it which can be frustrating.
Battery Life
The corded Dyson models operate on electricity, so you don't have to worry about running out of juice amidst chores.
On the other hand, the cordless type contains a limited battery lifespan and requires a consistent recharge. Cordless machine battery lifespan is between 15-40 minutes.
 In contrast, the high-voltage vacuums take a longer running time.
Once the battery depletes, anticipate boosting its charge from 2-16 hours.
Dust and Filter Capacity
Cordless vacuums have small filters and are compact to trap dust and debris, which means if you're cleaning a large area, you may pause through a cleaning job to go and empty the canister.
On the contrary, the corded Dyson machines have an immense capacity to hold debris and dirt, exposing you to the collected dust and pet hair.
Warranty
Dyson corded vacuum has a 5-year warranty, with all other Dyson products having a 2-year warranty. It involves machine repair and part replacement, and ongoing vacuum support. 
Dyson repairs or replaces your items if the appliance is used as required and develops issues within the warranty duration.
Ensure you go through Dyson's user booklet stating the warranty terms and conditions with the appliance.
If you're a first purchaser, it is wise to register your machine or the company for further clarification of the warranty terms and conditions.
It is relatively simple to draw a decision from the comprehensive information on the Dyson vacuum models. Whichever you choose, you can be guaranteed equipped features, and Dyson is a brand that has made a name in the vacuum industry and is still innovating new product ranges. We wish you luck with your vacuum choice!