If your next DIY venture includes taking on that painting project you've been putting off, then you know you have to choose the right primer for the job.
Fortunately, the KILZ brand offers a variety of primers to help accomplish a wide range of painting projects and tackle various common painting problems.
But with so many primers out there, how do you determine the right option for your project? Well, in this post, we will focus on two of the brand's most popular primers; Kilz 2 Vs Kilz 3.
Kilz 2 Vs Kilz 3: Overview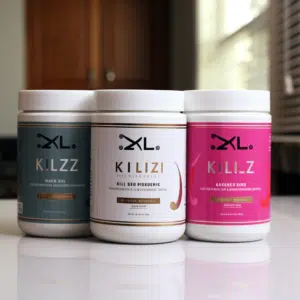 Kilz 2 All Purpose Primer is a fast-drying water-based multi-surface primer-sealer that provides excellent adhesion, mildew resistance sealing properties, and mild odor.
It is a water-based primer-sealer that's essentially made to block medium stains including minor water stains, grease, rust, ink, and such unwanted shades.
The Kilz 2 prime also comes with enhanced hiding that makes it suitable for changing colors and to help lessen the number of coats of paint required.
The Kilz 3 primer, meanwhile, is often considered a superior quality option with fast-drying properties, low odor, and very low VOC. Similar to the Kilz 2, the Kilz 2 is a water-based prime and has excellent adhesion. It also provides a mildew-resistant coating that makes it great for use in moisture-prone areas.
If you're a pro painter or a DIYer looking for a primer that offers multiple surface solutions, the Kilz 2 can be an excellent option. In fact, it is a choice for many. This fast-drying, water-based multi-surface primer-sealer-stain blocker offers excellent adhesion on a variety of surfaces.
It is a mildew-resistant primer film that can block lighter to medium stains like minor water stains and felt markers. It's also a considerable choice for a simple color change, especially if you want to achieve the most satisfying color from your new topcoat.
However, if you're taking on more complex projects such as covering dark paint colors, heavy stains, blocking smoke, or eliminating pet odors, the Kilz 3 Primer is an excellent option.
Kilz 2 Vs Kilz 3: Application
It is one of the more heavy-duty and high hiding formulas, making it perfectly suitable for covering substantial stains and blocking old dark colors.
Both the Kilz 2 and Kilz 3 are general-purpose primers that have many uses for DIY painters. While the Kilz 3 gets its best and most promising result from being applied in heavy-duty projects, the Kilz 2 is great for priming any old marker spots, water stains, and even drywall patches.
One of the most common ways of using Kilz 2 is prime new drywall. By applying one coat of primer before starting your repaint, you will prevent new drywall patches from flashing through your final topcoat.
Both primers are also great at sealing in odors and grease such as in-room, where people have smoked or done lots of cooking.
The Kilz 2, in particular, is also good at priming trim, cabinets, doors, and windows before you plan on painting them. But while it does work, it may not be as effective as the Kilz 3 when working on more complex projects such as covering heavy stains and dark old colors.
Kilz 2 Vs Kilz 3: Which is the Better Primer?
Whether one primer is better than another really depends on what you are using it for. So the answer to this question depends largely on the specific needs of your painting project.
Nonetheless, for really general purposes and considering the price, both primers are a fine option. You can typically find Kilz 2 for $12 to $15, whereas the Kilz 3 comes in at between $16 to $22.
Note that if you're looking for a more specific primer, say, like the one you'd use to prime your kitchen cabinets, you're more likely to end up spending $30 (maybe more) per gallon. So if you have to stay within budget, both cheap general purpose primers.
In comparison to Kilz 3, the Kilz 2 may not be as useful for restoration projects or when you want to prime the entire exterior of a house. But for a couple of spots, medium water stains, and a smoky ceiling, Kilz 2 is a good enough primer.
You can apply Kilz 2 in every inch of your ceilings, walls, and even subfloors in your home. It works great and can save you a lot of money over more expensive primers. Note neither of these is recommended for floors.
Where to Use Kilz 2
We would recommend using Kilz 2 anytime you want to prime old walls before repainting. This could be greasy walls, dirty kitchen walls, smoked-stained walls, urine-stained sub-floors, and drywall patches.
Where to Use Kilz 3
Being a more powerful primer, we would recommend Kilz 3 for more complex projects like woodwork or large water stains such as leaky roof stains. The Kilz 3 can be used on the interior as well as exterior surfaces including drywall, plaster, woodwork, paneling, brick, masonry, painted metal, and well-prepared glossy surfaces. It works with oil and water-based paints.
The Final Word
Both the Kilz 2 and Kilz 3 are general purpose primers and should solve most DIY painter's priming issues.
The Kilz 3 is a great primer for heavy-duty applications whereas the Kilz 2 comes in handy for small projects such as getting rid of smells, priming, and small drywall repairs, as well as taking care of grease and water stains.
With their relatively low price, they both fit nearly all budgets. Plus they provide good bonding and sealing so that your topcoat will look amazing.
Which kilz To Use
Kilz is a famous brand in the primer market renowned for manufacturing varieties of high-quality primer coats for all types of painting projects. Choosing a suitable primer can be a hassle, but we bring you a snippet of the differences between Kilz 2 vs. Kilz 3.
Sealing Ability
Using a primer that can seal is a plus as it makes your work easier and saves extra time and cost. Kilz 2 and Kilz 3 are referred to as primer-sealers due to their ability to cover ruined spots, stains, etc.
When compared, Kilz 3 is a better primer and sealer with zero chance of stains showing through the surface. When using it, you don't require an extra sealant, yet it still achieves perfect paint.
Kilz 2 is better at priming than sealing because its sealant properties are insufficient to cover large stains and flaws and thus may require an extra sealant for a perfect paint outcome.
Tasks
The type of project or task is crucial in deciding which Kilz product to buy. Kilz 2 is suitable for light jobs like priming cabinets. It is quick to dry, perfect for the color change, blocking mirror water stains, and offers good adhesion on many surfaces and moist resistance.
Kilz 3 is a better choice for the most challenging and heavy-duty jobs as it offers a strong surface adhesion and excellent moisture resistance and is great for large surface painting like walls. It also seals stains and eliminates foul odors.
Choosing between both primers is now easy as both products are great choices. You need to look at the project at hand to make your choice.
Kilz Original vs kilz 2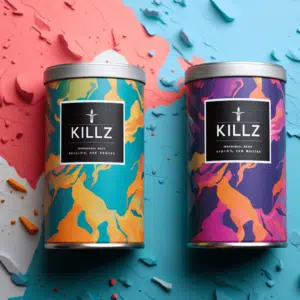 Kilz original interior primer is oil based with a robust ability to block severe stains like smoke, tannin, grease, water-soluble stains, and odors. It has excellent adhesion performance, is fast dry, and is durable.
It is best on wood, drywall, plaster, paneling, masonry bricks, wallpaper, metal, and properly prepared glossy surfaces except for mold, mildew-prone surfaces, or floors.
The main difference between the Kilz Original and Kilz 2 is that Kilz primer is oil-based, making it airtight and more resistant to stains, moisture, and grease than Kilz 2.
However, Kilz has a higher VOC, which means it is more toxic if inhaled than Kilz 2 with a low VOC.
Kilz 2 is a water-based primer meaning it dries faster than Kilz.
Comparison Table for Kilz and Kilz 2 Uses
Kilz Original
Kilz 2

Used on porous surfaces before paint applying paint

It curbs mold growth

Seals the stains from passing through the top coat

It is perfect for large-scale tasks

Protects wood floors from pet urine, food, and drink spills.

Offers protection against small to medium stains like pencil marks

Used for simple color changes

Protects slick surfaces from stains, ink, moisture, and grease

Improves surface adhesion

Protects against mildew

Ideal for priming wood trims, cabinets, and doors
Kilz Original vs Kilz 3
From the above section, we see the features and qualities of Kilz original in detail. Now comparing it with Kilz 3, the primary difference is that Kilz is oil based with high VOC while Kilz 3 is water-based with low VOCs and minimal odor.
In terms of Uses, they both are perfect for heavy-duty tasks and sealing substantial stains and odors.