This article is for you if you've ever been stuck in the toilet paper aisle without knowing which to pick. When everyone has an opinion on the best papers available, making a decision becomes more challenging.
These options mostly center on Kirkland Signature and Charmin, renowned for their robustness, usefulness, and all-around comfort.
Compared to Charmin, Kirkland toilet paper is substantially thinner. Kirkland, however, charges less compared to Charmin.
Although choosing between Kirkland and Charmin is difficult, this review and comparison can help you.
Kirkland Toilet Paper vs Charmin: Are They Similar?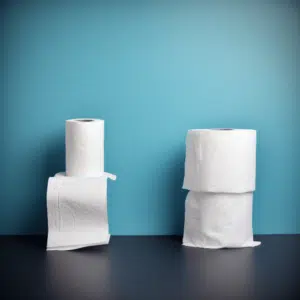 Between Kirkland and Charmin toilet paper, there is a significant difference in the thickness and cost of the paper. Toilet paper from Kirkland and Charmin are therefore not similar.
Despite having identical widths of 4.5 inches, Kirkland and Charmin have different lengths of 4.2 and 4.0 inches, respectively. Please take note that the length variation is frequently insignificant.
Additionally, the Kirkland brand has 425 sheets per roll compared to 216 sheets for Charmin Ultra Soft. You will therefore receive twice as many sheets when using Kirkland.
Do not worry; we will discuss these features in the following section.
Kirkland Toilet Paper vs Charmin: Durability
How resilient is your toilet tissue under pressure? When you use it on your rear, does it tear? A sturdy toilet paper that can bear pressure without tearing easily is what you desire. Both Kirkland Signature and Charmin are 2-ply, making them suitable for various uses.
However, Charmin is thicker and more durable than Kirkland's. To confirm this, you can hold both ends of the toilet paper and slowly stretch it until the elastic limit is reached. You'll see that Charmin is stronger and more durable than Kirkland Signature.
Kirkland, on the other hand, is prone to tearing when stressed. In our opinion, Kirkland is too weak to be useful under pressure.
Kirkland Toilet Paper vs Charmin: Texture and Appearance
When choosing bath tissue, what appeals to you most at first? Frequently, it's the look and feels for the majority of users. Abrasive papers should not be used for bathroom use or other delicate duties.
The embossed design on Charmin rolls gives them a more premium appearance. The prints lack Cottonelle brands' level of depth and sophistication. However, Kirkland's printed pattern feels less luxurious and is less soft.
Don't overlook the packaging. Yes, beauty is important. The Charmin brand seems appealing and family-friendly at first glance. The distinctive blue and white Charmin packaging, which prominently features a teddy bear image, is easy to identify.
Kirkland Toilet Paper vs Charmin: Price
Another aspect to think about is the price. This necessitates higher returns on investment for many people. So let's examine how these two brands differ from one another.
Both items have a mid-price range for toilet paper. Kirkland, however, costs much less than Charmin. In most online shops, a roll of Kirkland Signature Bath Tissue (2-Ply, 380 sheets per roll, and 30 rolls) costs $21.99 each. A roll of Charmin with the exact specifications costs $31.49.
A Kirkland toilet paper roll has 425 sheets of toilet paper on it, to further explain. The container contains 30 rolls. Therefore, divide the number of rolls by the price of a 30-roll box. As a result, each roll of Kirkland toilet paper costs $0.73.
On the other hand, divide the cost of a 30-roll package by the number of rolls to determine the average cost per Charmin roll. On average, a Charmin roll costs $1.
Remember that these toilet paper prices vary widely around the country. However, Kirkland is consistently more expensive than Charmin. If you're looking for a less expensive solution, choose Kirkland tissue.
Kirkland Toilet Paper vs Charmin: Which One Should You Go For?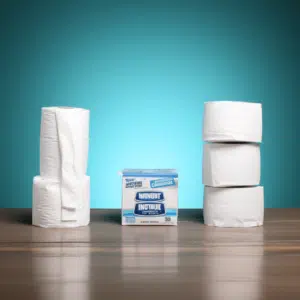 According to this review, Charmin is the winner. It is more beautiful, extra soft, and long-lasting than Kirkland toilet paper. It's undoubtedly the most outstanding choice for those looking for a luxurious experience.
You might have to spend a little bit more money if you want Charmin. On the other hand, Kirkland is the favorite choice for consumers looking for more value for their money.
What Is Alternative Brand Equal to Charmin?
Is Charmin the best there is in the market? Not even close. Among today's leading brands are Quilted Northern Ultra Plush and Cottonelle Ultra ComfortCare.
Cottonelle-Ultra ComfortCare
Charmin cannot compete with Cottonelle – Ultra ComfortCare in terms of texture, strength, or absorbency. The existence of deep grooves for improved toilet cleaning is a standout feature of this product.
It is also a bit stronger and more elastic than most brands, including Charmin.
Quilted Northern-Ultra Plush
The preferred choice for those who appreciate comfort and elegance is Quilted Northern. Thanks to a three-ply structure with air pockets separating the layers, it boasts a high fluff factor.
However, most reviews claim that Quilted Northern is too soft to be used in the bathroom. To clean properly, you might need to double the sheets.
Silk'n Soft
Brand Silk'n Soft is environmentally friendly. Silk'n Soft is a three-ply bamboo toilet paper that is significantly more durable than Kirkland or Charmin. Be aware that the price is identical to the Charmin brand.
Does Kirkland offer high-quality toilet paper?
Because it is constructed of high-grade materials, has an excellent feel, and is reasonably priced, Kirkland toilet paper is of good quality. Due to how simple it is to use in various situations, it frequently becomes the default choice for millions of people.
Although Kirkland toilet paper is not as long-lasting as other brands, such as Charmin, it is still one of the top brands available.
It all comes down to discovering what your preferences are as a user.
Kirkland Toilet Paper vs Charmin: Final Take
There are two options available to you. If you want to save money, go with Kirkland; if you prefer comfort at the expense of a few extra dollars, go with Charmin.
Whatever you decide, both goods have received a lot of positive feedback from eCommerce websites. Which will you choose then?