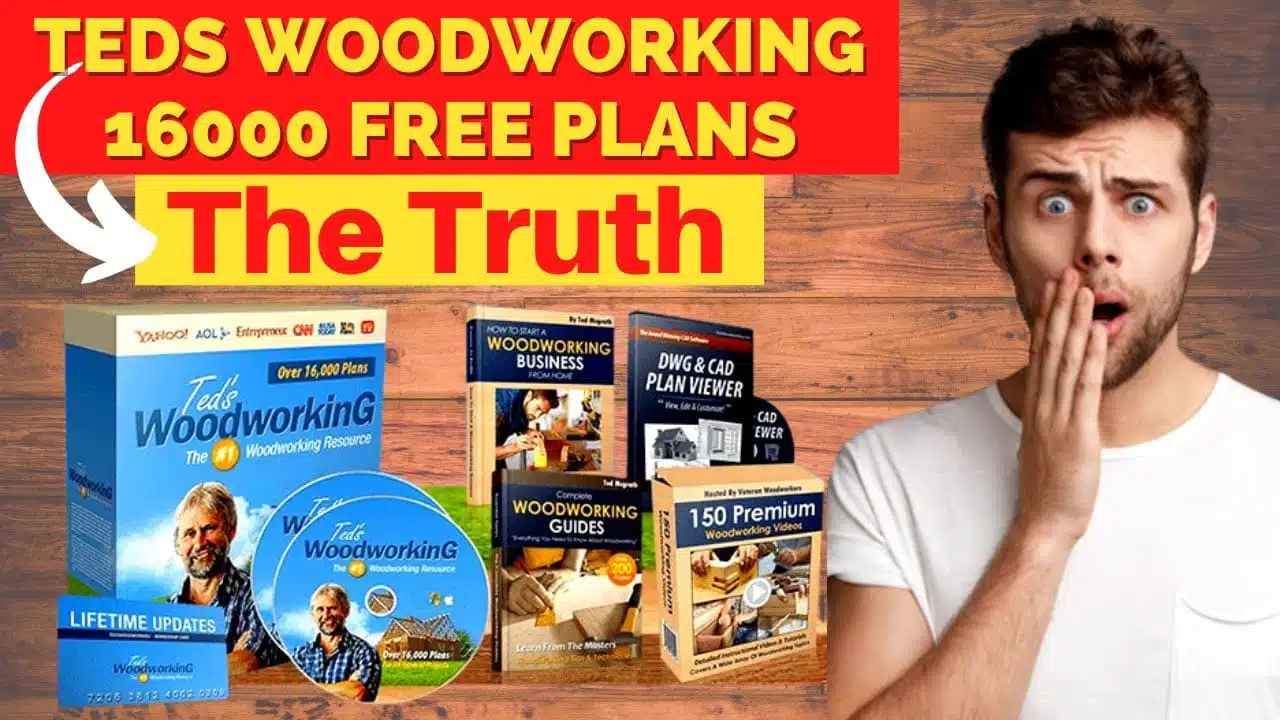 Kohler Almond and Biscuit Bathroom Fixtures, Deciding on the perfect color for your bathroom fixtures can be hard enough considering the endless factors you will have to consider. From the amount of light it pours into space, to the overall mood you want to achieve, choosing the right color for your bathroom is no easy feat.
Kohler Almond and Biscuit are two of the most stylish and versatile colors you might want to consider. Homeowners and designers prefer these two colors to promote elegance and class.
While colors imply different meanings in different colors, there are various standard things on how a certain color affects the performance and psychology of the consumer.
For example, Almond color promotes class, calmness, neutrality, and formality. On the other hand, biscuit color is known for commanding a warm tone to the consumer. Our main mission in this article is to draw a comparison of Kohler Almond vs. Biscuit colors.
So, if you want to promote an exciting bathroom experience, you need to comprehend the reason for choosing a particular color type. Let's get started.
Kohler Almond vs. Biscuit: What's the Difference?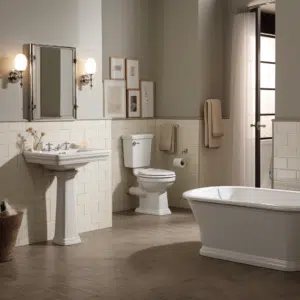 Some of the most notable differences between Kohler Almond vs. Biscuit colors are: Kohler Almond promotes formality, neutrality, and calmness whereas Kohler Biscuit toilet provides a warm tone.
Kohler Almond toilet is lighter, beautiful off-white with a touch of brown, whereas Kohler Biscuit toilet is generally creamy, off-white resembling pear or attenuated lace.
Kohler Almond Toilet
Most Kohler Almond toilets are made with graceful designs and high efficiency in mind. For instance, Kohler K-3987-0 comes with an Almond color to promote the desired mood and inspiration while improving your bathroom experience. It boasts the right color, which complements the bathroom's interior decorations.
Most of the models do not come with a toilet seat; thus, you have to get them as a separate purchase. On the bright side, different Almond color versions can fit in just about any bathroom size, whether small or large. The manufacturer is still working on these designs to incorporate the latest features to stand market competition.
Kohler Biscuit Toilets
Most users view style and aesthetics as the benchmark when deciding on the right Kohler toilets. A Kohler biscuit is often considered right for people who want to enjoy a warmer mood. Models in this category offer a better flush which leads to an overall cleaner bowl.

That said, however, not all Kohler biscuit toilets are equipped with similar features. Our main focus is on the standard ones. They are typically combined with the right technology to deliver better performance.
In the next section, we will explore some of the key features that define this category so you can have a clear idea of what option to go with.
Kohler Almond Toilets: Features
Flushing Power and Water Consumption
The majority of the toilets with Almond finish such as K-3987-0 provide dual flush options comprising either 1.1 or 1.6 gallons. If you prefer a partial flush, you can use a 1.1-gallon option. A full flush comes in handy for eliminating solid wastes and needs 1.6 gallons.
Also, some models are designed with a trip lever that allows you to both flush options. These inclusions make them highly convenient as they eliminate the need for multiple handles or buttons. What's more, some versions feature a class five flushing technology which becomes effective in executing bulk-flushing.
Kohler biscuit models, on the other hand, have a reliable flushing power to get rid of all wastes from the bowl. The efficiency of the flushing mechanism usually depends on several factors such as the flush valve, trap-way, and water surface area.
Models in this category also use a dual flushing design as a means of saving water. For instance, liquid-based wastes require 0.8 gallons of water to eliminate them completely. On the same note, solid waste may require more water and may end up consuming 1.28 gallons for every flush.
Installation Process
The fact that most Kohler Almond versions feature a DryLock Fast Install System makes the overall installation a breeze. Essentially, you can use a socket wrench to make sure the tank is well secured to the bowl. While such installation may not involve the use of a bolt, you'll hardly get confused about where the bolt goes.
Whether you're a beginner or a less experienced DIYer, the installation process will not stump you. Besides, you can refer to the user's manual for more instructions.
Another noteworthy aspect concerning installation is that it saves both time and money. You're less likely to go for the services of a handyman or a professional plumber.
Similar to Almond versions, the process of installing Kohler Biscuit toilets may not necessarily demand the service of an expert. They also come with a user manual that provides clear instructions on how to install them.
Shape and Design
Coming down to design, Kohler Almond toilets are available in either one-piece or two-piece designs. One-piece design models basically include the toilet and tank in a seamless design. As such, these models occupy less space as there are no gaps between sections of a unit.
With the seamless silhouette, one-piece design models are generally costlier than their two-piece counterparts. This is because it's expensive to develop and craft porcelain materials into a single unit.
Two-piece design models come with a more visible surface, which makes them require more cleaning. They could also get damaged between sections as they are not under a single mold. One major highlight about this design is that it's cheaper.
Kohler biscuit toilets come in a shape that's either round or elongated. An elongated shape basically features an oval design at the front. It is designed to stretch further to provide more leg space and increase comfort. Rounded shapes, meanwhile, are compact, and can be a great option for small bathrooms.
Kohler Almond and Biscuit Bathroom Fixtures good to state that Kohler biscuit models are made from vitreous China materials. This is largely a mixture of various kinds of silica, clay, and a fluxing agent. It is a shiny material that has a glaze and a waterproof coating that makes it easier to keep clean.
Which is Better Between Kohler Almond and Biscuit?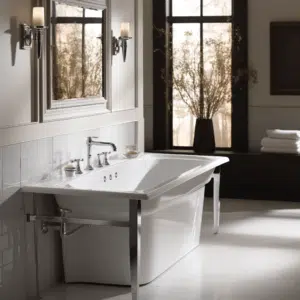 A lot of people get overwhelmed when it comes to these two choices. After comparing both Kohler Almond vs. Biscuit, one thing that should ring a bell is the kind of inspiration you want to achieve from any of the choices. In addition to that, you should examine the type of features possessed by each product and how they match your preferences.