LAF and RAF Sectional Sofas moving into a new home, buying a sectional for your living room or family room is one of the best ways to make it truly yours. There are many options to choose from, varying in size, color, and fabric.
But before you head out on your shopping spree, you might have some questions about the different styles of sectionals. One of the most important things to consider is whether or not your sectional will be facing left-hand or right-hand.
LAF vs RAF Sofa: What they both stand for
Let's get the basics out of the way: RAF stands for right-hand facing, while LAF stands for left-hand facing.
A sectional is a large piece of furniture made up of individual pieces or sections. The sections can be arranged in any configuration you want, and most sectionals come with the ability to recline.
Sectional sofas are popular because they can be arranged for multiple seating arrangements, including a full-sized sofa, a loveseat, and two chairs. They're also usually more affordable than buying three separate pieces of furniture.
Sectionals are always available in RAF or LAF. In general, if you're buying a sectional sofa and you want it to face the same direction as your other seating options in your space, then you should buy an RAF sectional. If, however, you'd like to be able to turn your sofa around and face a different direction, then you should consider a LAF sectional.
What Is a LAF Sofa?
A left-hand facing sectional is one that has the backrests facing to the left. It can be used as a single sofa or sectional, or it can be combined with other pieces to create a larger set.
This option makes it very easy for people to sit down on the sofa and enjoy their time with friends and family members by sitting on either side of it at any given time.
These sofas are popular because they can be arranged in many different configurations, allowing you to customize your room's seating arrangement according to your needs and tastes.
What Is an RAF Sofa?
A right-hand sectional has right-facing backrests. These sofas can be used alone, as a sectional, or with others to make a set. Like their opposite counterparts, these sofas can be placed in several configurations, making them ideal for space-conscious homeowners who want multiple design options for their living room or family room.
LAF vs RAF Sofa:  How do you know which one is the best choice for your home?
There are some things to consider before making this decision.
The Design of Your Room
The first thing you should consider when choosing between LAF or RAF is whether or not the design of the room dictates which one you need. In other words, if there is more wall space on one side of the room than another, then it makes sense to get a left-hand facing sectional because it will be easier for people to face each other while sitting on the couch. On the other hand, if there is no particular side that has more wall space than another, then there's no reason why one style would be better than another in this situation.
Things to Consider Before Buying a Sectional
Before you pick the perfect LAF or RAF sectional, there are a few things you should consider.
Fabric
Sectional sofa fabrics vary. Your home's style determines whether you choose leather or cotton. If you have pets or youngsters, choose an easy-to-clean upholstery fabric. Some materials may be spot-cleaned, while others need expert cleaning. Ask your salesperson if their warranty includes cleaning services so you don't have to hire someone else after the purchase!
Maintenance
You don't want to spend all day cleaning up after spills and stains on your sofa! Look for stain-resistant fabrics or easy to clean with just soap and water if possible. This will save time in maintenance as well as money spent on professional cleaning services!
What are Some of The Different Types of LAF and RAF sofas available?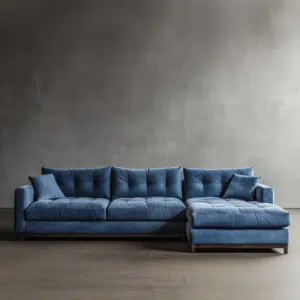 There are many different types of LAF and RAF sofas available on the market today. They include convertible sofas, double recliners, modular sofas, and more.
These sofas come in various sizes and styles to suit your needs. These include corner sofas, couch beds, sleeper sofas, sectional recliners with chaise lounges, and reclining loveseats with chaise lounges.
Today, there are many possibilities for buying new furniture for your house or business!
The sole drawback of LAF and RAF sofas is that they may block electrical outlets or other equipment behind the sofa backs when positioned against a wall. If this doesn't bother you, this sectional should work well in your room.
Conclusion
Sectional sofas are the ultimate in comfort. They give you the flexibility to sit however you want, and they come in a variety of styles and sizes to fit any room. Whether you're looking for a sectional with a chaise lounge, recliner, or ottoman, there are plenty of options to choose from.
And if you're not sure what kind of sectional sofa is right for your space, we've got some tips that will help you decide! Here are some questions to ask yourself when shopping for a sofa:
     

How much space do you have?

     

Will it fit into your budget?

     

How many people will be using it?

     

How often will it get used?
There are a lot of things to consider, but hopefully, we've put those in perspective for you in this article.