LG and GE Washer and Dryer, When choosing the best and award-winning washer and dryer, it might be difficult for experts and more confusing for beginners. There are a significant number of brands in the market with various characteristics and it's a daunting task to make a good decision and settle on one variety. The pricing and features might be the same or different. As a result, you'll need to be well-versed to select the ideal washer and dryer that best meets your requirements.
LG and GE Washer and Dryer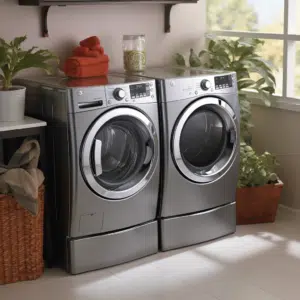 Your budget, brand's reputation and the score of the brand in the global market determines whether you will buy the washer and dryer from a certain company or not. However, the LG and GE washer and dryers are sold at reasonable prices, they have excellent scores in the market, and both brands have a good reputation.
Therefore, when you find yourself in a dilemma choosing between LG washer and dryer and GE washer and dryer, which one will you go for? Is it an LG washer and dryer or a GE washer and dryer? To overcome the hurdles you're likely to go through when choosing one brand from the two, continue reading to know the option that levels-up to make your laundry activities a breeze.
For various reasons, the GE washer and dryer set consistently ranks at the top of best-of lists. The company invests in new technologies that provide real benefits that you'll enjoy every day of your life. The GE washer and dryer brands are also built with strong materials to make them last longer and help you execute your duties for many years without worries.
With front-load, top load, and stackable choices, LG washers and dryers are some of the most dependable machines on the market. Do you prefer steam technology or WiFi connectivity? You'll get advanced features with LG that make laundry day more efficient and productive.
LG Vs GE Washer and Dryer: Overview
GE Washer and Dryer Performance
GE washing machines include a variety of settings and features to help you clean and dry your clothes faster. These will be extremely useful to you.
 Steam is a popular washer function for a reason. The steam in the washer and dryer penetrates clothing fibers more effectively than water and cleaning detergents to remove stains, smells, and ground-in dirt. The steam is also soft on your clothes. Steam is an option on some GE washers, so keep an eye out for it.
Steam from the dryer helps to eliminate smells and wrinkling from your clothes. The Steam Dewrinkle setting on GE dryers allows you to freshen up pieces of clothes without having to use an iron. That is useful for items you've worn either once or twice but aren't quite ready to toss away.
Have you ever desperately asked how to remove red wine from your shirt on the internet? GE now has a Stain Removal Guide that explains how to adapt any wash cycle to target specific stains like red wine, dirt, and grass.
An in-built Water Station on some GE washer models allows you to pre-treat clothing before being thrown into the washer and dryer. It delivers water with detergent at the specified temperatures, allowing you to blow out the tough stains before starting the wash cycle.
This new GE innovation allows you to fill the Smart Dispenser with adequate detergent for up to 32 loads, eliminating the need to hoist and pour the large jug of soap each time.
The GE technology also controls detergent use by dispensing the correct quantity of detergent at the end of each wash cycle. There's enough to get your clothing clean but not enough to leave a layer on the textile or your washing machine drum.
Pros and Cons of GE Washer and Dryer
Pros:
Smart technology

Different load sizes and cycles

A venting system prevents mildew and odors

Stackable dryer available
Cons:
You should download the application to use the smart features

More features than what the typical users need
LG Washer and Dryer Performance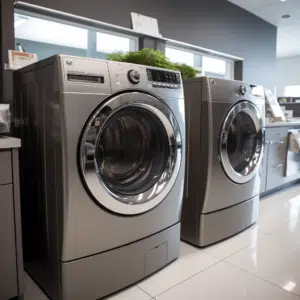 LG laundry sets are perfect for anybody seeking a high-quality product at a reasonable price. It provides a selection of smaller laundry units with a short depth to fit into small laundry rooms or apartments if you have restricted space.
If you have a busy home with a constant stack of dirty clothes in the hamper, LG's full-size washer or dryer model is recommended to help you handle your daily cleaning needs. Installing a vertical laundry pair with a stackable layout is also an option if you want to conserve space.
The LG WashTower is a sleek and unique option if you want your great eye for design in your laundry area. LG washer and dryer is an all-in-one solution that gives the traditional laundry plan a modern makeover.
Pros and Cons of LG Washer and Dryer
Pros:
High loading capacity

Sidekick Pedestal compatibility

Smart connectivity

Stackable option

Energy-efficient

Gentle on fabrics
Cons:
Higher price tag than the other similar brands

Larger machines occupy more space

Noisy
Conclusion
LG washers and dryers are the most precise and feature-rich laundry equipment today. LG goods have long been people's favorite because of their high quality, energy efficiency, and innovative design.
The large-capacity laundry combination handles all your laundry demands and treats your textiles with the respect they deserve. Whether you choose a solitary washing machine or a washer and dryer set, you can be assured that your clothing will be absolutely clean as you want.
GE has the perfect combination of sleek, high-tech features and functional designs when it comes to washers and dryers. The complete new GE washer line, which includes the UltraFresh vent feature on the door and SmartDispense technology, has proven to be a success.
The mold-fighting components SmartDispense and Microban are being rolled out across other product lines. Check out GE if you're looking for a dependable washer and dryer with all the features you want.