Arctic White in Bathroom Fixtures, Colors can be the same but different from each other. When purchasing different fixtures for your bathroom, like the sinks, toilets, tiles, etc., you need to be careful in your selections to avoid a mismatch.
For instance, are American standard white and Arctic white the same? No, it is similar. You may describe both as "white," which doesn't mean they appear identical. Arctic white is a brighter white, while the American classic white looks are a bit dingy.
For a detailed comparison of the two, read to the end.
American Standard White vs Arctic White Overview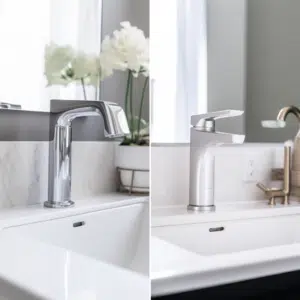 With finishes, you're allowed to choose whichever finish you prefer. The core purpose of the finish is to serve as a protective layer and an aesthetic sense. But with color finishes, anything is doable.
For instance, white color has different shades no matter where it applies, whether in cars, bathroom fixtures, or home décor paints. Regardless of what you're shopping for, you won't have a plain color finish but multiple subtly various color variations. 
That said, how white is white? White can be subtly in multiple shades. However, we break down the difference between American standard white and arctic white in this case. Let's get started.
What Color Is Arctic White?
Arctic white is a bright white without Pearl in it. You can describe it as brilliant white, somewhat of bluish "cool" white. Thus the second whitest white finish with no transparency yet not easy to notice.
Arctic White in Bathroom Fixtures is a lovely crisp white that permits the lines and shadows to stand out pretty well and has easy maintenance. 
Arctic white is a stark white. Therefore, if you're blending brands in your bathroom, for instance, buying a Toto toilet, their cotton is their standard white but also a stark white, which becomes an ideal match to the Arctic White.
Arctic white is from the Gray family- a mixture of yellow and green color. It is a unique color; thus, it is best to order early in your project to avoid a longer lead time if you love arctic white for your bathroom design.
The Arctic has a blue undertone, while standard American white has a bronze undertone and a gray hue.
What is American Standard White?
American Standard is a popular name when purchasing a new toilet for your home. Nonetheless, there is little information on the American standard white other than being equated to "Colonial white" In fact, when we match colors, Colonial white is a perfect match for the American Standard White. 
To glimpse what American standard white is, we look at some of the properties found in colonial white to help you make a decision that suits your needs. From the gathered information, we may say the American Standard white is a more antique white but softer and darker, 
Arctic White in Bathroom Fixtures has some beige added to the white and is less sharp and glossy. American standard white is suitable for both modern and commercial spaces.
It suits perfectly in softer bathrooms. For example, if your bathroom is white with white tiles, having the slight "antique" may look aged and yellower compared to the white bathroom. Therefore, the less glossy and slightly darker white is a perfect match for beige walls or a colored bathroom.
American standard white is a perfect example of how you can play with various shades of white look with particular tiles or paint swatches. Nevertheless, remember that if you pair it with an authentic white tile or other ceramics, the antique white might look dingy or yellow.
When selecting your fixtures, it is paramount to pay attention to the rest of the colors in the bathroom, more so the white color.
American Standard White vs Arctic White- Which is Whiter?
The American classic white looks a little dingy or yellowish while Arctic white faces bluish; however, it is vivid bright white.
American standard white is a neutral, pale, caramel white suitable for all interiors and ceilings, while Arctic white has a more pure white color when you compare the two.
Tips on How to Choose the Right Shade Of White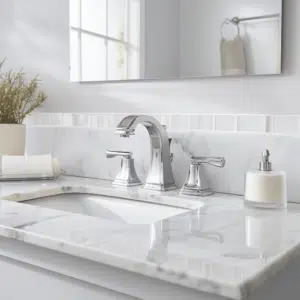 To avoid a mismatch in your selection of fixtures with the same color, such as white, you must keep some elements in mind. Remember, a white toilet from Kohler may not be the same as Toto's white toilet. 
For instance, most people purchase their fixtures thinking they are of the color the same only to realize the difference later. Therefore it is advisable to consider the factors below:
Undertone
To avoid ending up with too many creamy or too icy shades, use the hack of holding your paint swatch up to a plain printer paper to establish which undertone is your white swatch, like yellow, orange, blue, gay tones, etc.
Natural Light
A room without any natural light is not fit for white colors as it makes it look drab and warm white dingy.
Consider a white that relates to your space
Before making a purchase, look at your home design as it contributes so much to its appearance. Modern homes stand well with white, and unlike traditional houses, if there are other existing fixtures, you need to consider them too.
Room functions and Existing colors
How you plan to use your room matters. For instance, the white color for the living room and kitchen tends to have warmer tones than an office or bedroom. Consider the color of your tiles as they affect the white walls.
About the Trim
A rule of thumb is to keep your little shade simple. Because it is hard to notice the difference in whites on trim, it is best to choose a white undertone for your wall color.
Conclusively, we can say that you can title color as its primary color name, such as white. However, you won't find a plain color finish as there are many subtly different variations of the color.
With finishes, it all trickles down to your personal preferences. However, detecting the difference may be difficult, so don't sacrifice the specs for aesthetics. The significant difference between the two is the undertone. The American standard white is dingy, while the Artic white is blueish.