Tub Refinishing Kits, Bathtubs are exposed to abrasive soaps, dirt, oils, hard water, dropped shampoo bottles, etc. They start accumulating stains and chips that turn the tub into an eyesore in your bathroom. You don't have to bear with the situation or worry about the replacement budget.
The DIY tub refinishing kits have got you. You can now return the tub to its new appearance in a short period. The kits contain strong epoxies and enamels that you can apply using a paintbrush, an aerosol spray can, or a roller to metal, Porcelain, and fiberglass tubs.
ArmoGlaze vs Ekopel: Overview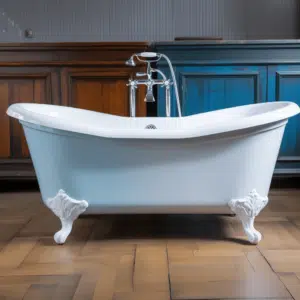 ArmoGlaze and Ekopel are the best-ranked companies that offer reglazing/ refinishing services. We shall dive in to unveil to you their products and services to enable you to decide as you plan to give your tubs a makeover
Factors to Consider
Most refinishing kits are compatible with the bathtub materials. Still, it is of essence to understand how each of the products is applied, the coverage they provide, and the inclusive supplies. Below are some guidelines for getting you started.
Bathtub Material
The versatile nature of the refinishing bathtub kits makes them work with the most traditional bathtub materials, like cast iron, Porcelain over metal, fiberglass, and acrylic.
Cast iron: they consist of a metal coated with an enamel thick layer that is resistant to scratches and chips; thus, one of the most durable tub types
A fiberglass is an excellent option for those on a low budget because it is affordable. Its is more durable than porcelain and porcelain over metal tubs. It is a plastic-infused material that is easily flexed. It is easy to repair and cheap to replace.
Porcelain is often placed over a metal tub and referred to as Porcelain on steel. It requires a special refinishing kit for Porcelain when refinishing these tubs.
Ceramic tiles: Tub Refinishing Kits you need unique shapes for your regular tub, ceramic tile material is the best choice.
Acrylic: They use soft plastic-like tubs that are color customized according to your preferences—the perfect option if you love colors. The fiberglass aspect makes it more long-lasting.
Coverage
Two coats are needed to get your surface fully covered for the best results with your refinishing. Depending on your tub's size and condition, the Product you choose contains a limited quantity of paint. It is advisable to take the bathtub measurements with a measuring band.
You might require doubling up on the Product and buying two to be on the safe side of things. Involve an expert to get the value for your money.
The thickness of the Product
It is one of the aspects that is most ignored. However, you can't skimp on the Product by opting for something thicker, as you won't need to add extra coats. Do your research about the Product to have a better understanding.
Color
Find the right color for your tub. Lighter colors make the tubs look bigger and brighter. Do your refinishing with a darker color to save yourself from redoing it sooner afterward.
Kit Contents
Ensure your refinishing kit has all the supplies necessary to get your project done to save you additional expenses when you need to apply. The most critical content is:
Steel Wool

Buffer

Gloves

Rollers and Sprayers
Always consider the kit prices to ensure you get worth the value of your money.
ArmoGlaze vs Ekopel: Product Description
Regardless of the size of your apartment, the bathroom is an essential spot in your home. The shower and bathtub allow you to relax. However, the bathtub wears and tears over time, which will require refinishing if you want it to look brand new.
You may not be having funds to hire an expert or designer to help you fix it. Take a breather, for this particular, is meant for you. In the section ahead, we shall take you through two reputable companies that provide the best bathtub refinishing kits to bring back the spark in your bathroom.
Ekopel 2k Bathtub Refinishing Kit
Tub Refinishing Kits is one of the leading eco-friendly products and the best option for use in your home. It has impressive features such as:
An epoxy coating that doesn't peel off . It retains its shine and shapes for a long time. Once dry, it is moisture resistant, thus making long-lasting. It contains a spreader and leveling comb to enable you to mix the Product for a perfect coating on your tub. The curing time is within 24 hours of application though it is recommendable to leave it a bit longer.
The quantity is 5-7 pounds of paint, enough to cover a standard-size bathtub. Buying the second piece might be costly, so it should service if your tub is smaller.
Ekopel 2K Bathtub Refinishing Kit: Pros and Cons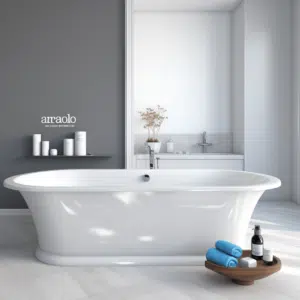 | | |
| --- | --- |
| Pros | Cons |
| | |
| | Not enough for double coating |
| | |
| | |
| Include a spreader and comb | |
| Multiple colors available | |
| Suitable for various tub types | |
ArmoGlaze
ArmoGlaze Bathtub Refinishing Kit
It is a complete kit with all of the different content necessary for refinishing a bathtub. The kit entails:
Epoxy enamel for glazing the tub with an additional hardener to ensure that the paint doesn't peel off.
It has a 24-hours cure time
Its top feature is durability
It is moisture resistant making it suitable for a leaky faucet
Its contains 0.3- gallons of Product with a thickness of 1/16, which is sufficient for two coatings.
It is costly
Its entails a load of tools, giving you convenience when you apply.
ArmoGlaze Bathtub Refinishing Kit: Pros and Cons
Pros
Cons

Cure in 24-hours

Durable

Sufficient for two coatings

Moisture resistant

Multiple accessories added

Clear instructions

Simple pour-on application

It takes a lot of work due to the low thickness

Can scratch from heavy scrubbing
You can see the similarities and differences between the two brands from the above information. The notable similarity is the cure in 24-hours and moisture resistance.
The differences are quite a number, such as:
Ekopel
ArmoGlaze

Thick

It comes with two tools

It is for a single coat

Less expensive than ArmoGlaze

Lasts long

Low in thickness

Multiple accessories

Enough for a double coat

Extremely expensive

Durable
If your tub is wearing or lost its sheen, refinishing is a cheap option to fix the tub and bring some life to it. The products from ArmoGlaze and Ekopel are not only exceptional but also eco-friendly and of high quality. You can never go wrong with these two brands, but the choice is solely yours to make.