Board-on-Board and Side-by-Side Fences, A fence serves various functions, including defining property boundaries and creating a guard to keep unwelcome guests out or children and pets in. Although not all fence types are meant to give visual privacy, a board-to-board fence, also called board-on-board, serves this purpose.
Board on board fence isn't the cheapest fence to build since it is made up of an overlapping pattern of vertical slats. Board-on-Board and Side-by-Side Fences visually impenetrable for the rest of its life, even if the boards used in construction shrink due to dry weather.
You can distinguish the board-on-board fence from the side-by-side fence by identifying the overlap mechanism. Board on board fences have overlapping pickets while the side by side fence has pickets only installed from edge to edge.
Side-by-side fence is a form of a stockade-type privacy fence. A board on board fence, as previously stated, will never have a gap, but pickets set side by side may decrease over time if a shrinkable type of material is used.
Board On Board fence Vs Side By Side Overview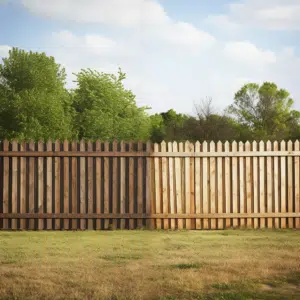 As stated above, a board-on-board fence is a privacy fence made out of vertical pickets arranged in an overlapping pattern. It's the type of fence that hides gaps between the boards that occur due to shrinking. The first layer of pickets comprises 6″ broad boards with a 12″ space between them. The second layer includes 4″ broad boards that fill in the gaps and overlap the first.
The majority of board on board fences are made from wood. The popular wood choice to make a board-on-board fence include Pressure-treated pine, Redwood, Western Red Cedar, and Eastern White Cedar.
Vinyl is another ideal option to make a board-on-board privacy fence. Vinyl requires little maintenance, and they're more durable. Board on board fences made from vinyl won't crack or rot due to moisture and temperature changes. Insects also cannot eat down the vinyl fence.
Vinyl boards on board fences can be cleaned with soap and water when they appear dirty. Time-consuming and expensive refining is not needed.
Board on Board Fence Overview
Board on board fences are mostly finished with top caps. The top cap of the board on the board fence is a horizontal board that is put flat against the fence's top edge. The top cap of a wood fence prevents moisture from accessing the exposed picket ends. The pickets' ends absorb water more quickly than the surface.
The side trimmings are fastened to the fence's vertical surface, directly behind the top cap. The fence might include side trimmings on one or both sides.
With a lattice fence topper, you may add even more visual intrigue. The top of the fence has a thin portion of lattice attached to it.
Generally, board on board fences have aesthetic appeal and excellent visual interest. There are many ideas to consider, but most importantly, pick the style that suits your preferences and budget.
Pros
Long-lasting privacy;

Board on board fences have more durable privacy than the other woody fences. The woods tend to shrink with the usual stockade fence to leave out the gaps that compromise privacy. Board on board fences have overlapping pickets. Therefore, there is no moment that the fence will affect your home's privacy.

Visual interest;

the overlapping boards of the board-to-board fence have a visual appeal and increase the aesthetic appearance of the surrounding environment.
Cons
Expensive

; since the boards overlap by 1′′ to 1 1/2′′, the board to board fence is extra expensive. The fence will require up to 30% additional pickets than a stockade-type fence. If you want to complete your fence, you'll need more materials to cover the extra pickets. To hide the overlapping edges, the vertical boards are completed before installation.
Side by Side Fence Overview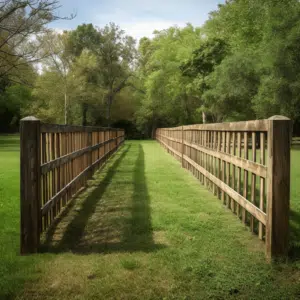 The Side-by-Side fence, in which the pickets are fastened with the panels edge to edge, is frequently the most cost-effective form of fence. A minor gap can be expected between the Side-by-Side pickets because of shrinking, but it's cheaper than a board-on-board fence.
Typically, one side of the frame of standard fences features side-by-side boards. On one side, there are boards, while on the other, the frame and posts are visible.
A stockade fence is a perfect option if security is a key priority for you. These fences are made out of side-by-side planks with highly pointed tops. The design produces a jagged edge at the top to deter potential climbers.
Like many other high-security fences, a stockade fence has an unwelcoming fortress-like aspect that can detract from the overall ambiance of your yard and garden. Consider the Gothic point fence boards as an alternative for a more ornamental aesthetic without sacrificing security.
Pros
Security

; A strong fence can safeguard your family and your belongings from individuals who would access your property for wrong reasons. Side-by-side fences offer security by keeping the pool, playground equipment, or any other item free from trespassers intrusion.

Attractive design element

; Well-constructed side-by-side fence adds your home's aesthetic appeal. The good-looking fence will also improve the landscaping of your property and, in the end, add value. When you're willing to sell the property, the real estate agent will recommend you advertise at a very high listing price.
Cons
Less privacy with time;

some of the pickets used to make side-by-side fences shrink to leave out wide gaps. The gaps might be big enough to make it hard for the homeowner to enjoy dinner on the patio since anyone on the street can easily penetrate their eyes to have a clear view of the backyard.
Conclusion
Board-on-board fence is similar to a side-by-side fence since they offer security and improve the beauty of your home. The difference between the two fence types is based on the overlapping mechanism of the board-on-board fence.
The side-by-side fence is made from pickets placed adjacent to each other at the edges without overlapping. The privacy of board-on-board fences is lifelong, while the shrinkage of the materials used to make side-by-side fences tends to compromise on the aspect of privacy with time.