Cabinet To Go vs IKEA Cabinets, Finding the right cabinet for your space might be a challenge, yet cabinets are integral to your living area.
Cabinets serve several purposes, including storing, concealing, and displaying items, but they also play a significant role in the overall aesthetic of a room.
While IKEA cabinets are small, straightforward, and easy to assemble, Cabinet To Go cabinets are renowned for their quality, strength, and adaptability to your size, form, and design.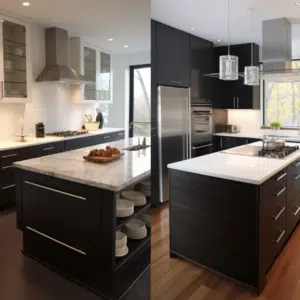 Cabinet plays a major role in your home design and is a great investment in your property. Here are reasons why you should consider incorporating them in your bathroom, and kitchen, among other areas:
You are at the disposal of immense choices in terms of color, style, door profiles, textures, etc.
The list is unlimited, from sleek to contemporary styles to more conventional sharkers. They assist maintain a house theme. You have unlimited alternatives to build a distinctive and useful space that fits your lifestyle.
The cabinets are personalized to your needs, taste, and lifestyle. An investment in your property increases its value and appeal.
Custom-made cabinets are well-crafted, therefore every step is carefully considered. The kitchen has many goods to store, and cabinets are the right answer for a tidy kitchen.
Differences between Cabinets To Go and IKEA Cabinets
The primary differences between the two cabinets discussed are warranty, build quality, maintenance, and styles.
Style
Cabinet To Go has an endless list of designs to choose from, and they are bulky. Its high panel and shaker style is widely known for its style, which offers a classic look. The best part is that they are personally customized according to the color, size, and shape, giving you unlimited access to various styles.
On the other hand, IKEA cabinets are primarily slab or bevel-front cabinets with ordinary designs. They are compact and upgraded from time to time to a set of style options.
Warranty
Before investing in a product, it is essential to check its warranty. You cannot afford the cabinets breaking down on you, especially when they are not repaired or the repairing process takes a long time.
Cabinet To Go offers a limited lifetime warranty covering hinges, drawer glides, and door hardware with exceptional cabinets installed outdoors or mishandled by the owner.
You get a 25-year warranty covering toe-kicks, strips, frames, cabinet doors, hinges, and legs with IKEA Cabinets. The other cabinets have a limited warranty.
Build Quality
The quality of the build materials contributes to the reliability of the cabinets after they get installed.
The Cabinets To Go box construction comprises solid birch hardwood with a 3-quarter-inch birch and a half 7-ply covered in wood veneer at the sides.
Fireboard, or "Engineered wood," is used to make IKEA cabinets. Wood fiber, wax, and resin particles are compacted under high pressure and heat to create boards.
Glass, paint, or melamine foil covers the boards.
Cost
IKEA cabinets are known for their affordable price, thus, making it ideal if you are looking for low-budget cabinets
Cabinet To Go are more expensive due to their high-grade cabinets.
It is good to look at various designs and then filter out your options, as this will help you not settle for something that isn't within your preference.
Maintenance
Cabinets To Go are affected by the temperature changes and humidity causing them to expand and shrink. It is for the fact that they are formulated from natural wood. The changes result in joint cracks.
It is important to control your surrounding space's humidity and heat levels.
Cabinet To Go is resistant to scratch, wear, and tear IKEA cabinets are secure from humidity and temperatures, not unless they are scratched.. In contrast to Cabinet To Go, IKEA ages fast when exposed to the sun.
IKEA cabinets are not resistant to scratch, wear and tear. If they have a tear or scratch, the remedy is to refinish it entirely or replace the whole surface. Cabinet To Go and IKEA Similarities. Cabinet To Go, and IKEA cabinets are similar in functionality, installation, and reliability.
Functionality
Cabinets To Go and IKEA cabinets can be utilized in the kitchen, bedroom, bathroom, living room, and any other room.
Reliability
Regardless of their difference in structure, both brands excellently produce cabinets with outstanding reliability in their particular functions, and choosing the right Cabinet for the right space will perfectly serve the purpose.
Installation
Both cabinets need assembling unless, in special cases, the Cabinet arrives pre-built, and we call it a customized order.
They are easy to assemble, and both come with a clear guideline making them easier to install whether you are using a professional or DIY with the right tools.
Comparison Table for Cabinet To Go and IKEA Cabinets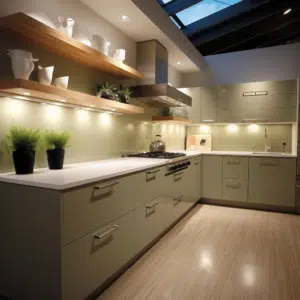 | | | |
| --- | --- | --- |
| Characteristics | Cabinet To Go | IKEA |
| Cost | Pricey | Low-budget cabinets |
| Installation | Assembling needed plus pre-assembled for customized orders | Only assembled |
| Build Quality | Powerful build, rigid and mist resistance | Fragile, susceptible to light. |
| Style | Bulky, wide range of design | Compact and simple designs |
| Functionality | Home centric | Home centric |
| Warranty | Lifetime warranty | 25years warranty |
| Ideal | Both professional, DIY | Both professional, DIY |
From the information above, it is clear that both the Cabinet To Go and IKEA cabinets are suitable choices, and as a homeowner, you will be able to decide the design that suits your space.
The Cabinet To Go emphasizes craftsmanship, developing cabinets with natural, high-quality materials and providing various designs. As a result, their products are costly and suitable for those on a higher budget, contrary to the IKEA cabinets, which focus on creating quality cabinets but are cheap and suitable for anyone on a low budget and not minding much about the design.
Both cabinets excellently function while handling your cabinet needs.