What do you use for grilling? To cook outdoors is a communal practice based on the original thrill of building a fire. However, will you get similar fulfillment with a gas grill? Charbroil is a company that has been in the industry.
Since 1948, they have evolved to produce inexpensive and long-lasting units. Therefore, if you are a newbie looking for a great grill to start practicing, Char-Broil would be ideal.
However, there are many grills in Char broil's performance and commercial series. In this article, we compare these appliances to see what they offer you using Char-Broil performance stainless steel 4- Burner cabinet- style gas grill vs. Char Broil Commercial Series- TRU- Infrared 4-Burner Gas Grill to do a comparison of the above model.
Char-Broil Performance Series vs. Char Broil Commercial Series (Specs/Pros/Cons-table)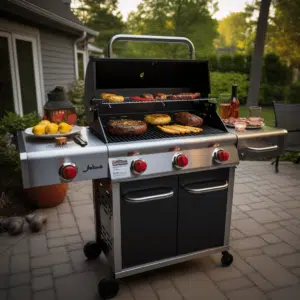 Char-Broil Performance Specs
Char-Broil Commercial Spec

50.4" L x 24.5" W x 45" H

4 Burners

It has a side burner

46 000 including side burner

58.8''L x 22.5" W x 47.2" H

4 Burners

It has a side burner

45 000 Including burner

Pros

Simple to assemble

Fit for use year-round

Greater packaging

Compact dimensions for a 4-burner grill

Pros

Large size

Visually appealing design

Relative care-free maintenance

TRU-infrared cooking technology

Cons

Has some shipping issues

It has a small side primary grilling surface

Cons

Costly

Requires certain skills to Operate
Char-Broil Performance vs. Commercial Series Comparison
To better understand how the two series stand out using the best model we highlighted above. We comprehensively discuss the features you should consider in a gas grill. Let's get started.
Affordability
Char-Broil is the best place to look out for if you're on a budget. They provide you with a wide spectrum of products, including gas grills ranging from cheap-to- moderate prices. Nevertheless, they're robust enough to endure a few years of consistent use.
Regarding affordability, the commercial series has many extra features that trigger the price to shoot, contrary to its counterpart- the performance grill series.
Design
Both models have a cabinet-like style, with a set of binary doors underneath the primary firebox. In the Char-Broil performance series, handles are installed in a vertical position, with those of the commercial series fitted with horizontal bar knobs.
The commercial grill is bigger, making the cabinet area spacious. The grills have a stainless steel surface with a trivial difference. On the other hand, the performance grill contains black knobs. In terms of their knob surfaces, commercial steel is more visible than black on performance, especially if you combine lights.
Performance 4- The burner device has a couple of shelves for prep and storage, with the left side as a lidded burner, acting as side dishes and heat sauces.
The same feature is also with the commercial series, which is located on the right-hand side. When the burner is off, the shelves serve as a shelf and are big contrary to the performance series.
The units also consist of wheels to keep them steady. Those of performance are sizeable than the commercial wheels.
Therefore, the commercial takes the lead as it offers more convenience.
Materials
It is paramount to consider the material of your grill. The performance series has stainless steel for burners, lid, side shelving, and firebox, amounting to a strong grill that stores heat. The downside of this series is the display of fingerprints and smudges on its surfaces.
As a result, it requires immediate cleaning after use.
Despite commercial sharing similar materials as performance series in parts like the burners, heat tent, and firebox, it has some differences. It has a painted steel shelf which acts as an additional protective layer.
The commercial series has cast-iron grates that are porcelain coated. It is a perfect grilling material because it absorbs heat, is easy to clean, and you kiss goodbye to rust.
Heat Retention
Both grills are steel structured, making them stand out against their competitors in temperature control and quickly attain the desired temperature.
Both series have an in-built lid thermometer to allow you to keep an eye on the food progress, even though the Performance series is in a tricky place, making it hard to read from a distance.
TRU- infrared technology ranks commercial series above the performance series resulting in even cooking of tasteful food.
Burners
The performance appliance's BTU output is 36,000 on the main surface, with the side burner having an additional 10,000 BTUs. The commercial model provides BTU production of 8,000 per piece, and the side burner is 13,000 BTUs, perfect for boiling pasta and rice.
Keep in mind that fewer BTUs don't mean less power. Instead, the fewer BTUs per square inch could insinuate the grill's efficiency. Therefore, the construction quality is more efficient than the BTU production itself.
The TRU technology in the commercial 4- burner model ranks higher despite requiring more skills but delivers uniform heat and greater results. Don't forget the steel grills, which are good conductors of heat.
Char-Broil Performance vs. Commercial Series- At Glance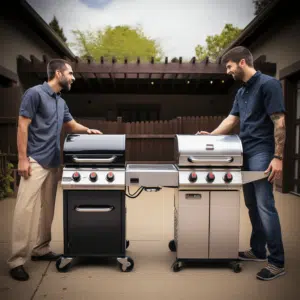 Char-Broil Performance
Commercial Series

Its cooking grates are stainless steel

Resistant to rust

Superb heat retention

It keeps sauces warm due to its 10,000 BTU side burner

Enables extensions if need be due to Gear Trax shelves

A combined tank gauge enables you to keep an eye on the fuel source

Its cast iron grates are porcelain-coated, making them robust and easy to clean

Combined LED lights

TRU-Infrared technology assists in sealing moisture and enhancing uniform cooking.

The hot side burner-13,000 BTU, which can boil rice water

Electronic SureFire Ignition-for steadfast startups
Performance Series vs Commercial – Verdict
These products of the same company with amazing features stand out in their way. However, Char-Broil Performance grills are ideal if you're working with a budget, you desire stainless steel cooking grates to cast iron, and if your space is small.
The Char-Broil Commercial series is your grill of choice: It is looking for a grill that contains many storage shelves, easy to clean out after use, and has a wide space to fit in. You need skills and are willing to pay extra for a warranty. Overall, the decision is for you to make after looking at the features of each device.