Regarding kitchen and bathroom plumbing fixtures, a good name like Delta (Delta Faucet Company) can't go unnoticed. This United States iconic brand has a comprehensive development and achievement history with an uncontested reputation.
The company produces several kitchen faucets in various shapes and sizes, making them suitable for modern apartments and old homes. If you require a superb faucet for your kitchen remodel or replacement, Delta products are worth considering.
Here we share a depth of information regarding two of their product collections by the name of – Delta Essa and Trinsic, to enable you to decide on the one that suits your budget level.
Delta Essa vs Trinsic: What Does Delta Essa Offer?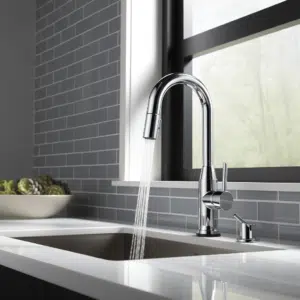 Delta Essa has a clean and minimalist design among the several varieties of the company's faucets. It is easy to use while adding a lovely aesthetic appeal to your kitchen, making it nice and neat.
Its installation procedure is simple as it easily fits into single-hole, three-hole, and eight-hole configurations. In addition, they include a manual to lessen your worry through the whole procedure to ensure you get it right.
Essa faucet has incredible durability thanks to the patented Diamond Seal Technology by the company. As a result, all the leak points witnessed with other taps become a thing of the past.
Additionally, the technology's strength ensures the faucet lasts two times longer than others on the market and offers a lifetime of reliable functionality.
It is affordable to the populace.
Its has a flexible or tightly secure head that doesn't gather any unsightly mineral build-up as the soft rubber Touch-Clean spray holes permit the residue to be wiped away with an instant touch of a finger for a refreshed look.
It contains a dual-function spray wand allowing you to switch between them with ease and ergonomically.
The Magnetite docking system involves an integrated snapping of your faucet spray wand into place and holding it without drooping over time.
It comes with a lifetime warranty which rewards you with peace of mind.
It is available in four finishes- chrome, Arctic Stainless, Matte Black and Venetian Bronze.
For those after a solid yet durable faucet with a remarkable design, then Delta Essa is a fantastic choice.
Delta Essa vs Trinsic: What Makes Delta Trinsic?
If you opt for this type of faucet, it has many unique features, just like Essa, except for ShieldSpray Technology. These include:
Its contains an easy installation procedure
It has a simple-looking modern-built design.
It is exceptionally durable.
Its has a contemporary design with similar aesthetic effects as those of Essa.
It is 19″ in height, offering enough space and spout arc to carry out standard tasks easily.
Outstanding Diamond Seal Technology protects it against standard leak spots while enhancing its durability.
It also uses the Magna Tite Docking system, which helps the pull-down spray wand snap back into place after use, ensuring it docks in situ.
The ShieldSpray technology ensures robust water streaming out of the faucet and within a sphere. The technology prevents water from splattering all over the place and effectively rinses off food remains entirely.
It has an in-built temp-sense LED indicator light that keeps changing color to indicate the temperatures of the water.
The Trinsic faucet has Delta-exclusive Touch20, which enables you to activate the faucet by touching anywhere in the spout or handle for a water flow or stop.
The voice Technology can turn the water on and off, warm up using the voice commands device and even pour specific amounts.
It comprises hand wash features that offer accurate timing for lathering, scrubbing and rinsing your hands.
The company offers a limited lifetime warranty cover to the model and the electronic parts with a 5-year warranty except for the batteries.
Delta Essa vs Trinsic
The significant difference between these two models is that Trinsic has more advanced features. For instance, it uses Shield Spray technology while Essa doesn't.
Essa is cost friendly compared to Trinsic, whose price is higher because of the added features.
Trinsic has advanced customized features like voice commands; touch it on and off, to even dispense metered amounts of water.
It also can display the water temperatures, unlike Essa.
Is There A Lifetime Warranty On Delta Faucets?
Faucets used in residential setups have a limited lifetime warranty. All Delta's non-electronic parts and finishes you buy from any authorized Delta dealers are defect-free as long as the purchaser lives in the house.
Delta repair or replace any defective part or finish under typical installation, use or service.
All electronic elements have a 5-year limited warranty
Faucets used in multi-residential homes, like condos, apartments, etc., consist of a 10-year limited warranty. On the other hand, commercially used faucets have a 5-year limited warranty.
How to Fix a Leaking Delta Faucet
Over time, your delta faucet may leak as the mineral build-up in the spout prevents the touch feature from turning off entirely. Never mind, because you can troubleshoot this problem with pressurized air and vinegar.
If your faucet keeps on running when it is supposed to be off, remove the faucet and keenly disassemble it. Using pressurized air, loosen and blow any noticeable dirt. Additionally, gently clean various parts with a cloth dipped in vinegar.
Alternatively, if the build is stubborn, you can place the parts in a mixture of vinegar and water for a few hours.
If the leaking persists, there might be a material defect, then call on the company for repair or a replacement.
Is Delta The Best Faucet?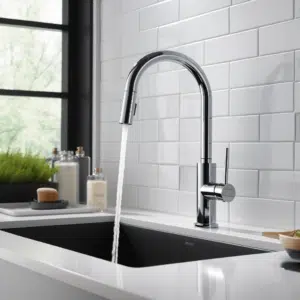 Delta consists of extensive collection options for any design preference and budget faucets. It crafts all faucets with premier materials tested for performance and durability with a comprehensive warranty.
If you want a long-lasting, elegant centerpiece for your kitchen, Delta has the full range of styles from regular single and dual-handle to the latest in technology like touch and voice activation features.
Between Delta Essa and Trinsic, which one is better?
Conclusively, we can say that both are excellent faucets. However, Trinsic takes the lead in terms of its advanced tech features providing you with all the convenience you need even though it is costly. Delta Essa is the perfect choice for those on a low budget.