Kitchenaid K400 vs Vitamix, When it comes to blenders, Kitchenaid and Vitamix are among the more popular kitchen brands you'll come across.
These two are the gold standard and seem to prioritize blenders as a means of demonstrating their technical prowess, offering some of the most powerful and expensive models on the market.
If you're wondering whether Kitchenaid K400 and Vitamix are worth it, the simple answer is yes. Both brands are well worth it mainly due to their function capabilities, durability, and great versatility compared to the completion. In addition to that, they're built to last.
But how do you determine the best purchase between these two well-known kitchen brands? Of course, we know they all come with one obvious downside- they're expensive- but how do they compare against each other? Is one better than another?
Well, it's a hot debate and can't just give an answer. To analyze this; we kind of have to explore both brands in detail and what goes into the best kitchen blenders.
But here's a quick summary in case you're in a hurry:
Quick Summary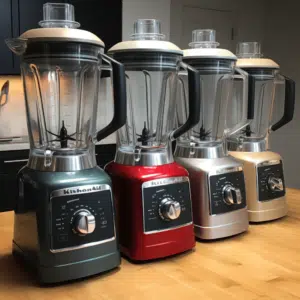 Both the Kitchenaid and Vitamix blenders are engineered to deliver the perfect taste for every blend.

The K400 blending system is known to blend even the toughest ingredients, whereas the Vitamix is praised for creating all kinds of recipes from nut butter to soups and smoothies with ease.

While both brands offer pricey models, there are cheaper alternatives to Vitamix and Kitchenaid for people who can't afford to spring for such high-cost blenders.

Certain Vitamix models like the A2300 are considered "cool" than the Kitchenaid K400. It's said to be more powerful, and that it feels better and more premium.

On the bright side though- while the Kitchenaid K4000 is a bit inferior in pretty much all categories, it's a lot more budget-friendly than the Vitamix.

When shopping for a blender that works like Kitchenaid or Vitamix, you ought to consider various factors like power, capacity, blades warranty, and what kind of recipes you want to create.
Kitchenaid K400 vs Vitamix: overview
Kitchenaid 400 Variable Speed Blender
The K4000 variable speed blender can mix even the toughest ingredients for a consistent texture and great taste.
Its ribbed jar shape creates a forceful vortex to suck ingredients into the innovative asymmetric blade that cuts at four angles, ensuring perfectly blended contents.
The Intelli-Speed Motor Control senses contents and maintains the right speed for kale and almonds.
The 5-speed variable speed dial lets you adjust the taste and texture of fruit smoothies or dinner party marinades. Use the 3 Preset Recipe Programs: Icy Drinks, Crush, and Smoothie.
We also admire that Kitchenaid constructed the K400 with power and longevity.
The maker is confident you'll love the flavor of your smooth blended products, so they offer a 90-day money-back guarantee.
Vitamix Blenders Overview
On the other hand, whether you're blending a smoothie, soup, or creating nut butter, Vitamix is the cream of the crop. In fact, not so many brands can compete with the power and precision delivered by Vitamix.
First, there's a metal-drive system plus hardened stainless steel blades to make sure you achieve the same results from your very first to the thousand blends.
Vitamix's long-lasting motor features built-in overload protection and a cooling technology system to combat overheating, so the whole thing keeps running smoothly for years to come.
Every Vitamix model comes with a generous warranty. So in case anything goes south, the company covers the repair or replacement as well as the shipping cost. Speaking of cost, it's important to state that prices for each blender vary by size and model.
For instance, a Classic Vitamix blender with a smaller, 48-ounces container featuring pulse and variable speed control is much more affordable compared to a Smart System blender with a 64-ounce container, programmable timer, wireless capability, and touch screen.
Another thing that makes Vitamix so popular is the power. These blenders are incredibly powerful, and can easily break down the toughest ingredients, including firm veggies, frozen fruits, parmesan cheese, and much more.
They can also blend a batch of roasted cauliflower into warm soup and peanuts into butter in a matter of minutes. That said, though, Vitamix isn't actually the most powerful blender out there. There are other brands that provide models with more powerful motors.
Speaking of the motor, most blenders refer to wattage. The standard power range for blenders falls between 200w and 1200w.
However, Vitamix utilizes horsepower to measure the power of its blenders. Still, you can convert horsepower to watts, given that one horsepower equals 746 watts to easily compare power across other brands.
Kitchenaid K400 vs Vitamix: Which one's better?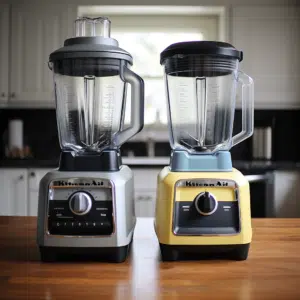 Kitchenaid offers some of the most powerful and reliable blenders on the market. However, most users may not necessarily need a blender this powerful.
If you want to blend bananas, milk, and protein powders, the Kitchenaid K400 is a cheaper option.
This model works for most activities, including smooth mixes, nut butter, frosty drinks, crushed ice, and bulkier materials. Harder chores like kneading doughs or heating soups while blending will cost more.
However, the Vitamix can make soups, smoothies, and nut butter. But premium blenders are expensive, and most people can't afford them. Fortunately, Vitamix has cheaper alternatives.
Overall, both Kitchenaid and Vitamix are great kitchen brands worth considering. Just keep in mind that Vitamix models are a bit more expensive than the Kitchenaid K400 model in particular. Other than that, we heard no hiccups or such significant issues from previous users.