A dependable washing machine ranks first when it comes to must-have home equipment. Even if it's competing with other large house requirements like refrigerators and ovens, a decent washer should be capable of handling any pile of clothing you throw at it.
Even the most basic washers now come with a range of washing selections and edge-cutting features to clean any material. In addition, there are other sophisticated washers that you can connect with Wi-Fi that allow you to start or stop the cycles remotely, monitor washing status, and perform diagnostics if something goes wrong.
When shopping for a washing machine that you can use in your home, more than two options are likely to cross your mind. Of course, you won't miss thinking about LG and Kenmore Washer. Both are reliable and quality washing machines that will make your cleaning duties easy and stylish.
LG Vs Kenmore Washer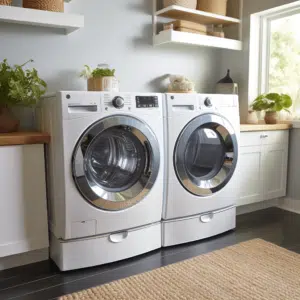 Therefore, between LG and Kenmore washer, which are you likely to buy? To know the best option, you need to understand each brand wholesomely. Continue reading to know the perfect brand that you can use in your laundry space.
Let's review each brand differently;
LG Washer
LG stands for Life's good. LG, a multinational brand that makes a variety of consumer appliances, was formed in 1958 in postwar South Korea to make radios.
LG now manufactures everything from televisions, cellphones, solar panels, washing machines to air conditioners. It is the world's leading manufacturer of LCD (liquid crystal display) panels used in televisions and laptop computers.
LG has been manufacturing and selling washers and dryers in the United States since 2003. It's the top front-load washer manufacturer. LG is widely recognized because of its laundry innovations, having introduced the first washing system that was designed to wash two independent loads of clothes at the same time in 2015.
According to USNews, the LG 4.5-Cubic-Foot WM3900H, LG 5.2-Cubic-Foot WM9000HVA front-loading washers, top-loading LG 5.5-Cubic-Foot WT7800C and LG 5.0-Cubic-Foot WT7300C, were rated as the best washing machines of 2022. The two top-load machines earned first and second position.
Top Rated Features Found in LG Washers
6Motion Technology: LG washers enhance washing performance and gentleness on textiles by employing six distinct wash movements.

Mega Capacity: With a remarkably spacious interior, the Mega Capacity top and front-load LG washers allow you to wash huge loads of clothing, comforters, sheets, and towels at once, rather than dividing them up into many smaller loads. LG Mega Capacity feature is crucial to saving you time by getting more laundry done within a short time.

Allergiene Cycle: Whether you suffer from allergies or wish to clean your clothes and bedding to a higher standard, the LG Allergiene Cycle can help you overcome it all. LG Allergiene Cycle keeps the fresh air to help you breathe easier. It removes more than 95 per cent of typical household allergens like dust and pet dander using steam heat.

TurboWash: The feature is ideal when you're in a rush. TurboWash machines allow you to save up to 30 minutes of wash time while still getting incredibly clean results.

LG ThinQ: Several Consumer Reports evaluations mention LG ThinQ technology. You'll be able to pick a cycle, start or stop the wash, and receive alerts when your laundry machine has finished the cleaning process through the LG application on your phone. ThinQ also allows you to control your laundry with easy voice commands. Thanks to its integration with Amazon Alexa and Google Assistant.
Kenmore Washer
Kenmore is a household appliance company running its operation since 1927. Kenmore brand has been in the market for a significant period, which shows that the company has a long-standing commitment to providing consumers with high-quality products.  Kenmore washers are typically listed among the other popular brands like GE, Whirlpool, and LG.
Kenmore's washing machines have earned several honors, including J.D. Powers' "Highest in Customer Satisfaction" for their top-loading washing machine in 2014.
When it comes to performance and effectiveness, Kenmore washers have various useful functions, including sanitizing cycles on its Elite models. Without using harsh chemicals like bleach, the Sanitize cycle helps remove up to 99.9% of hazardous germs.
In 2014, Kenmore received several honors, including the Best Washing Machine of the Year award for  Kenmore 4.0 cubic feet Front-Load Washer and the Best Washing Machine of the Year award for Kenmore Elite 5.2 cubic feet Front-Load Washer.
When buying Kenmore washers, customers may choose from top-loading washers, and front-loading washers. All are exceptionally energy-efficient and reliable.
Top Rated Features of Kenmore Washers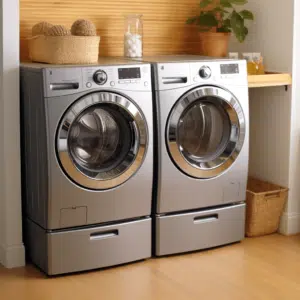 Load sensor

Smartphone diagnostic system

Approximately 98.21mm shorter than the LG washer

Delay start option?

Around 32.25kg lighter than the LG washer

Approximately 59mm narrower than the LG washer

Bulky/Bedding cycle

Affordable
The affordability of many top loaders, like the Kenmore 25132, is one of their most appealing features. While Kenmore 25132 washing machine lacks many of the extra features found in front-loaders, it does provide a wide range of cycles and temperature ranges. In addition, the 4.3 cubic capacity is large enough to wash up to 19 towels at once. Kenmore washers have a bulky cycle.
Although the cheap Kenmore washers don't have a deep-clean steam function seen on more expensive versions, the stain boost feature helps clear up stains by allowing clothes to soak for long.
You won't have to pretreat your clothes because the Kenmore washers have an in-built stain removal function. If you have a little load that must be cleaned quickly, the express cycle lasts approximately 45 minutes.
Kenmore 25132's control panel prefers knobs over buttons. They are a lot: One to switch on or off the stain booster, one to add an extra rinse, one to include or exclude fabric softener, one to adjust temperatures, and another to control the cycles.  As a result, browsing the settings is rather easy, and it's less likely that you'll forget to press a button amid a busy interface.
Although the Kenmore 25132 Top-Load Washer consumes more water than its front-loading equivalents. Luckily, it comes with many features to save you money.
Conclusion
LG and Kenmore washers have excellent performance to keep you smiling in your laundry space while celebrating satisfaction. However, LG washers have more innovative features than Kenmore washers. On the other hand, Kenmore washers have better warranties than LG washers.