Smith & Noble vs. Shade Store, Blinds and window coverings are a sometimes overlooked but crucial element in home decor and interior design. By switching out white roller shades with wooden blinds or Roman shades with a charming print, your room can have a completely different look.
Window coverings are also essential for enhancing privacy in your house, lowering glare while using a computer or watching TV, and guaranteeing a restful night's sleep without light leaks. Insulated shades can also stop heat loss and intrusion, depending on the season.
There are countless suppliers of window blinds and shades. But Smith & Noble and Shade Store are among the most popular shopping destinations. This article will compare these two companies to help you choose the ideal location.
Smith and Noble vs Shade Store: Overview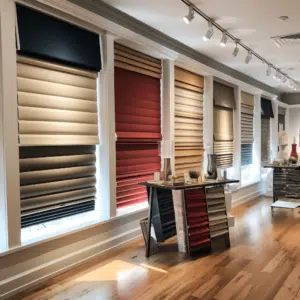 About Smith and Noble
Smith and Noble is a window treatment design and solution company with its headquarters in Corona, California. The business sells custom blinds, shutters, and window shades.
Pros
Compared to Shades store Smith and Noble offers a lot more discounts and promotions

There are nine active coupon codes at Smith & Noble
Cons
Email discounts are not available

The company does not offer policies for free shipment

The company does not accept prepaid or debit cards

The company does not accept funding support from Affirm

Free return policies are not available at Smith and Noble

The company does not support order tracking

Policies for international shipment are not available at Smith and Noble
About Shades Store
Shades Store is a maker of window coverings and blinds. The goal of this company is to offer a straightforward substitute for the traditionally challenging shopping experience.
The business specializes in a curated custom window treatment service tailored to meet the needs of customers and trade professionals. This service includes direct access to exclusive materials, high-quality products, knowledgeable design consultants, and measurement and installation services, all emphasizing handcrafted and contemporary designs.
Pros
The company enjoys more brand recognition than Smith & Noble

Provides free shipping options

Accepts prepaid and debit cards

Provides email discount

Free return policies are available

Provides support for order tracking

Offers policies for international shipping
Cons
No major drawbacks
Smith and Noble vs. Shade Store: Which One Should You Choose?
Compared to Smith and Noble, Shades Store is the best option. First, the company has more brand recognition compared to Smith and Noble.
Second, the Shades store provides free shipping options, email discounts, free return policies, order tracking support, and policies for international shipping. Additionally, they also accept prepaid and debit cards.
What to Consider While Purchasing Window Blinds and Shades
Use
When selecting blinds or shades, you must consider the room you will use them in and their primary purpose. For instance, you might want to invest in more expensive blackout shades for the bedroom, while your home office might only need a light-filtering alternative.
Style and Material
Style and material are determined mainly by budget, individual taste, and intended usage. A linen blind vs. a wood shutter will completely alter the appearance of your space
Also, it is critical to consider how much privacy you want and whether you still want some light to seep through for a less closed-in experience, as this will help influence your decision on things like opacity percentage and whether they need to be UV blocking.
Size
The type of blinds you select and the stores you can visit will significantly be influenced by the size of your windows. If your windows are of standard size and are easy to fit, you will likely find cheaper options by simply selecting a few width and length alternatives.
However, you could have to pay more for a completely custom fit if your windows are unusual. Similarly, if you don't want to invest in pricy automatic choices, you might want to consider dividing up large windows into two shades because having just one roller large shade can be heavy and challenging to pull up and down.
Mount type
It would help to choose whether to mount your shades and blinds on the inside or outside of the window frame before shopping for them. Some windows require an exterior mount because they are too shallow to support mounting shades inside the frame.
Also you might like the way outside-mounted Roman shades look. However, to ensure the correct installation of your window coverings, carefully follow the mounting and measuring instructions.
Outside-mounted window coverings may not be ideal for a bedroom because they often allow more light to enter through the sides.
Budget
Even within the same store, blind costs vary greatly. Have a precise understanding of your spending limit so you may start with choices that best fit it.
If you are unsure where to start, sign up for a virtual consultation with a store to get a general idea of your area's needs and the range of prices. Costs for custom sizes, materials, finishes, and automatic features will be much more.
You can significantly reduce installation expenses if you are confident measuring and installing the blinds.
Is it a Good Idea to buy Covering From Lowe's?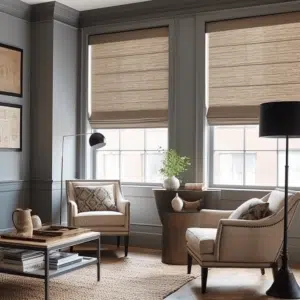 Lowe's offers a wide variety of blinds and shades at a low price. If you have windows or doors that are not standard, you can choose from various in-stock blinds in different sizes or go with custom-made-to-measure coverings. The store offers a large selection of designs and materials in addition to a wide range of options for light control, including blackout and light filtering.
When it comes to installation, you can either choose a more do-it-yourself approach or pay extra to have an installation done at your house. Shipping is free, and Lowe's pricing is reasonable.
Online shopping is made simple by Lowe's filtering options, which let you sort by style, width, length, finish, light control, material, pricing, and more. Lowe's collaborates with independent installers for customers who want someone to perform in-home measurements and installs.
Final Take
We hope this article has offered you all you need to know about Smith and Noble vs. Shades Store. Now the decision is yours to make.