For many centuries, cooking has been an art. In the 21ST century, cookware has become more functional and ergonomic in addition to cooktops. Glass top stoves have gained popularity among many people in the recent past due to their elegant look in the kitchen and easy cleaning.
If you are using a glass stove, note that not all cookware is suitable. When it comes to kitchen cookware, the Calphalon brand takes the lead as it is associated with dependability, quality, and general efficiency, making it a favorite of many.
Is Calphalon Cookware Safe For Glass Top Stove?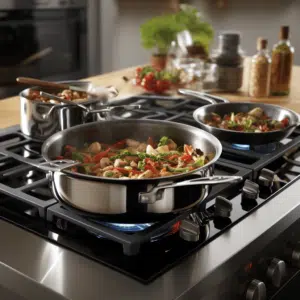 So, if you own Calphalon cookware in your kitchen, is it safe for a glass top stove? Calphalon cookware is safe for glass stoves, and in this guide, we shall take you into details, so let's get into it.
Reasons for Calphalon Cookware Safety on Glass Top Stove
The secret to cooking on a glass stove is knowing how your cookware conducts heat. Calphalon contains every feature that makes it suitably safe for glass stoves. Its materials and coating make it great for its use, which is why its pieces are highly in demand. Why is it safe?
Hard-Anodized Nonstick
Calphalon cookware is a product of exceptional nonstick layer coating and heavy-gauge hard-anodized aluminum exterior, which responds well to extreme heat, including that of a glass stove. The built-in thermometer ensures that food reaches desired temperatures quickly.
Stainless Steel
It suits for use with glass-top stoves. Furthermore, it is even more effective on glass stove tops with a heavy-gauge aluminum core. Calphalon cookware is from magnetic stainless steel with a 3-ply construction and heavy-gauge aluminum.
It is also resistant to heat. Thus, it would be best to worry less about cooking, but make sure your pan isn't too hot when putting it down.
Proprietary Coating
Its proprietary coating system helps withstand damage from daily cooking, such as hot spots, overheating, and scratches. The state-of-the-art ceramic nonstick surface is scratch-resistant, making the cookware ideal for Glass top stoves.
Oil-Infused Ceramic PTFE and PFOA Free
The oil-infused ceramic materials, together with the PTFE and PFOA-free, make the cookware 3x greater for nonstick release, distribute heat evenly, and are corrosive resistant, thus perfect for glass stoves. Preheating is perfect thanks to the Thermo-spots technology.
Patented Construction
You can bid goodbye to scratches and burns if your cookware is Calphalon because the patent construction offers a subtle nonstick surface on a glass top stove. Its bottom surface features an aluminum core that heats quickly, spreading heat for speedy cooking, making it effortless.
Handle and Lids
Calphalon cookware entails tampered lids and loop or long handles, which are heat resistant regardless of the high temperatures, thus perfect for glass top stoves as they create traction issues while cooking.
Weight
The material of the cookware is crucial; that is why not too heavy is recommended to prevent damage on your glass top stove in case the cookware slides accidentally. Calphalon cookware is small in design, and the nest pots and pans save a lot of space contrary to others because they are lighter and hence appropriate for your glass top stove.
Benefits of Calphalon Cookware
Many people have invested in these fantastic cookware sets because they are advanced options that are easy to use, offering quality at their best. Let's take a glance at its benefits.
Durable
With Calphalon, cookware sets are long-lasting. They can withstand extreme temperatures during cooking up to 450 F due to the hard-anodized aluminum. The ceramic coating design can withstand heat, ensuring the cookware doesn't break down.
Heat Consistent
In terms of performance, the cookware's heating is evenly consistent during the entire process of cooking. Therefore, it is significant as it allows you to prepare food quickly. It is a favorite to many because of its functionality and suits all situations.
Tempered Glass Handles
Handles are the most ignored features when cooking on glass stoves. The cookware responds well to heat at the handles. The glass handles remain cool, enabling you to move the pan around, giving you the convenience you need while in the kitchen.
Hints on How to Keep Glass Top Damage-Free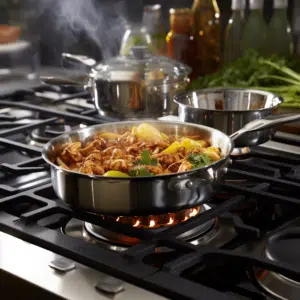 Regarding kitchen appliances, Glass top stoves are modern and sleek with great elegance. However, the glass cooktop needs specific proactive care to maintain its good look while preventing discoloration and scratches.
Avoid abrasive cleaners- Using scouring pads, steel wool, and other metal scrubbers on the cooktop is inappropriate.
Heavy Pots- Transfer your cookware to another area of the cooktop to minimize scratching
Never use cast iron or stone cookware- Due to the vulnerability of the glass stovetop, the use of cast iron or stone cookware is discouraged due to their heavy weight, which may cause damage or crack on the glass top.
Cooling- Don't place hot cooking sheets or casseroles on the cooktop but rather place them on a heat-resistant counter or cooling rack.
Regular cleaning- Have a soft cloth to wipe the food particle constantly. If you notice sticky substances on the surface, use warm water with soap or dish soap to dissolve everything before you dry it with a dry piece.
Spills- Some spills can burn the surface; therefore, it would be best if you wipe them off immediately. If you are using non-sticky surfaces, ensure you sprayed them upfront. If the spill reaches the burner, use a dry rag or paper towel while it is still fresh.
For heavily burnt spills, use a razor-blade scraper while holding it at a 45-degree angle to the surface as you exert pressure gently as you scrape the residue off but be extra careful.
Top stove
With a glass top stove in your kitchen, be ready to choose the correct cookware for cooking. Ideal cookware should have a suitable material that won't ruin the surface and can conduct heat evenly.
Therefore, the best cookware that perfectly suits a glass top stove is Calphalon cookware. We have explored in length the reasons why it is the number one choice even though the use of other materials like stainless steel is allowed as well. Still, the best cookware for glass top stoves is Calphalon.