Sag-Proof Fence Gates, It's a bit more challenging than most people think to construct a decent gate that won't sag. After all, that is why most homes' gates appear scary and unkempt. Over time, wind and weather changes make the gates droop, and if the problem is not handled, they might fall apart.
Fortunately, anybody can design a better gate that is "sag proof". However, you need a little bit of creativity, foresight and proper design. Follow the steps below to build a fence gate that won't sag.
Materials Needed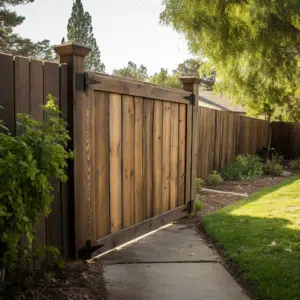 2x4s (two or three)

4″ screws

Gate hinges

Gate latch

Gate handle

1/58″ screws

Fence pickets (7-10, depending on the width of the gate)
Tools Needed
3/16″ drill bit

Circular saw

Countersink drill bit

Hammer

Impact driver

Miter saw

Pencil

Power drill

Sawhorses

Speed square

Tape measure
Instructions
STEP 1

: Place the Gate Rails On a Level Surface after Cutting Them Uniformly

STEP 2:

Fix the Diagonal Support

STEP 3:

 Hold the Hinge Side with Two Fence Pickets

STEP 4:

Install the Gate Hinges

STEP 5:

Fix the Latch Support

STEP 6:

Hang the Fence Gate on Fence Post

STEP 7:

Attach the Remaining Fence Pickets to the Gate

STEP 8:

Trim the Bottom Side of the Gate

STEP 9:

Install Gate Latch

STEP 10:

Fix the Gate Handle
What You Should Know To Build A Fence Gate That Won't Sag
Choose The Right Materials
Choosing the appropriate material for the project at hand is the first highly important piece of the puzzle you should get right while creating a fence that won't sag. When creating a gate, you should go above and beyond the strength and resilience of the materials used for fences. Remember that over the project's lifecycle, the gate will experience the greatest "activity," kicked open, swung shut, and tossed all over the place. While almost any building material may be easily transformed into a fence gate project, certain materials are more appropriate than others.
Joinery Techniques Make a Difference
Anybody with fundamental carpentry abilities may construct a simple garden gate; it consists of a square or rectangle fastened to hinges and swings. However, Sag-Proof Fence Gates takes a different skill set to construct a fence gate that will withstand pressure, adverse weather, and gravity while remaining sturdy, reliable, and solid for many years. That will call for careful thought to be put into the types of joinery that are employed as well as the fasteners that are utilized.
Woodworkers who wish to create a robust joint, a snug fit, and a clean appearance, particularly around the "fence frame," are immensely popular with mortise and tenon joints. These joints have endured the test of time for a reason, and they are frequently used on fence gates because they successfully withstand the stress and pressure that make gates sag. The "little brother" of the tenon and mortise joints utilized in fence construction is the dovetail joint. They usually give comparable durability and strength and are a little easier to create and execute.
Sag-Proof Fence Gates can be useful to drill holes and conceal these fasteners to achieve a more seamless appearance. Tiny dowels that have been chopped and sanded down can be used to hide the screw heads. But regardless of the strategy, it's crucial to select strong, trustworthy fasteners that can withstand the environment.
Invest In the Proper Support Structure
Simple supports cross the rear aspect of a fence gate diagonally to ensure that gate won't sag in the future.
These diagonal supports give the wood additional care and compression to stabilize its stability. Without these supports, square or rectangular fences will fall apart when they begin to exert pressure on the joints or fasteners you utilize. Ensure the diagonal supports span the full inward-facing portion of your gate.
What Makes the Fence Gate Sag?
All outdoor furnishings and buildings are always exposed to extreme weather conditions. Even the best-built fences and gates will suffer heat, humidity, wind, and weather damage.
However, rectangular and square-shaped constructions like fence gates are susceptible to gravity, which causes the frames to get out of alignment. Insufficiently designed gates quickly begin to be pushed apart, twisted and torqued into the type of stress that invariably leads them to sag.
Usually, the "free side"—the side lacking hinges and bearing most of the weight alone—is where you first notice sagging. The fence gate on that side also often sustains the most damage from repeatedly slamming. It's not difficult to understand why gates start to sag over time when you include individuals who prefer to lean on the fence gate, especially little children who swing back and forth.
Fortunately, there are techniques to stop this drooping from occurring. Many tactics are also far simpler to apply and put into practice than you may have initially believed.
What is the Best Wood for Wood Gate?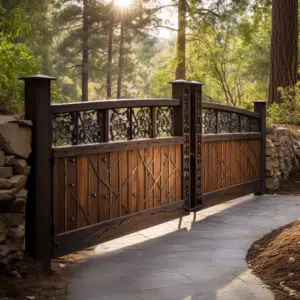 Redwood is the best option. Due to its good weather resistance, accessibility of supplies, and propensity to not distort as it cures, Redwood makes an excellent fence-building material. Additionally, it doesn't need any sealer and looks fantastic.
The next best option is Cedar. Redwood is more expensive than Cedar. Additionally, Sag-Proof Fence Gates is simple to find and weatherproof. But unless you seal it, it tends to curl as it dries and doesn't look nearly as well as Redwood. So in most circumstances, choose Redwood or Cedar.
How Much Time Is Needed To Construct A Wood Fence Gate?
If you follow the procedure outlined above, it should take between 4 and 8 hours, including time spent in the store. Four hours is a decent estimate if you are a skilled carpenter. If it's your first time, plan on spending the entire day on it.
What Is The Cost Of Building A Fence Gate?
You can anticipate spending between $125 and $160 on materials if you build the fence gate from scratch using the materials suggested above.
How Can I Prevent My Gate From Sagging?
Installing diagonal bracing and assembling your gate with exterior wood screws rather than nails are the two keys to preventing your fence gate from sagging.
It will build a solid structure that won't droop as long as the diagonal brace is fastened to the rails with 4-inch screws and the fence pickets are fastened to the brace using 1-5/8′′ screws. Special gate brackets are unnecessary since they only increase the cost and don't improve the operation.
Furthermore, it matters how the diagonal bracing is oriented. The diagonal bracing should begin at the bottom hinge and extend upwards outwards. The joints between the diagonal support and the rails will be under tension rather than compression. If you install it the other way around, it will be more prone to droop. Over time, this will force them to gradually separate. It's not recommended that you use nails to construct a fence gate since they will sag as they become looser over time. Use deck or fence screws for the outside.