Hang Mirrors Without Hooks, Most people think of mirrors as bedroom and bathroom décor, but they may be utilized in corridors, family areas, living rooms, and stairs to improve the home.
Mirrors make hallways and stairs appear larger and enhance your beauty. The frames are art. Some are intricate like statues. Many are ordered from artists, not metal and woodworkers.
Hang Mirrors Without Hooks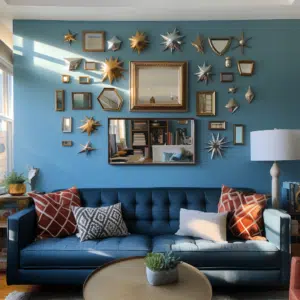 Homeowners are getting more and more discerning as time goes and traditionally benign items such as mirrors are quickly joining the fray as items of artistic craftsmanship and not mere utility-based household items.
Because of this, all aspects of utilizing mirrors for both utility and aesthetics must come under consideration making it a factor in how they are hung to best create a visually pleasing display.
Most of the time, you will find mirrors hanging on visible hooks which may not be the most ideal way to use mirrors aesthetically since the hooks are not entirely attractive to look at.
In any event, a mirror that appears to be self suspending simply appeals better. So how would you hang a mirror without hooks? Below are some solutions you could try.
How to Hang a Mirror Without Hooks
Adhesive mirrors

Adhesive tape or mounting tape

Command strips
Adhesive Mirrors
Adhesive mirrors offer a practical solution to this problem. The traditional mirror tends to be both heavy and bulky demanding a more stable way of hanging it such as hooks. To avoid this adhesive mirrors which are much thinner and lighter are a great alternative.
The back of the mirror is an adhesive surface so all you have to do is peel it and carefully attach the adhesive to the wall surface you have selected for it. 
The fact that these mirrors are manufactured thinner and therefore lighter is an added advantage since the number one concern with hanging mirrors this way is the weight.
Traditional mirrors get heavier with size. Adhesive mirrors do not have this problem because even the weight of a fairly large mirror is not that significant and they stay safely up on the wall for years. 
Unless you must have the traditional mirror, it would be best to go for adhesive mirrors only. If you must have the older heavier mirrors, you still have the following options to explore.
Heavy Duty Adhesive Tape or Mounting Tape
Mounting tape prevents hooks from damaging walls. Though advertised as a straightforward DIY project, it may not be.Most of these tapes can hold a mid-sized or portrait mirror, but larger ones need more. Traditional full-size mirrors are hefty and require sturdy hooks or stands. The most common mounting tape mistake is underestimating frame weight.
Many people correctly observe the weight of a mirror, which is occasionally indicated on the frameless mirror, and choose the frame thinking the extra weight won't matter.
This may be so since many a frame may add at most two pounds or so to the final tally. 
But upon hanging with mounting tape, the dynamics are different and this extra weight exerts force both downward and away from the wall all day long. 
Suddenly out of nowhere the mirror crashes. The mounting tape must be strong enough to absorb the counter-pressure exerted by a mirror hanging from one side which means you must consult along these lines.
Additionally, though this happens very slowly, the adhesive may degrade over time so be sure to get the best product, particularly where you have a large mirror that may be hanging where sunlight reaches it.
Command Strips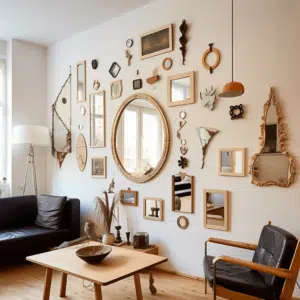 Command strips are an excellent alternative to hooks. They are small, invisible, and pose no danger to the integrity of your wall and your paint. As with adhesive tape, the command strip must be able to handle the weight of your mirror or you will have unnecessary accidents.
Small mirrors are never a problem and will easily stay up for years if not decades. The problem is always with larger mirrors and the added weight of their frames. There are many varieties of command strips with varying degrees of strength.
Think about this. More prudence is advised. If the frame has a holder or slab for lotion and other cosmetics, you may progressively add weights to the mirror.
Weight will increase till the tipping point is reached. The best option to avoid breaking is heavy-duty command strips that will last for years.
Finally
All the above solutions are based on adhesive as a solution. These are more prone to accidents than the traditional hanging hooks which offer more stability for much longer. 
Although they must be drilled or nailed into your wall, certain hooks may be better. They install more precisely and damage your wall less. Additionally, these hooks can be fitted so they are undetectable and won't damage your mirror.
For larger mirrors and sophisticated frames, weight-handling techniques are best. When skillfully applied to the wall, these are safer than adhesive;
Drywall hooks

Wall anchors

Toggle bolts