Sand for Landscaping Excellence, Choosing the suitable material for your landscape is a significant component of a beautiful backyard and a thriving home. Therefore, the suitable materials ensure your landscape is optimal and in excellent condition is beneficial.
There are many landscaping material options. Each has its advantages and disadvantages based on the location and use, whether it is used for aesthetic purposes or more of a functional purpose.
What type of material is best for landscaping and why? Join us as we take through two popular options that may seem identical at first glance-Decomposed granite and sand.
Decomposed Granite vs Sand: The Difference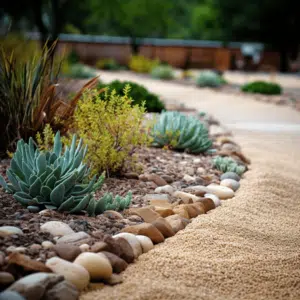 Decomposed granite (DG) is a natural byproduct of solid granite rock weathering and eroded in form. It consists of tiny particles with a sand-like texture. It is found in quarries from different regions.
DG is relatively cheap and available in various hues and colors such as reds, golds, grays, tans, greens, and sizes (3-eighths of an inch to fine dust). Therefore, it presents you with endless customization options for your garden.
Sand is a versatile material used for different landscape functions transforming an unused outdoor space from a dull space to a chilling spot or a beach-like area. It is loose particles of broken rock consisting of grains for disintegrated stone.
Sand is found in deserts, beaches, and riverbeds around the globe. Based on its components, it can have different colors like black, beaches, pink, green, and white. However, it is paramount to note that not every type of sand is fit for all creative works.
Decomposed granite and sand are the same because they contain materials that have weathered and broken into small pieces. Additionally, their texture is similar but with contrary compositions. Both result from weathering processes, including wind, water, and the thaw cycle.
The primary difference between Decomposed granite and sand is in their composition. DG consists of broken-down granites only, while sand is a mixture of minerals such as mica, silicon dioxide, quartz, and feldspar, including the broken-down shells of old sea creatures.
Can Sand Be Used Instead of Decomposed Granite?
In some scenarios, and can be used in place instead of DG. Although, you need to be cautious about the various types of sand as they have different properties and purposes.
For example, Utility sand has a coarse texture, a mixture of colors, and some little stone pieces. It is used to fill holes or as a base and often contains debris.
Unlike utility, Beach/white sand is finer textured and is commonly used when you want to attain a soft landing like on a playing ground or volleyball court. It is free of silica and secure for children to play on.
It provides optimum sand quality for building sand, sculptures, and sandal castles.
On the other hand, Masonry sand is white but can be available in beige, tan, or gray. It is finely processed and used to form mortar or concrete for laying stones and bricks.
It is famous for patios, swimming pools, pavers, construction, and landscape surfaces.
Similarly, with Decomposed granite, you can choose materials options on the market. For instance, natural decomposed granite is affordable and contains granite aggregate without additives.
Its is commonly used for gardening projects like mulch, garden paths, play areas, sports surfaces, and patios. It is excellent non-organic mulch and can be spread around plants and trees as it continues to weather over time while offering nutrients to the surrounding soil and plants.
Decomposed Granite
It is excellent as it outlasts wood mulch and prevents chafing animals from digging up your garden beds. Its provides excellent drainage to your landscape.
You can go for stabilized DG, which consists of a stabilizer with granite aggregates holding it together. It is more durable than loose decomposed granite. Nonetheless, it is not suitable to use around plant material.
Sand for Landscaping Excellence is costly for the decomposed granite because the additional stabilizer agent allows it to decompose. It is less prone to erosion.
Stabilizer DG is ideal for pathways or patios and needs less maintenance.
Resin-coated decomposed granite with a natural resin mixed into the granite aggregates, forming a surface that looks more natural and similar to asphalt.
It is also highly stable and durable, making it the best option for driveways, pavements, construction projects, etc. because they don't wear off.
What Are the Pros and Cons of Decomposed Granite?
Pros
It lasts longer than mulch yet offers nutritional benefits to trees and plants.

It is affordable

It prevents pesky animals like squirrels from digging around your backyard

It covers unsightly patches of the ground where grass won't grow

Very porous and perfect for runoff water if well compacted

Imitates the sound, feel, and look of gravel without loose footing
Cons
Sticks to shoes, leading to a very messy home, especially if it is relatively close to the entry points

It needs to be reapplied as it breaks down.

If it finds its way to the house, it can scratch the indoor floor

Unsuitable for stormy and sloppy areas as it gets carried away with heavy rain.

You need to apply to moisten for robust compatibility.
Sand Pros and Cons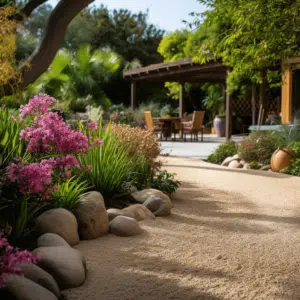 Pros
It offers an elevated look with light-colored sand in areas that are used in landscaping applications.

The use of sand provides increased drainage and room for new root growth

The sand application also reduces soil pests like slugs and assists in systematic root rot affecting the whole garden.

Flower shrubs receive a flattering appeal when sanded along with some perennials. Pops of color look great with sand and can also be used in the garden.

When sand is added to the garden soil, it gives it a more excellent look and breaks the larger chunks of soil.
Cons
Sand wears off with time and finally loses its beautiful look over time.

You will have to deal with issues of a garden in soil compaction leading to poor drainage, thus unhealthy plants.
Sand for Landscaping Excellence is crucial to note that the primary reason to consider when selecting sand for landscaping is the soil type, and not all plants will bear with it.
Decomposed granite is the ideal material to give your landscape a natural look in contrast to other materials. Sand for Landscaping Excellence is affordable and suitable for your sports area, construction, and landscaping.
Another popular option is sand which is versatile and offers a lot of functions. An outdoor garden and pathway with sand, hedge plants, and a flower bed or decorative landscape piece offer a more defined look.
Many are the options when it comes to sand and decomposed granite. Whichever you choose, whether sand or decomposed granite. Just ensure you select the right type for your intentions, like if you'll use it around plants or create a path.