Drylok vs. Quikrete Hydraulic Cement, Knowing there is a crack in your wall is always disturbing. Hydraulic cement is the greatest method for fixing these cracks.
The problem comes when you have to choose one option from a plethora of options. This post will lead you through a comparison of two high-quality hydraulic cement options to help you avoid that trouble. The rivalry between Drylok and Quikrete hydraulic cement will be seen here.
What is Drylok Hydraulic Cement, and How Does it Work?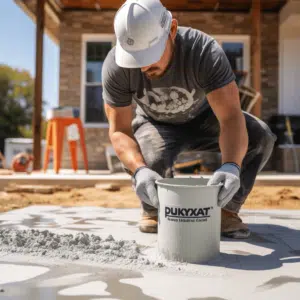 Do you have water pouring through the cracks on your basement walls? Then you'll need to use hydraulic cement to fill in the gap. The Drylok hydraulic cement offers excellent coverage of leaks and cracks, preventing any water from leaking.
The best aspect about utilizing this cement is that you won't have to wait long to reap its benefits. It works perfectly and ensures that the cracks are properly sealed.
What is Quikrete Hydraulic Cement, and How Does it Work?
Quikrete hydraulic cement is another type of hydraulic cement that may cover cracks and leaks in your basement wall. It's high-quality hydraulic cement with exceptional strength. You can also expect a speedy response from this cement.
This cement can be obtained whenever you need to ensure that water does not pass through those cracks and leaks, further damaging your wall.
Drylok Vs Quikrete Hydraulic Cement: Comparison Table
| | | |
| --- | --- | --- |
| Specifications | Drylok Hydraulic Cement | Quikrete Hydraulic Cement |
| Texture | Fine | Rough |
| Longevity | Not great | Excellent |
| Impact on the pH levels | No impact | Alters pH levels |
| Cure time | 3-5minutes | 15-20 minutes |
| Usage underwater | Usable | Not recommended |
| Cost | Costly | Less costly |
Differences between Drylok and Quikrete Hydraulic Cement
Below are some factors that show the difference between Drylok and Quikrete:
Cost
Quikrete beats Drylok hydraulic cement to the punch when it comes to price. Quikrete is substantially less expensive than Drylok cement if you're going for a similar quantity. So, if you want to save money on hydraulic cement, Quikrete should be your first choice.
Technique of Application
When it comes to hydraulic cement, you'll undoubtedly want something that you can accomplish yourself. So, you're looking for something simple to use.
Between the two options, Drylok cement is significantly easier to use. You can apply it with a brush or roll it out like paint. This cement can also be used even if the walls are damp.
Quikrete, on the other hand, can be a little more challenging to work with. You can't adequately apply this on a wet wall or if there is much moisture around the wall. Compared to Drylok, the application method for this one is also a little more difficult.
Curing Time
The amount of time it takes for a hydraulic cement to cure can influence your choice for your specific application. This is true because it's always better to have cement that cures rapidly when you don't have much time on your hands.
In comparison to Quikrete, Drylok cures quickly. The Drylok Fast Plug is one of the Drylok variations that cures extremely quickly. Quikrete, on the other hand, cures significantly more slowly. So a Quikrete hydraulic cement won't give you those kinds of quick results.
Texture
You'll notice a distinct difference in the hydraulic cement textures in most cases. While the Drylok has a finer texture than Quikrete, Quikrete has a rougher texture that you might wish to use in your sealing.
There isn't an obvious winner here. It's entirely up to you to choose whether you want to have a bit of coarse texture or fine texture on your cement.
Durability
Quikrete's fundamental components are stones and gravel, making it significantly more durable. You can thus rely on this cement for a long time without being worried.
To ensure that the Drylok lasts as long as possible, you must purchase an additional sealant.
Similarities between Drylok and Quikrete Hydraulic Cement
You now understand the differences between Drylok and Quikrete hydraulic cement. However, there are certain similarities between these two types of cement. The following are similarities between Drylok and Quikrete hydraulic cement:
Purpose
First and foremost, hydraulic cement serves the same goal. These materials are essentially used to seal all of the cracks and leaks in your basement wall. As a result, Drylok and Quikrete are functionally identical.
Application
Wait! Do not become confused right away. We talked about the application in the differences section but listen to us out. Although the ease of application of these two types of cement differs, the application process is nearly identical. For cracks and leaks, you can utilize an essential use procedure.
Effectivity
Even though the two hydraulic types of cement cure at different times, they both work. You don't have to be concerned about which one will work and which will not. Both of these choices are effective. It's only that one works faster than the other.
Which is Better: Drylok Hydraulic Cement or Quikrete Hydraulic Cement?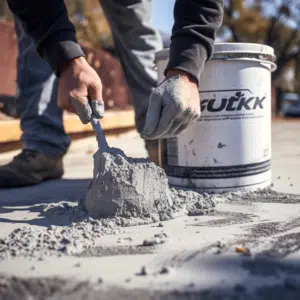 If we had to select between the two, we would do so based on a few considerations. Because they both serve the same goal and deliver on quality, there is no clear winner.
If you're looking for a low-cost option that will last a long time, we recommend Quikrete. However, if you want speedy results with ease of application, the Drylok hydraulic cement is ideal.
Can You Paint Over Quikrete Hydraulic Cement?
Yes. Oil-based or latex-based paint can be used to paint Quikrete hydraulic cement.
The cement manufacturer recommends that you paint after 28 days of installation if you are using oil-based paint and after one week if you are using Latex-based paint.
Is It Possible to Paint Over Drylok?
Yes, you can paint over Drylok once it has been installed for 24 hours. A brush or a roller can be used to apply an oil or latex-based primer.
Final Take
Both Drylok and Quikrete hydraulic cement are good options. You won't have much trouble selecting which one is more suitable for you since you can select between them based on your preference.
Also, with this comparison at your disposal, making a decision becomes a lot easier. So, that's something that will undoubtedly assist you in selecting the ideal hydraulic cement choice.