We had a chance to examine and compare two of the biggest home appliances brands in the world: Electrolux vs Miele and this post should help people who are searching for a reliable canister vacuum.
Starting with Miele Vacuums, this brand offers some of the best vacuums available on the market, but they are generally associated with a higher price tag than many others. So if you want to make sure you're getting the best deal for your money, we suggest you do your homework first.
Other than that, these are great investments that will last you for over 20 years with proper care. So take your time and decide on the best Miele vacuum model that will serve your particular needs the best.
On the other hand, Electrolux is also one of the most popular home appliances brands in the world. Producing and selling 40+ million products in more than 150 different countries every year, this company employs more than 52,000 people to sell and deliver appliances both large and small.
Electrolux vacuum cleaner range is generally comprehensive, featuring several sticks, handheld, and upright vacuums to choose from. Check out our detailed comparison review between Electrolux vs Miele vacuum.
Electro Vs. Miele Vacuum Cleaners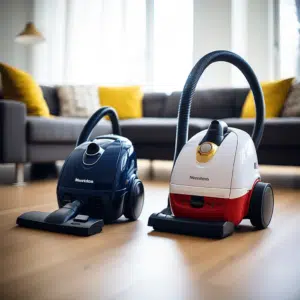 When buying a vacuum, we aim to get the best deal for our money. Functionality, ease of use, and durability are some of the major qualities that you should look for in a vacuum, irrespective of the brand.
Electrolux and Miele's vacuums are widely known by consumers mainly due to their durability and functionality. The Miele brand is great with quality, whereas the Electrolux vacuums are recognized for their low noise output and many features.
A detailed comparison between these two manufacturers will help you make a purchase that you'll enjoy for years. Below is a quick overview of the various factors you should keep in mind when buying a vacuum.
What You Need in a Vacuum
Well, different homes- different needs. People with allergies should opt for top-performance vacuums with excellent filtration. Those with pets would be wise to choose vacuums capable of removing fur. And if your home has wooden floors, experts suggest that you go for a different vacuum from those meant for carpets.
Fortunately, both Electrolux and Miele provide models that cater to a range of customer needs.
Miele vs. Electrolux Vacuum
One of the best vacuums from Electrolux is the UtraFlex. This model only weighs 11.6 pounds, which makes it easy to move around. It also comes with a sealed design and HEPA filter to cater to people with allergies. What's better, the filter can be rinsed to minimize the replacement costs for the filter.
The 1200 watt motor means that the vacuum has powerful suction to easily get the dirt out from low-pile and thick carpets alike. The vacuum comes with specially designed bare floor and carpet nozzles, making it quite versatile and effective.  Plus, the whole thing is quiet during operation.
With that said, the UltraFlex, however, leaves room for improvements. The dust canister featured by this model could be bigger. Otherwise, you will have to empty the canister often for the vacuum to perform optimally. Previous users also suggested that the 21-foot retractable power cord could be longer.
Miele, meanwhile, offers C3 Calima as one of its high-end bagged vacuums. It is a whisper-quiet compact and lightweight model that weighs in at around 12 pounds.
Side to Side Comparison
With its thoughtful design and excellent craftsmanship, the C3 Calima comes with a 1200 watt motor that's highly effective for cleaning low-pile and medium-pile carpets.
The vacuum's multi-layered filtration and sealed design come in handy to prevent allergies from escaping the vacuum. The product also does an admirable job of removing and containing allergies. It is also versatile and ships with useful tools with allowance for many more.
Contrary to other models out there, the Calima incorporates the extra cost of dustbag replacement, but the best thing about these multi-layered self-cleaning dust bags is that they facilitate hygienic dirt disposal, while adding to the overall efficiency at containing allergies.
In comparison to the UltraFlex, the Miele features a longer power cord, which gives it an accommodative radius of 36 feet. As a result, the UltraFlex has often been considered a better choice, especially for cleaning thick carpets.
The Calima is also ideal for cleaning low-pile and medium-pile carpets. Coming down to noise, the Miele is still a better option. It is associated with minimum noise, typically no louder than boiling water.
Electrolux Ultrasilencer EL6986A vs. Miele Capri-Canisters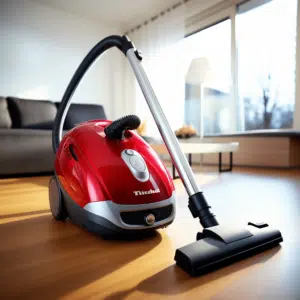 In case you're looking for a budget option, the Miele Capri is one of the most affordable vacuums the company has to offer.
Just like Calima, it boasts a powerful 1200 watt motor, multi-layered filtration system, and an AirClean exhaust filter.' The model weighs only 10 pounds, with a reach of 29 feet. And it is extremely quiet.
However, the Capri doesn't feature the sealed system or a standard HEPA filter, which makes it quite not the best deal for persons with allergies.
Also, the vacuum's crevice tool could be longer. Other than that, the Calima is an effective and durable vacuum; even though it has fewer features and advantages than the Capri.
The first thing you'll notice about the Electrolux Ultrasilencer is the whisper sound operation. The sound dampening technology makes the vacuum extremely quiet. It has a noise output of only 65 dbA, which is the noise level of a spinning washing machine.
Another thing that we like about the Ultrasilencer is that it's ideal for hard flooring and low-pile carpets. However, this one is not meant for cleaning medium piles and thick carpets. Using it on such carpets will definitely compromise its durability.
So, which is One's Better: Electrolux or Miele
Electrolux vacuums are generally more expensive compared to Miele vacuums in the same class. Nonetheless, people with allergies prefer Miele vacuums as their canisters are designed to remove and retain virtually all dirt. Plus, they are sturdy and built to clean effectively for decades.