Sustainable Bedding Choices Your bed is the comfiest space in the world. You would be looking to improve your quality of sleep. So, as the world evolves in the bedding industry, it is essential to invest in quality, soft, and sustainable beddings in your bedroom for a comfortable experience.
Join us as we compare the top well-known bedding sets and collection brands, including their products, to help you make a unique and responsible decision based on reliable information.
Sheets and Giggles vs. Buffy: Overview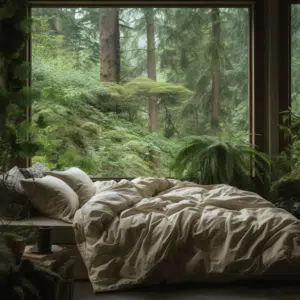 What is Common with Both Brands?
Sheets and Giggles and Buffy brands manufacture hypoallergenic products. Traditional cotton-made sheets and other beddings are naturally more susceptible to trapping moisture than their eucalyptus counterparts. They have moisture-wicking properties that fight against bacterial growth and help your skin stay cleaner and other indoor allergens.
The hypoallergenic sheets contain a tight weave which makes dust mites less likely.
Therefore, the hypoallergenic sheets are paramount as they fight back allergies meaning they repel allergens from the surface where you sleep. They also protect your box springs, mattress, and pillow from dust mites, bacteria, dead skin, etc., keeping your bed fresh and improving its longevity.
Pros of Hypoallergenic Sheets
Sustainable
The hypoallergenic sheets are made from eucalyptus. They are softer than cotton sheets, and their production procedure is eco-friendly and takes less water and energy.
Both brands work with sustainable farmers whereby Buffy's partners plant four trees for every three harvested. In comparison, sheets and Giggles plant two trees for every tree harvested and one tree for every order received.
Don't Sweat It
Sustainable Bedding Choices looking to invest in quality, the eucalyptus sheets are naturally softer and more incredible than non-cotton sheets, an ideal choice to kiss goodbye to the night sweats. The hypoallergenic sheets are sustainably produced and popularly considered more comfortable than cotton sheets.
Sheet Giggles vs. Buffy Comparison Table
Feature
Sheets and Giggles
Buffy
Price
$150-$ 160
$249( sustainable linen)

$199(Eucalyptus sheets)

Fabric source

Eucalyptus

Eucalyptus

Thread count

400

300

Hypoallergenic

yes

yes

Shipping

Free Shipping to most homes

Free Shipping and returns

Sustainable Focus

Yes

yes

Color profile

Vibrant color

Neutral colors
What Is Buffy?
Buffy company is renowned for sustainably producing products using fibers made from hemp, eucalyptus, and recycled plastic. Shoppers can also buy duvet covers and pillowcases to customize their bedding further.
Buffy uses Eco-friendly fabrics and manufacturing practices to create fluffier products with cool soft fabric that gets smoother each time you wash it. These products are naturally-dyed, cruelty-free, and hypoallergenic with a relaxed–to–touch feel.
The company offers a 7-night sleep guarantee and a free trial before you purchase. The brand only completes the transaction depending on what you choose to keep.
Buffy Eucalyptus Sheets
Buffy sheets are given a lot of thought and responsibility. The fabric is extracted from the regenerative forest with natural colors added to them, such as tea, turmeric, and gardenias. The eucalyptus is sourced from Australia, using 10x less water than cotton sheet production.
The company allows a return policy to consumers for products they don't want in exchange for a refund because returns are inherently inefficient, increasing CO2 emissions.
The greatest thing about Buffy is that with your purchase of the sheets, you're indulging in comfort and, at the same time, conserving the environment. The eucalyptus sheets get softer with each wash. 
Buffy Sheet Pros and Cons
Pros  
Cons

Eucalyptus fibers
Uses only natural dyes
Hypoallergenic
A cool-to-touch feel
Sustainably sourced

Muted color choice

Relatively expensive
Sheets and Giggles 
Sheets and Giggles is a one-stop shop for sustainable bedding sheets, comforters, mattresses, duvet covers, throw blankets, pillowcases, and giggles (complimentary)
Sustainable Bedding Choices  make sustainable bedding from Eucalyptus trees grown on sustainably managed and biodiverse farms. Its lyocell fabric is made of high-quality eucalyptus wood pulp- a sustainable and renewable natural resource. 
Additionally, by purchasing a eucalyptus sheet, you contribute to the restoration of the US. Apart from every tree harvested, two more are planted.
Their beddings are soft and breathable, made with unconditional love for the Earth.
The company gives back to the community 1% of its profit, products, time, and equity to a non-profit organization at the community level. They routinely donate to pressing causes that the company cares about, like during Covid -19
The brand gives you 10% off your next purchase if you donate your old sheets to the homeless shelter.
Sheets and Giggles stand out in many ways: an edgy name, sheets come in vibrant colors such as royal purple and mint green, the website has a few "Easter eggs" to be found, and has a VP of Marketing. No 
Sheets and Giggles Sheets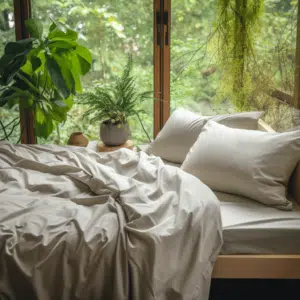 Just like Buffy, the company does things the right way. The company claims "near-zero" waste and 96% less water use in its manufacturing process, contrary to its cotton counterparts. 
Sustainable Bedding Choices focuses on establishing the best possible sourcing and production procedures reflected in the brand's quality. The sheets contain a 400 thread count, which is the ideal spot to maximize softness and breathability. The company makes a quality sheet set, including a flat sheet, fitted sheet, and pillowcases that will change your sleeping experience.
Sheets and Giggles have little tags to tell you how you should lay them on your bed, like which corner goes where. The brand carefully considers all the sheet details, from choosing responsible forests for sourcing to making it easier for you to spread the bed. The brand sells other products like comforters, duvet covers, and throws blankets.
The significant part of this brand is that it has a no–question asked return policy. If the sheets are not to your taste, send them back and get a refund which is a bit weird. Nevertheless, their sheets are the most luxurious-feeling sheets
Sheets and Giggles pros and Cons
pros
Cons

Best value reviewed
Sustainably sourced
Clever corners tags to help you make your bed
Come in both neutral and bold colors
Hypoallergenic
Eucalyptus fibers
Discount available if you donate  old sheets  to a homeless shelter
Between Sheets Google, Which One Is a Good Brand?
Overall, Sheets and Giggles provide users multiple options while offering a cooling effect. The sheets are designed to give you a comfortable, pleasant sleeping experience. The beddings are suitable for those that prefer a silky touch and have sensitive skin or are allergic, as well as sweaty sleepers. 
Buffy brand has a line-up of hypoallergenic comforters and pillows, including a comforter option (The Buffy Breeze) that is 100% Eucalyptus sourced with the other one rated fluffier than a marshmallow. For a complete bedroom overhaul, Buffy may be for you.