An egress window is like having a lifesaver in your basement during an emergency. This is because egress windows have saved more lives than they have endangered.
It's, therefore, worth the effort to figure out how to make at least one basement egress window functional and how to decorate it.
We don't wish for you to find yourself in a scenario when the egress window serves as your only means of escape, but you can ask those who have. They will describe their ordeal to you. What would they have done if their basement lacked enough egress windows? But the real question is, how many egress windows are necessary for a basement?
How Many Egress Windows are Required In a Basement?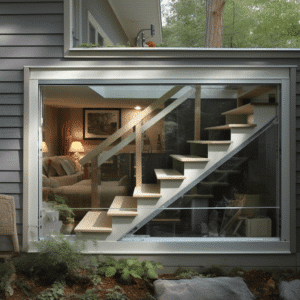 In the US, the basement must have at least one egress window. But as long as you adhere to the IRC rule while building the basement egress windows, you are free to have two or more egress windows in your basement.
Because egress windows are designed to allow you to escape during an emergency, having more than one of them is not necessarily a negative idea.
Therefore, if your basement has more than one egress window, you offer a sufficient amount of emergency escape routes and make it easy for emergency personnel to enter the home readily during a rescue operation.
Do All Basement Bedrooms Require an Egress Window?
Yes, each bedroom in a basement building must have at least one egress window large enough for a person to squeeze through in an emergency. The window must be functional from the inside and cannot have bars or grills covering it.
There are several standards and specifications you must adhere to while building egress windows in the basement. The IRC has previously established these codes to guarantee that your egress window truly functions. These codes include:
An egress window should be wide enough to allow one to crawl out when there is an emergency easily

It ought to be wide enough to provide access to the basement for emergency personnel

The window should open fully

It must have an open space of at least 9 square feet

The window should be opened from the inside

No bars or grills should be placed in front of the window

The window should not be key-locked

It must not require a tool to open the window

The window must be at least 36 inches in height and breadth

If the window is above 44 inches off the ground, a ladder 12 inches wide must be attached
What is The Difference Between a Basement Window and an Egress Window?
Basement windows are for ventilation, while egress windows must meet emergency restrictions. Egress windows have stricter standards than basement windows.
While basement windows guarantee you enough airflow inside the basement because having enough airflow is crucial for a propane heater in the basement, egress windows guarantee you have a way out in an emergency.

How to Decorate the Egress Windows in a Basement
The ideal method to decorate a basement egress window is to use coordinated, airy, and light window accents, such as stained glass, valances, perfectly functioning shutters painted a light color and artistic window films.
How High From the Ground Should an Egress Window Be
An egress window must be no higher than 44 inches off the basement floor per the International Residential Code for basement occupants to easily access it in an emergency.
Egress windows must also be devoid of anything that would prevent someone from leaving through the window, which is another crucial point to remember. This means that you cannot cover the window's exterior with metal bars.
Standard window latches can be used for security, but you cannot install a locking system that requires a key or a combination and might make it difficult for someone to escape via the window. Consider mounting an alarm on the window if security is a concern.
What is the Cost of Installing a Basement Egress Window?
Considering the cost of installing the required egress window if you're finishing an unfinished basement is essential because such expenses can significantly increase the project's overall price.
Installing an egress window in your basement can cost between $2,500 and $5,300. The price of the window and its installation are included. Depending on the size of the window and the difficulty of the installation, the price can vary greatly.
A new window well installation could cost an additional $2,700 to $5,700. The materials used to build the window well and the excavation and finish grading are all included in this price.
Are Egress Windows Necessary in Walkout Basements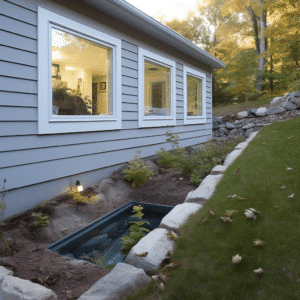 Most of the time, a walkout basement with a door going to the outside of the house does not require an egress window. A few exceptions exist. If your basement comprises separate rooms, any living spaces outside the room with the door must have an egress window.
Do You Need an Egress Window for a Sub-Basement?
Sub-basements are underground floors in some (rare) residential, commercial, and hotel buildings. Sub-basements are underground and windowless. Egress windows cannot be installed in a sub-basement, making them unsuitable for living quarters.
Final Take
While a finished basement can be a great spot for a den, office, workshop, or even a bedroom, the room needs a functional egress window to guarantee your family's safety.
An emergency team can enter your home through an egress window in the event of an emergency or use it as an emergency exit.
An egress window is a legal requirement by the International Residential Code; thus, you should have at least one in your basement. Thanks to the variety of options available, you can easily locate an egress window that fits your basement.