If you're planning to take on major renovation projects or replace a gas appliance in your home, then turning off the main gas supply is an essential skill that you should know. This includes knowing how to tee off an existing gas line as it can help minimize damages during a gas leak in your home.
So, How to Tee off an Existing Gas Line?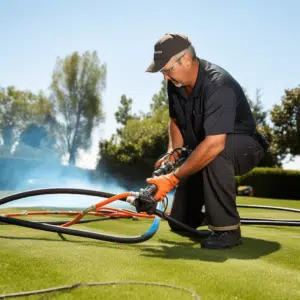 Well, perhaps the best part about most DIY projects is that you don't necessarily need to have a license to undertake them. Meaning if you understand the basics of teeing off a gas line, then you can have it done with ease. That said, though, in addition to making sure you have the tools needed for the job, it's important to keep your state laws in mind.
Here's a step-by-step guide on how to tee off an existing gas line:
Turn Off the Main Gas Supply
To tee off an existing gas line, you'll need to find and shut off the main gas line. This should be done before even doing anything else on the gas line. In most cases, the main supply line is found on the front or sides of the house, or in other cases, in the home's breezeway.
You can easily trace the shut-off valve by finding the gas meter first. Once you've located the meter, you should be able to spot the shutoff valve as well. Both the gas line and the gas shutoff valve should be located about 6-8 inches off the ground on the line.
Note that the main valve is controlled by a lever, commonly referred to as Tang. This is a rectangular control switch that goes parallel with the rest of the piping when turned on. To shut it off, use a crescent-type wrench and turn the tank perpendicular to the gas line.
Once you've turned off the gas main supply, leave it for 5-10 minutes so that the lines and the remaining can clear out and disperse. You'll realize that most gas appliances rely on electricity for specific functions. As such, even one tiny stray of spark could mean danger.
Cut Into the Gas Line
Working on gas lines can be tricky sometimes, especially when you don't have the much-needed knowledge of which tools to use. Note that when cutting, a single sparkle can cause a fire in that existing gas into the pipeline.
So, in this case, it's strongly suggested you abstain from electric saws or such power-driven tools when cutting pipe lines. Instead, get a cutting wrench to cut short the pipeline or make some room to accommodate the tee. Be sure to have your gloves and goggles on when cutting to mitigate any risk.
Before you make the cut, measure all the pipe sizes, including where you want to cut, where you're planning to make a joint, as well as the size of the tee itself. After getting all the measurements right, proceed and mark the places of cutting. Then put your wrench in the marked sections and make 360-degree turns until the pipe is cut off.
Tee off The Gas Line
Tee fittings are used to create new connections between appliances such as an oven or a stove to a gas line. They are available in different sizes, and there are even metal tee fittings that can be installed for various purposes.
That means when you introduce a tee fitting in the gas line pipe, it would reduce the supply going to the first appliance such that the later pipe gets smaller. You can then reduce that to a smaller size and get a bigger tee fitting that can accommodate more room for later gas and other gas connections.
After cutting the gas line based on the measurements obtained, it's time to use the new tee fitting. Check that the tees, as well as the new pipe fittings, are all of the same widths; else, gas will leak from any loose joint.
Pipe fitting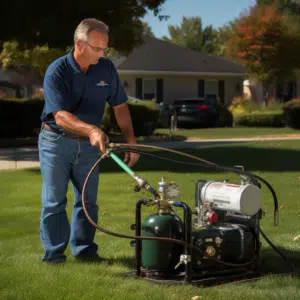 A joint compound is essential for lubricating pipe joints while attaching fittings. This way, you can tighten and seal the tapered pipe threads using the pipe wrench. Apply an even, liberal application of pipe joint compound to all pipe joints and tee sides.
Apply the compound and attach all fittings according to appliance count. If necessary, utilize numerous tee joints and form a tee tree to allow place for gas appliances. Extra threads can be caped off if not needed immediately.
Tightening pipe fittings requires two sharpened wrenches. One for holding the pipe and the other for tightening the fittings; the technique is like ratcheting. If none existed, use a gas valve to switch off the space heater's gas while not in use.
The Bottom Line
It turns out that all you need to tee off an existing gas line is essential tools and some level of expertise. In case you don't have proper knowledge about gas lines, the process can get messy and confusing. Hopefully, the tips shared in this article can assist in dealing with the risky task. Remember to check the laws and codes of your state before cutting a gas pipeline all by yourself. And if you're having second thoughts, then we would suggest you contact a licensed professional for help.