Graber vs Hunter Douglas, To customize your space to make it more comfortable and familiar to you is always a dream of many. Who wouldn't want windows that open and close on command, schedule, or even room occupancy in their home?
Smart-window treatments provide many benefits like safety angle, convenience, security, and energy conservation rendering such a luxury. There are several options for blinds, drapes, and shutters, and looking through them can be tedious, daunting, and challenging.
The first step before purchasing a product is to find a reputable manufacturer who offers the best quality products. Graber and Hunter Douglas are the two most popular window manufacturers leading in the window motorization trends.
Join us as we take you into these two depths to help you make a noble decision.
Graber vs. Hunter Douglas: Overview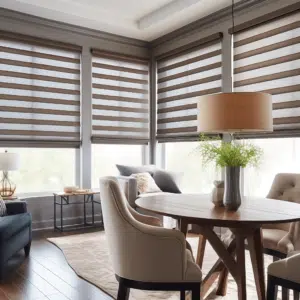 Graber is a well-trusted brand specializing in window blinds, shutters, and drapes in the USA. Hunter Douglas is a Dutch multinational corporation renowned for its expertise in window blinds and shutters, and it is the world's leading manufacturer of drapes and blinds.
When you set out for customized windows, the first thing in your mind is your taste. Therefore, with slight differences in quality and pricing between Graber and Hunter Douglas, they are worth your trust and time, for they have a stellar reputation and good reason. 
However, what unique variances make each of them stand out?
Hunter Douglas is your number one product line, although expensive, while Graber is a more affordable brand with high-quality products. Each product line is customized to suit your décor, but with a slight variance in their motorization options and approaches to social responsibility, making them distinct. Read on
Product Selection
Regardless of the type of window (large, arched, sliding glass doors, or odd-shaped) you have, you are assured of getting a perfect choice. The brands offer endless blinds, shades, and shutters for you to choose from.
The two companies provide top-quality and tech-featured window coverings which are exceptionally versatile but still durable and practical. All types of horizontal and vertical blinds of your choice are available from natural wood, faux wood vinyl, and aluminum. The same goes for the shutters.
Graber and Hunter Douglas contain a variety of shade styles to minimize excess sunlight and heat out of your home and keep the indoor space fresh and relaxing. These are:
Natural–

renewable materials in weaves and natural patterns

Roller shades–

maximum light control from sheer blackout

Cellular/Honeycomb–

cell design trapping air for full insulation and energy conservation

Roman shades–

soft folds when shut and the smoothness of a shade when open

Sheer Shades

-seamless layers of sheer fabric

Sliding panels–suitable for large windows and patio doors
Solar Shades–

semi-opaque fabrics offering glare and UV protection

Pleated Shades–

uniformly spaced crisp folds
However, Graber offers some window products unavailable from Hunter Douglas, such as Drapery, Exterior Solar Shades, and Layered shades. Z-wave smart-exterior solar shades and other Z-wave innovative motorized products too.
Affordability
 Price is rather difficult to compare when it comes to window treatments. The price tag depends on your product's design and color selection. Many can agree that Hunter Douglas is a little bit pricier than Graber. 
Nevertheless, they provide a top-of-the-line, top-notch product that is long-lasting. Graber offers highly-quality products but typically at a lower price point.
Motorization
The soft window coverings made from fabric are called "shades." To allow light in, they roll and pull up and roll and pull down to block the light and privacy.
Blinds are complex window treatments containing vertical and horizontal slats usually made from wood, plastic, metal, or composite materials. These slats can vary in angle to allow in or block light or closed tightly to prevent glare and to offer privacy.
As the world is fast-moving, people are after luxury that saves time and effort. Similarly, windows dressings' features smart technology, thus allowing you to operate them from any room's location.
Graber and Hunter Douglas are the leading in offering motorization for your shading, although their systems are slightly different. Check below
Hunter Douglas 
Powerview Motorization– This system permits you to operate your blinds and shades from a remote control or your smartphone device.
SoftTouch Motorization– It is a battery-powered system that uses a wand to control the shades' operation
Graber
Its Virtual Cord uses Somfy technology to provide accessible, one-touch control of your shades using a remote. Graber has shades with built-in Z-wave communication, enabling you to connect with any Z-wave smart hub for mobile device control.
Therefore, it allows access to additional functions when you pair it with other digital devices like shades moving per your smart thermostat temperature, etc. Using assistants like Google Home, you can control them with your voice.
Its is terrific for large or complex reach window treatment. It enables you to operate one shade or multiple simultaneously from anywhere in your home. It is easy to use with a one-touch button.
A Distinct Difference- Social Responsibility
Graber uses natural materials while producing wood window products like 100% North American hardwood. They use such in their product formation for purposes of recycling whenever possible.
It also uses sustainable manufacturing methods like Conserving, Recycling, Packaging, and Sourcing. Additionally, they use Greenguard Indoor Air Quality Certified elements in their products to retain a friendly indoor space.
Contrary, Hunter Douglas they focus on giving back to the community (charitable work). Thus, they have partnered with Ronald McDonald House and Habitat for Humanity and support hospitals with window covering donations and monetary contributions.
They also have a fellowship with the Breast Cancer Research at Memorial Sloan Kettering Cancer Center, participate in disaster relief efforts, contribute to several organizations like Bal Swan Children's Center, etc., and do community outreach.
What are the Pros and Cons of Graber and Hunter Douglas's System?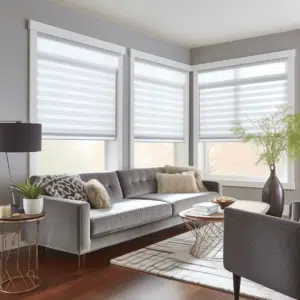 Hunter Douglas's Powerview
 Pros
The remote control can be wall mounted

Voice activation is possible with smart-home systems

Operation is through Pebble Remote control

Control and Schedule Shades using Powerview App

The only brand with motorized shutters

Direct Compatibility with many home automation systems

Connects to Apple Home Kit
Cons
Lacks rechargeable and solar options

It needs an annual maintenance

Requires 8AA batteries per shade

Premium price category
Graber Virtual Cord
Pros
It saves you money on batteries

Excellent battery life than most rechargeable battery options

Operate via Virtual Cord App

Its battery wand is rechargeable

Voice activation is possible with innovative- home systems

Concealed power source

Quiet
Cons
No motorized shutter option

Remote only provides simple features

Solar options unavailable

The battery tube and Shades need separate Installation processes

Rechargeable lithium-ion battery annually
Which Is Better, Graber or Hunter Douglas?
Both brands consist of some attractive window treatment options. Therefore, you are assured of getting a suitable solution to your window dressing expectation once you take a keen look at their irresistible list of high-quality products. 
No matter your choice, the two manufacturers can satisfy your desire for exquisite and quality shades and blinds that extend, retract, or auto-tilt while offering you luxury and value like boosting security and conserving energy.