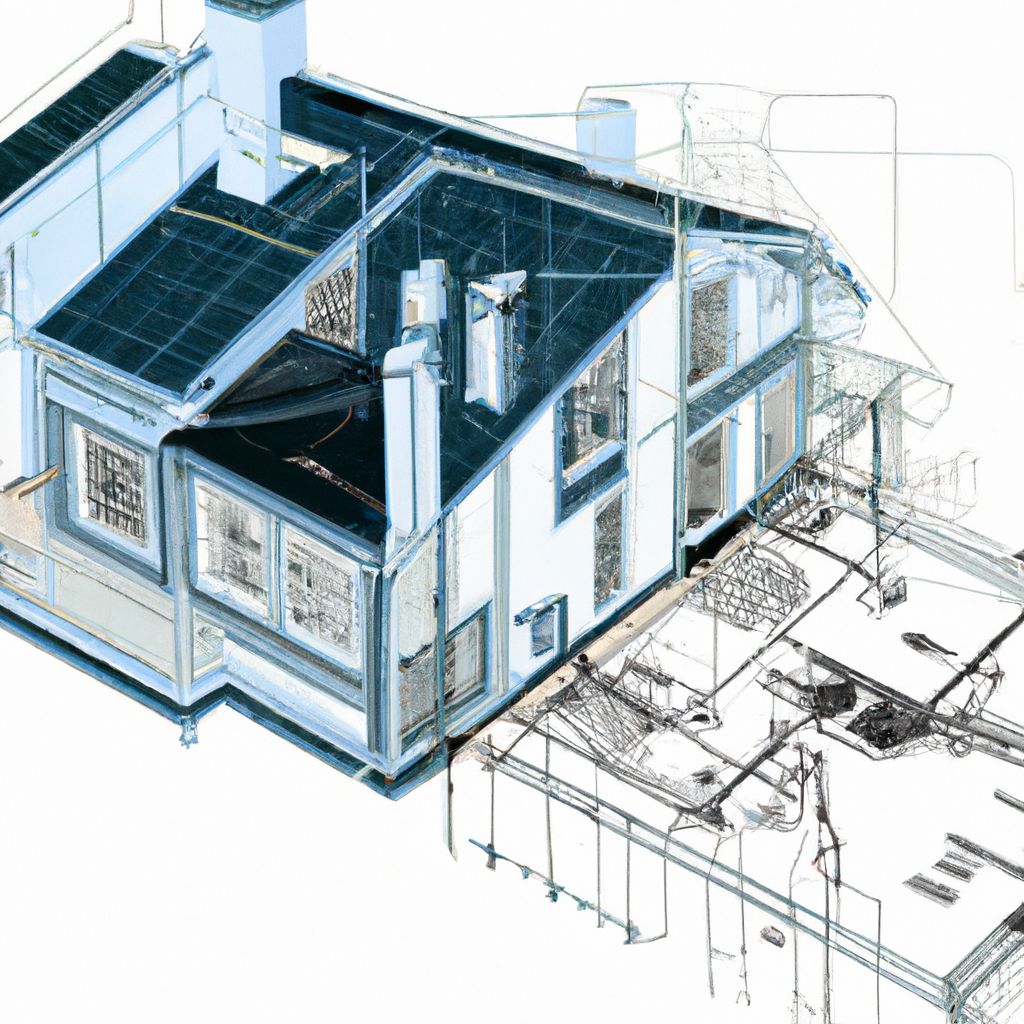 The Importance of Planning for a Home Addition
When it comes to home additions, careful consideration and preparation are key. Without proper planning, there could be issues, resulting in dissatisfaction. To start off, you must define the purpose and desired outcome. This includes assessing current needs and identifying goals and requirements. Additionally, it's important to set a realistic budget. It's wise to consult with professionals who can provide cost estimates and help prioritize expenses.
Moreover, take into account legal or regulatory requirements. Depending on local building codes, certain permits or inspections may be required. Failing to comply can lead to legal issues and costly delays. Finally, seek professional help. Architects, contractors, and interior designers have knowledge that can help make informed decisions. With their expertise, homeowners can optimize the home addition for function and aesthetics.
In conclusion, planning for a home addition is significant. It involves purpose, budget, regulations, and professional guidance. With these considerations, individuals can confidently navigate the process and achieve their desired results. Keep in mind, this is like a lifelong commitment!
Factors to Consider Before Starting a Home Addition Project
Budget: Work out how much you can spend on your home addition. Factor in the costs of materials, labor, permits and any unanticipated costs that might come up.
Timeline: Check how long the job will take and if it fits in with your schedule. Be aware that delays may occur due to unexpected problems like weather or contractor availability.
Space: Assess the available space on your property and if it is good for the addition you envisage. Think about zoning regulations, setbacks and potential effects on the existing structure.
Plus, think about design compatibility, energy efficiency and future resale value of your home before you start the addition.
Pro Tip: Before you begin, talk to an architect or designer who can help you plan out and execute your plans. Home additions: Where there's a wall, you can make it grand!
Different Types of Home Additions to Consider
Home additions are a great way to add space, functionality, and value to your home. Consider these six types:
Bump-out addition – adding a small extension out from the existing structure, perfect for kitchens or bathrooms.
Sunroom – a bright, airy space with lots of natural light and views.
Garage conversion – turn an unused garage into an office, gym, playroom or bedroom.
Second-story addition – adding another level to your existing home for more rooms and design flexibility.
In-law suite – a separate living area for aging parents or extended family.
Outdoor living space – create a patio, deck, pergola, or outdoor kitchen.
Plus, other ideas such as attic conversions, basement remodels, and conservatories. Hire a reputable contractor to ensure the job is done correctly.
Understanding the Legal and Permitting Requirements for Home Additions
When planning a home addition, it's key to understand the legal and permitting requirements. This means following specific regulations and getting permits from local authorities. Not following these rules can lead to legal issues and delays in your project.
Research building codes and zoning laws for your area. These tell you the max height and size of the addition, setback requirements, and design guidelines. Be sure your project meets all standards.
Permits are a must. Depending on the project, you may need structural, electrical, plumbing or environmental permits. Completing applications, providing drawings and paying fees is involved. Make sure the info is accurate and you meet any deadlines.
Example: A homeowner didn't get proper permits and ended up with fines and an order to demolish the addition. This resulted in financial losses and stress.
Conclusion: To avoid headaches, hire professionals for your home addition!
Hiring Professionals for Your Home Addition
Hiring pros for your home addition is a must to get your desired result. They bring valuable knowledge, ensuring the project's success.
Pros guarantee quality work. They have the skills and experience to do all the home addition tasks, from designing to building.
Pros have access to good suppliers and subcontractors. This means high-grade materials are used, so your addition lasts long.
Lastly, pros can help you go through the complex process of getting permits and following building codes. Their expertise guarantees all regulations are followed, giving you peace of mind.
Every pro brings their own approach and style. Carefully select the right team to make sure their expertise matches your vision.
I recently took part in a project where homeowners wanted to add a second floor to their bungalow. Architects, engineers, and contractors were hired and worked as a team. The outcome was amazing – not only space was added, but also the house's appeal improved. The homeowners were delighted and praised the team's skills and professionalism.
Remember, hiring pros may seem expensive but it saves time, money, and stress in the long run. Get pros who will make your vision come true!
Budgeting and Financing Your Home Addition
Budgeting and financing your home addition is key. Here are 3 essential points to remember:
Grasp your budget: Look at the full cost of construction plus any additional costs like permits, design fees, and unexpected contingencies. Analyze your financial resources and create realistic expectations.
Investigate financing: With your budget established, consider personal savings, home equity loans, or crowdfunding. Research these options to make sensible decisions and reduce financial stress.
Prioritise and plan: Budget limits? Prioritise the most important aspects of your home addition – an extra bedroom, a larger kitchen, or a new outdoor living space. Plan ahead and stick to realistic goals for your budget.
Plus: Get multiple quotes from contractors to compare prices. Ask a financial advisor for tailored advice on managing costs.
Fun Fact: HomeAdvisor.com states the average cost of a home addition in the United States is between $21,000 and $69,000, depending on size and complexity.
Managing the Construction Process
To ensure a successful home addition project, remember to plan and organize effectively! Here's a 5-step guide:
Determine your goals. Think about functionality, aesthetics, and budget.
Construct a timeline. Break the project into smaller tasks, and set deadlines.
Find reliable contractors. Research and select those with experience in home additions. Get quotes, check references, and confirm they have licenses and insurance.
Communicate well. Keep in touch with your contractors and discuss progress. Address any changes or worries.
Monitor the work. Inspect the construction site regularly and identify any issues early.
Managing the construction process requires attention. By following these steps, you can avoid delays and costly mistakes.
Pro Tip: Hire a project manager for the entire process. They will coordinate tradespeople, manage timelines, and ensure everything goes smoothly from start to finish.
Enjoy getting to know your local contractor on a first-name basis!
Addressing Potential Challenges and Risks in Home Additions
Creating more living space or increasing your property's worth can be thrilling. But, it is vital to recognize potential risks before you go ahead. Here are some things to ponder:
Check your budget to guarantee you have enough funds for the whole project.
Acquire necessary permits and follow building codes and regulations to dodge legal issues.
Employ trustworthy contractors and architects with a confirmed history in home additions.
Put safety first throughout building, such as proper ventilation, fireproofing, and electrical plans.
Foresee possible disruptions and difficulties that may arise, like noise, dust, or limited access to sections of your home.
Evaluate the long-term effects of the addition on your property's functions, upkeep needs, and future resale value.
Furthermore, evaluate any uncommon aspects linked to your precise home addition project. This may include factors like soil conditions, structural compatibility with current infrastructure, or zoning rules set by local authorities. Knowing these details will enable you to make wise decisions and reduce hazards in the process.
Pro Tip: Before you start any home addition project, seek advice from specialists who specialize in this area. They will direct you to a successful result while preventing unnecessary issues. Just remember, adding extra space does not mean you will have enough room to get away from your in-laws.
Finalizing the Plans and Getting Started with Your Home Addition
Explore various ideas for your home addition that fit your needs and budget. Consult professionals, such as architects and contractors, for expert guidance. Create a plan of the desired layout considering your space and desired functionality.
Check local regulations to determine if any permits are needed. Submit the required documents – architectural drawings and engineering plans – to the relevant authorities for review and approval, allowing enough time for the process.
Engage contractors or builders who specialize in home additions. Compare prices, quality of work, and proposed timelines. Set a budget, including potential unforeseen costs. Secure financing if you need it. Once all preparations are complete, start constructing according to the timeline.
Remember: thorough planning is important. Take the time to research, obtain approvals, hire professionals, and begin constructing. With appropriate planning, you'll turn your house into a dream home in no time.
One unique way to make your home addition project special is to include sustainable features like energy-efficient appliances or eco-friendly building materials. These options benefit the environment and save you money on utility bills in the long run.
HomeAdvisor says the average cost of adding a room or building an addition is around $50,000. However, costs may vary depending on size, location, materials used, and features included in the project.