Moen vs. Delta Shower Valves, Up until the past few years, taking shower seemed nothing more than just a mundane activity. However, things have changed with recent collaborations between technological advancement and household appliances. Homeowners can now enjoy the shower in many ways and customize it perfectly to match individual preferences.
Moen vs. Delta are two market-dominating brands that are leading such revolutionary fixtures for bathing. They both offer the flexibility in buying the best quality shower valves. But despite offering similar comfort fixtures and services, certain differences do exist between the two.
Here is a complete side-by-side comparison between Moen vs. Delta Shower Valves.
Delta shower valves are a budget option and are easy to install. However, Moen valves are considered more durable and made with higher-quality materials. Both brands boast excellent customer support from homeowners and plumbers. They bring luxury and complete your shower experience. But which one is right for your home?
Moen is a well-known and reliable brand of showerheads. They offer a wide range of versatile bathroom items like faucets, rods, rings, and shower valves. Moen shower valves are available in four attractive shades of chrome, bronze, brushed nickel, and polished nickel.
The Moen Shower Valve: Overview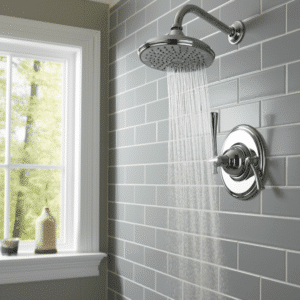 Moen brand is a price option, but it is still a customer favorite. Rather than plastic, Moen shower valves are made with mostly brass metals including copper and zinc. This is the main reason why it is a more expensive option, but, on the bright side, it will last longer.
Moen shower valves are also designed to resist rust and corrosion, so if you're much into strength and durability, the Moen valve is the better option. Similar to other brands like Delta, Moen valves allow you to change your shower type, without necessarily having to deal with your plumbing. They also maintain excellent water pressure and are easy to install if you understand what you're doing.
Overall, the main downside to considering a shower valve by Moen is its high price point. In comparison to other brands offering just about similar fixtures, Moen comes out as rather expensive for some people. So if you're on a budget, Moen may not be your first choice.
On the other hand, Delta brand is a technology-driven brand with a hunger for innovation. Perhaps that's why you'll find numerous patented technologies in their shower collection. So if you're someone who loves staying updated with the latest gadgets and gears, Delta brand could be your one-stop option.
Plumbers and homeowners alike prefer this brand due to its high-quality, affordable products, which is a combination that's not easy to find. Unlike Moen, however, Delta shower valves are made with brass metal and plastic.

These shower valves are easy as they're designed to secure firmly with a mounting bracket. Moreover, they're lightweight, meaning they don't rock back and forth. Certain Moen Models also incorporate a heat-resistant cap that allows you to test the water pressure and temperature before installation.
The Delta Shower Valve: Overview
Delta valves come with three connection types: PEX, IPS, and Universal. Based on reviews, Delta shower valves are designed to fit, irrespective of what kind of plumbing you have.
It is also important to state that the Delta shower valve has three innovative options. The first one is a single-pressure balance function valve which is meant to control the temperature only. It balances cold water and hot water to ensure the desired shower or tub temperature every time.
The next option is a dual-function pressure-balance valve cartridge. This one controls both the water volume and temperature. Both can be controlled independently, meaning you can have a sustainable temperature even while changing the volume.
The last and the newest cartridge option is the dual-function thermostatic valve. It is one of the high-tech innovations that set the Delta brand apart from the rest. This cartridge automatically measures your water and controls the cold and hot outputs to deliver the exact temperature you want. You can count on having the same temperature shower and still be able to control the volume with this cartridge.
That being said, Delta shower heads are associated with several drawbacks such as lackluster water pressure. Well, the brand provides plenty to choose from and even incorporates the latest technologies in its field, but on the flip side, some fixtures show dull performance in terms of water pressure.
Now, let's put both brands side-to-side so you can understand the main differences.
Moen vs. Delta Shower Valve: Side-to-Side Comparison
Moen is a brand that focuses more on the design aspect and works to deliver a rain-like experience in every use. So if you're someone who loves nature and craves getting drenched in the rain more often, you're bound to be impressed by Moen shower systems.
Delta showerheads, on the other hand, are ideal for those who prioritize technological conveniences over certain basic factors. Their models constantly highlight new innovations like In2ition, Spot Guard and H2Okinetic.
Moen vs. Delta: Installation
Both Moen and Delta brands boast about being easy to install. However, Delta valves shine in this category as they are more lightweight and smaller, making them even more user-friendly. Even novice DIYers and inexperienced plumbers can figure out how to install this valve.
Moen shower valves are not as simple in comparison. Without proper installation, it will wobble. That means you're going to need professional help for installation, especially if you are not sure about what you're doing.
Moen vs. Delta: Performance
Coming down to functionality, both brands boast great reviews, even though some users complained that the Delta valve weakens their water pressure. However, in terms of spraying patterns, Delta shower valves are considered more powerful than Moen.
Delta brand also allows you to choose between nine powerful spray options including some developed to deliver three times the casual coverage. Moen on the other hand offers eight spray patterns and six spray modes.
Delta valves feature more high-tech functions such as Spot Guard to help keep your shower free from residue. The brand also offers a wider selection including cartridge options.
Simply put, both brands offer a different shower experience. Delta is all about versatility and delivering the latest gadgets, while Moen focuses more on design aspects and performance.
The Delta model is designed to adjust your water into a wave-like flow, and it gets numerous positive feedbacks for the full coverage it offers. Moen shower valves meanwhile are designed to provide a rainfall experience, which homeowners find luxurious.
Moen vs. Delta Shower Valve: Water Consumption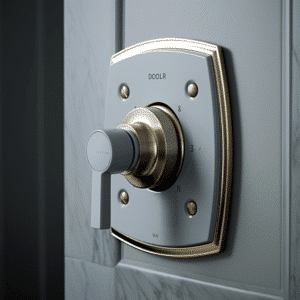 If you are interested in cutting down your water usage, the good news is that both Moen vs. Delta valves have a lot to offer. Delta shower valves proved their awareness about environmental health when they won the EPA's WaterSense Sustained Excellence award.
Moen also offers a whole line of shower products that are known to save 20-30% water in every shower. So both brands are efficient in water conservation.
Moen vs. Delta: Cost
If you have to stay within a budget but are willing to invest in items carefully, the Delta brand can provide more options for you to explore. You will still be happy with how long Delta valves last.
Most products offered by Moen are usually available for relatively high prices. Some of its high-end products are significantly more expensive, which for some people may not be an ideal budget-friendly option.
Moen vs. Delta: Warranty
If you're concerned about durability, you need to make sure the valve is accompanied by a great warranty. Fortunately, both Moen and Delta valves come with lifetime warranties. They both also sell replacement components.
The Final Word
All things considered, choosing Moen shower valves as the most durable product may seem like the obvious choice, but if you have to stick to a budget, you can rest easy because the Delta shower valves come with a great warranty.