Buying furniture is a major financial commitment. For the money you spend, you would want to ensure that you obtain the best and high-quality items. Living Spaces is a furniture store that offers distinctive furniture designs at a reasonable price. In addition to the affordable pricing, the biggest question is, can you still negotiate at Living Spaces?
Can You Negotiate at Living Spaces?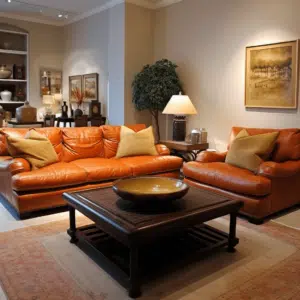 Yes, you can negotiate at Living Spaces. Although the company promises affordable prices, customers can bargain for a lower price if they discover the same brand and model is sold at a lower amount at a competitor outlet.
Living Spaces can beat competitors' pricing with their excellent Low Price Guarantee. In addition to matching lower quoted prices for the exact model and brand of the item you want to purchase, they will also give you a 10% discount!
To enjoy the discounts offered at Living Space, you need to abide by the following terms and conditions:
When the price is less, you must deliver an original print advertisement. A copy of the ad is unacceptable, and if the price changes, the claim will be rejected.

A date must be included in the advertisement you submit.

The local retail competitors offering cheaper pricing must have physical outlets in San Diego, Orange, Dallas County, Riverside, Ventura, Los Angeles, and a few more places.

Models and manufacturers should match.

Only in-store transactions are subject to price matching. It excludes online orders.
Living Spaces offers a decent Low Price Guarantee, and as indicated, they may beat their matching prices. They won't only offer the lower quoted price for the identical model and brand you want to purchase; they'll additionally knock 10% off the price.
How to Negotiate at Living Spaces
Negotiating is simpler when you buy a sizable piece of furniture from a large chain store like Living Spaces. The business will help you save money, and give you a great discount on your deals.
Negotiating at Living Spaces should not be challenging. The worst outcome is a "no." But if you don't try, you'll never know what you miss out on. Therefore, armed with these pointers, start bargaining for great deals at Living Spaces.
Start with respect and compliments for the salesman and the product you are considering. Don't lose patience or quit if the salesperson cannot provide you with the desired bargain. They likely only decline your request if they lack the power to do so.
Request a meeting with a manager at a higher level if what you want to buy is significantly big, and the discount will help you in other areas. They frequently have more flexibility to reach an agreement. They are also aware of any unique situations that can prompt them to strike a deal.
Without a proper plan for buying furniture, you're going to spend more than you intended, or worse, buying something you didn't really want. You can obtain the greatest deal on your budget and the products you need for your house by doing preliminary research and being prepared to bargain when you get to the store.
Living Spaces Review
Living Spaces is a well-known home furniture retailer with 26 stores in Nevada, Texas, California, and Arizona. Finding new styles for your living area should be easy due to Living Spaces' updated designs and spacious showrooms that provide customers with advantages like free internet and refreshments.
However, there are some concerns about shipping, overall quality, and customer support in some instances. Generally, consumers are pleased with the contemporary assortment of furniture and customization possibilities at Living Spaces outlets.
Living Spaces complement most contemporary styles by offering current and fashionable furniture. Customers of Living Spaces enjoy exploring the extensive furniture options and can even purchase items from celebrity design collections.
The chic and modern home furniture that Living Spaces offers is well-liked by customers. Living Spaces makes it simple to search for new furniture for your space with reasonable rates and just over 1,000 items that may be customized to your best color at no additional cost.
Customers frequently express satisfaction with Living Spaces' selection of furniture, which includes a wide range of items. Nevertheless, opinions on the perceived value and longevity of particular items vary. In other cases, some customers have also complained about problems with their warranties.
Top Furniture Listing From Living Spaces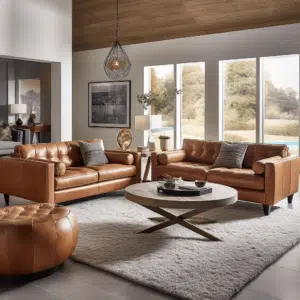 Customers may pick from various couches and sectionals at Living Spaces, many of which can be personalized with the fabric color of choice. Their sofas are available in reclining, sofa bed, chesterfield, loveseat, day bed, fabric, and leather couches, ranging from $295 to $2,695.
Their sectionals are priced from $395 for smaller sofas to $7,495 for huge leather sectionals. Sofas and sectionals at Living Spaces have modern designs and enticing sectional and couch selections that may be customized for customers.
Furniture for the living room at Living Spaces includes coffee tables and TV stands. Coffee tables are available in over 100 varieties, ranging from $95 to $995.
Living Spaces employ materials such as solid wood, engineered wood, metal, and glass in their coffee tables, which range in style from traditional-looking hardwood tables to more contemporary, abstract designs.
Living Spaces offers over 80 TV stands, ranging from $150 to $1,295. The TV stands are built from wood and metal. Customers have conflicting opinions about the apparent quality and the shipping procedure, but they typically prefer the designs of coffee tables and TV stands that Living Spaces offers.