Pella vs. Andersen Storm Doors, sometimes just called screen doors are a vital part of your home, particularly because they are the face of your house and play a role in the overall look of the front face of your home. 
As their name implies, they guard. They shield your door and home from hurricanes, derechos, and tornadoes. It endures heavy winds and hard weather in various regions of the country because it's outside your main entrance.
This protects your main door as you need external protection and it takes time to replace a shredded door. Sacrificing a storm door prevents this. In hot weather, a vented storm door provides security and lets cool winds into your home.
Pella Vs Andersen Storm Doors: Which is Better?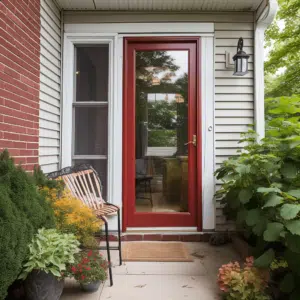 While you enjoy the wind, storm door shades keep away mosquitoes and creatures that might otherwise be a nuisance if you had to open the main door for cool air to circulate. You want a door that meets all your demands, is attractive, and matches your home's design theme. The best storm door manufacturers are Pella and Andersen.
Screen doors are in plenty both in terms of materials and design characteristics. Since you want to buy from either company, you may be wondering how to narrow your choice. Pella screen door production was acquired by Larson, another key participant in this market. The Pella label remains, but this might well be a Larson vs. Andersen evaluation.
Expert Craftsmanship: Andersen
Andersen has had a long and stable run consistently receiving top ratings compared to Pella for the craftsmanship of their screen doors. 
Andersen screen doors are also a favorite with home improvement and design experts who have continually held that Andersen storm doors are the best doors in the market regardless of model. 
They are sturdy, durable, dependable, and infinitely attractive making them a customer favorite. Pella, however, has turned up the heat by entering into this partnership with Larson. 
Larson is an industry veteran manufacturer of storm doors and will readily give Andersen a run for their money.
Larson has a near equal track record if not a better one and by market share, they have the confidence of the consumer. This will be a close call in the future once Larson has injected their mighty expertise in storm door manufacture into the equation. 
In the meantime, however, Andersen keeps the trophy on this one.
Cost: Pella
In general, the cost may be difficult to discern because the total cost of a storm door depends on three main factors. 
The cost of the frame, the cost of the screen, and the cost of labor. Both of these companies have different structures for pricing so the best way to look at this is the overall price culture of the company.
Without question, Pella is the place to go for a friendlier deal. Andersen is considered by many a luxury brand and their prices begin where Pella's prices peak.
That said, Pella merchandise does have their high-end products, and coupled with other costs such as installation costs will still demand a pretty penny so be aware of this as well.
Variety and Choice: Pella
Larson is known for his extensive range of products, thus joining Pella can only improve the brand's product selection.
Here, color, screen types, materials, and hardware like door handles are more varied. Pella has more screen options, which is a plus because many homeowners prefer a screen that can adapt to different seasons. These could be a full view for summer and the mid-view screen for autumn months. If you are looking for more options, buy Pella.
Easy Installation: Andersen
Andersen storm doors are so well made that much of the installation may be done before you take it with you, and the final few instructions are usually simple.
They are straightforward to install, saving time and money compared to Pella storm doors, which require specialist installation.
Pella doors lack Andersen storm doors' superior attachment mechanisms, but since Larson is now making them, this should alter substantially. Larson has an equal reputation for fast and easy-to-install storm doors.
Customizable Designs: Andersen
Last but not least, the fact that you can design your own door by simply visiting the Andersen website and selecting what features you want on your door is just awesome.
Larson will give Pella added advantages but it is difficult to see how they could compete on this point.
While Andersen easily beats Pella, Larson is a near equal giant and Andersen has a formidable competitor to match. 
Both these companies have years of expertise in this niche and massive rapport with consumers. It will be interesting to see what will happen but as is always the case in stiffly competitive markets, the customer is the beneficiary.
Whether to go with Andersen or with Larson is a good dilemma because however you lean, you will end up with a top-shelf storm door.