Gray walls have been a fantastic choice in most recent interior decoration. While walls are easy to paint over each time you want a new look, floors, meanwhile, should be classic and timeless- you don't want to change your flooring now and then when a new hot look takes over.
When it comes to interior design, a gray wall is seen as a subtle backdrop for bold décor and furniture, but the color of the wood floors is often overlooked. In recent interiors, gray walls are usually the preferred choice with wooden floors; thanks to the many undertones of grays.
So, what color wood floor goes alongside gray walls? We've put together a quick guide and color painting ideas to help you coordinate your gray walls with wooden floors.
Wood Floor Color That Goes With Gray Walls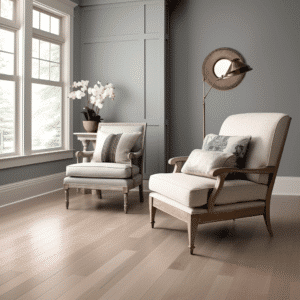 Gray walls can merge several color schemes since their underlying tones dictate whether they are warm or chilly.
Gray, like other cold and warm colors, can be blue or red. When picking the best wooden flooring, consider the undertone of your gray walls to keep the design consistent.
Gray wall paint may alter hues with light or dark wood floors. Gray pairs well with most timber floor colors since it leans chilly. Additionally, gray is considered cooler than cream or beige.
You shouldn't make your room look dreary just because you prefer painting the walls gray. Avoid this by adding a warm wooden floor color to your home's individuality.
Warm or Cool Gray Undertones
While there are many shades of gray that differ in tone, some lean more toward white and black with some common undertones such as silver, platinum, steel, graphite, and Marengo.
These neutral shades are naturally pure gray with no color pigments. Therefore, it's important to choose the right shade of gray that goes with the rest of your flooring and home décor.
For instance, a medium shade of gray for the walls paired with dark wood flooring affects the way we see the gray, making the wall appear lighter.

Meanwhile, pairing the same shade of gray with light wooden flooring will make the wall appear darker. Simply put, the shade of the gray wall determines the right color for your wooden floorings.
Below, we've provided some of the best examples of wooden floor color to pair with light and dark gray walls.
Light Brown
Light brown wooden floors are a perfect match for gray walls. From oak to walnut and pine, a light brown wood floor works great with dark gray walls, creating a natural and flawless look.
Light wooden floors can have a cool or warm undertone. While the cool tones usually lean towards taupe or gray, the warmer tones meanwhile consist of orange, yellow, and or red hues.
If you want light brown wood floor colors, you might want to choose oak, ash, or maple. The warmer tones include the hickory and beech.
Wit formal living rooms, especially those with dark gray walls, warm wood tones in light colors can help complement the warm tone of the dark gray.
Dark Brown
Dark brown wooden floors; it's easy to think your room will feel small and cramped with this color combo. Conversely, in a room with tall walls and adequate natural lighting, a bluish-gray shade for the walls alongside dark brown wood floor can actually make the interior feel classy and look elegant, too.
The fact that dark brown and dark gray wood creates a lot of contrast means that this color combo is best suited for formal dining rooms. This also proves that dark gray can work with dark wooden floors in open airy spaces.
Medium Brown
If you prefer a darker version over light brown wooden floors, a medium-toned brown color can be an easy recommendation. This option works best in both dark and light gray walls. Birch and oak are two of the most popular mid-toned wooden floors.
Since medium-toned wooden floor hides dirt and dust much better than light brown wooden floors, this color combo can be used in high-traffic rooms.
White
Bright white is yet another wooden floor color that works best with gray walls. Unlike the medium-toned wooden floor color discussed above, this neutral color is an excellent choice for low-traffic areas.
In case your room is on the small side, light gray and white wooden floors would be an easy recommendation. The presence of white makes small rooms appear brighter and more spacious. Moreover, the classic color works very well with a versatile wall paint color like gray.
Black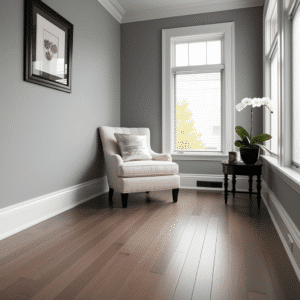 The fact that gray is a neutral color and works well with white means that it can work just as nicely with black wooden floors. Some people opt for black wooden floors in high foot trafficking because this dark color hides dirt and dust.
However, if you want to use black for flooring, keep in mind that you must give the walls a light shade of gray because the resulting color combo may appear overwhelming.
Neutral shades reflect neutral light. Therefore, light gray creates an excellent choice with black wooden floors. For the furniture, opt for white or beige to keep the room from appearing too dingy or dark.
Vivid or bold colors aren't really the best choice when it comes to rooms with gray walls and black wooden floors. So, stick to white, beige or cream for the furnishings and accessories.
Grey
Another considerable option is a medium shade of gray; it works perfectly with light gray. This combination can be used for walls and wooden floors for a cohesive look. For contrast, go for bright-colored furniture to make your room appear even more elegant.
Whether you have light gray wood flooring and a dark shade of gray for the walls, gray and gray always work perfectly in large and small rooms.
Cherry Wood
Cherry wood is yet another striking color for flooring. In recent living rooms, this flooring color manifests the gray walls without clashing with the rich undertones of gray.
Cherry wood can be paired with a bluish-gray wall paint color, especially if you want to bring out all the beauty of the cherry wood flooring.