Living in Savannah Georgia, been thinking about moving to Coastal Georgia? Well, look no further than the Hostess City of the South; Savannah!
Here, you'll find a distinctive fusion of Spanish architecture, Latin spirit, warm weather, beautiful beaches, stunning green spaces, and vibrant cultural life.
It's no surprise that visitors and locals alike always rank this Georgia city among the world's most amiable. However, you might still not be completely sure about it.
So in this post, we will focus on the "Pros And Cons Of Living In Savannah Georgia"
What is it Like Living in Savanna, Georgia? The Pros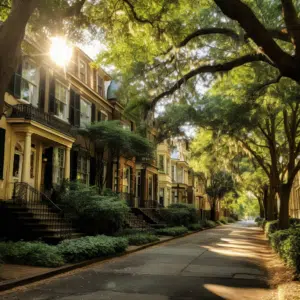 With its stunning beaches and coastline set against a scenery of historical architecture, Savanna boasts a long list of exciting activities to tackle daily.
Whether you're considering a rooftop bar, a stroll through the historic district, or some of the city's world-renowned foods; here is just a little taste of what to expect living in the Hostess City of the South!
Beautiful Neighborhoods
Famous for its beauty, perhaps the reason many people make the move to Savanna in the first place is to enjoy the gorgeous neighborhoods. Just walking around downtown old buildings draped in Spanish moss, and a captivating view of the waterfront will leave you delighted.
There are approximately 100 neighborhoods located within the city and surroundings, each with its own stunning characteristics.
But if you want a more quiet neighborhood, pick Gordonston. Moreover, the city is divided into six areas; Downtown, Westside, Southside, and Southwest/West Chatham.
Some of the well-known neighborhoods are the Historic District, Ardsley Park, and Gordonston which is famous for its quietness.
The Stunning Architecture
Being the oldest city in Georgia, Savanna is rich in architectural history. Established in 1733, this city has seen numerous changes in building styles with every new period.
In fact, Georgia buildings present a solid, square façade, much like the Olde Pink House Restaurant. Corinthian columns, Romanesque, and even domes still appear in facilities throughout the city, while impacts of the Gothic Revival from the late 1800s remain prevalent in many churches.
Education
Savannah is also well-known as an exceptionally artistic town because there's the popular Savannah College of Art and Design and lots of youthful specialists, artists, and students live there. There's also an artsy fun midtown region where college students are making various events and festivals.
Additionally, Savannah has more than two dozen elementary schools, nine middle schools, and ten high schools. Plus, the city has four colleges for higher education: Savannah College of Art and Design (SCAD), Armstrong Atlantic State University, Savannah State University, and South University.
Love of the Arts
With such much history embedded in the city's culture, it's no surprise that a love of arts is well established in its spirit. Apart from being home to the famous Savannah College of Art and Design, the city hosts various festivals and markets that often sell work from local artists.
In case that isn't enough to get you excited about seeing art, a few incredible museums call Savannah home. You will also love the Lucas Theater for the Arts and the Savannah Theater for exhibitions, the trio of locales that make up the Telfair Museums, and many others.
Tour Homes and Gardens
One of the best highlights about Savannah is the annual Tour of Homes and Gardens. This is the time when enjoying an inside peek into some of the most startling buildings and homes in Georgia is accessible to the public.
There are approximately between 100 and 500 different exhibits including architecture achievements, stunning interior design, antiques, and of course amazing gardens.
Great for biking
On the off chance that walking isn't your thing, there are always different avenues to explore. Savanna is a perfect place for people who love to ride bikes, both for recreation purposes and for transportation around the town.
The fact that the city is such an accessible place to get around adds to its overall appeal for bicycles. Moreover, it is relatively flat with livable weather conditions, which makes it even more fantastic for cyclists.
Besides, there are several biking paths and programs to ensure safety for all who ride their bikes through town.
Cons of Living in Savannah Georgia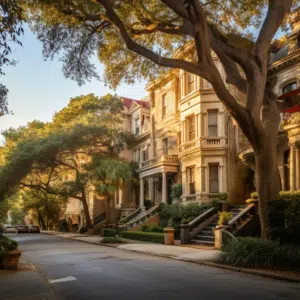 Every city has something the residents typically warn you about before moving to it. Although the reasons to move to Savannah Georgia are positive enough to get you packing, there are still a few things that may make you pause.
Stifling Weather
One of the most common reasons why people aren't so sure about relocating to Savannah GA is the warm climate. Similar to most places in the lower part of the United States, if you can't deal with the heat, just get out of the South. Savannah is no different.
Basically, you'll hardly imagine a day in Savannah without using air conditioning. Summer runs a little longer in the South and generally reaches as high as the low 90s for most of the time.
Still, heat isn't the biggest problem, humidity is. Here in this stunning city, humidity is so high that if you have curly hair, straightening it won't help.
You will be better off pulling your hair in a ponytail. High amounts of rain and thunderstorms are common too. Not to mention the risk of hurricanes, which we will discuss below.
Get Ready for Hurricanes
Although not as powerful as other parts of the country, hurricanes are still a major concern to look out for when considering a move to Savannah. In the past, only 22 hurricanes actually reached down in Georgia, even though there have been many others that still impact the area.
Even with the absence of direct hits from hurricanes, there's a notable increase in winds and rain living along the coast. That means damage from hurricanes is still possible, it doesn't necessarily have to be a direct hit.
Bugs
With warm weather and high humidity, come less desirable things such as bugs. So if you're afraid of bugs, don't think about living in Savannah, Georgia.
This city receives a heavy increase in mosquitoes and gnats as the summer months carry on. These pests, however, are usually common in places nearby any bodies of water.
You may also encounter giant cockroaches outside your house because they like hot and humid climates. So to pest-proof your property, you might have to buy some bug spray and probably call pest service every three months.