Riccar vs. Miele vacuum cleaners, Are you living in a clean indoor environment? What do you use for cleaning? A clean living space makes your home healthy, comfortable, and admirable. However, it's a daunting task for most people to keep the entire home spotless from time to time.
Luckily, vacuum cleaners have been introduced to simplify your cleaning activities and make the whole process enjoyable to save you energy, time, and resources.
The global market today is flooded with different types and brands of vacuum cleaners. Therefore, you need to know the best and most reputable option that will serve its purpose effectively. You have probably heard about the Riccar and Miele vacuum cleaners.
Riccar and Mille are famous vacuum brands that guarantee quality and affordability. However, the Riccar vacuums beat Miele vacuums by a slight margin. Versatility, basic features, affordability, and suction powers put Riccar at the top of Miele Vacuums.
Let's do a detailed comparison of the two best-selling vacuum cleaners;
Riccar vs. Miele: PRICE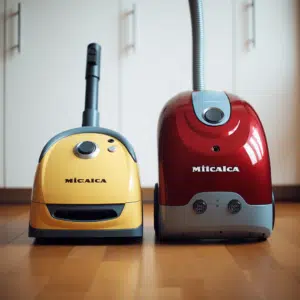 Riccar vacuum cleaners cost between $280 and $700. On the other hand, the Miele vacuum costs around $300 to $1500. Notably, the higher price of Miele vacuums doesn't mean that they have better product features than the Riccar vacuum cleaners.
The lower-priced Riccar vacuum tends to beat the Miele when it comes to the basic features. But again, there are features that you won't find in a cheaper Riccar, but you will enjoy from the expensive Miele.
If you want a versatile and cheaper option that will effectively take over your home cleaning duties, the Riccar vacuum is the recommended pick.
Riccar vs. Miele: CLEANING POWER
Riccar vacuums can operate on all floors or environments, and their cleaning power is also top-notch and satisfactory. You will always experience a clean and sparkling surface like no other.
The cleaning power of the Riccar vacuum is boosted by the Ultraviolet light bulb, which is also a thorough cleaning unit. The Ultraviolet rays are responsible for killing germs, bacteria, and viruses found on a dirty surface.
Riccar vs. Miele: FILTRATION
Both Riccar and Miele vacuums have High-Efficiency Particulate Air (HEPA) as a standard feature for their filters. The feature is important to help in filtering out small particles measuring more than 0.3 microns.
The HEPA feature of the Riccar vacuum is more advanced. Therefore, it can still filter out the smaller particles than what the Mile vacuum can capture.
Another significant element of every vacuum filtration system is the allergy filter.
Most Riccar vacuums are fitted with an allergy filtering unit to protect the users from coming in contact with allergens that can elicit serious medical conditions like asthma. Unfortunately, the Miele vacuum cleaners don't have an allergy filter system.
Riccar vs. Miele: DESIGN
A thin line separates the design of Riccar vacuums from that of Miele, but Miele vacuums carry it all when it comes to design.
Both vacuum brands use disposable bags. Therefore, you can dispose of the collecting unit after finishing the cleaning process instead of getting your hands dirty.
Miele vacuums have automatic high-adjustment features that make them more convenient and easy to use. They also have a sleek design and swivel neck.
The protective bumper system used in the Miele vacuum is not available with Riccar vacuums. The Protective bumper system is essential to protect the room's furniture and the device.
As stated above, the Miele vacuum is superior to Riccar when it comes to design due to its high adjustment system and protective bumper feature. Riccar vacuums are only easy to use because they are light in weight.
Riccar vs. Miele: DIRT SENSOR
Superior models of Riccar vacuums have the special feature of dirt sensing. The dirt sensor makes the vacuum more effective since it can identify dirt areas and award more cleaning time. Miele vacuums don't have the dirt sensor feature.
Riccar vs. Miele: CARPET CLEANING
Riccar and Miele vacuums are carpet cleaning prowess. Miele is more powerful in carpet cleaning than Riccar since it can remove the stubborn dirt and clear away the sticky and loose bristles.
On the other hand, Riccar vacuums are empowered with two carpet cleaning technologies. They have clean air and direct air technology.
The clean air carpet cleaning technology of Riccar vacuums sucks the air mixed with dirt via the filters. The direct air carpet cleaning technology, on the other hand, releases dirt particles from your carpet by agitating and shaking the carpet fibers.
Riccar vs. Miele: ONBOARD TOOL STORAGE
Riccar vs. Miele vacuum cleaners, Onboard tool storage in a vacuum cleaner is important to allow storage of additional attachments in a single known place.
The onboard tool storage feature of Riccar is superior to that of the Miele vacuum. Therefore, you won't waste time searching for basic cleaning tools.
Riccar Prima Power Team vs. Miele Complete C3 Dog and Cat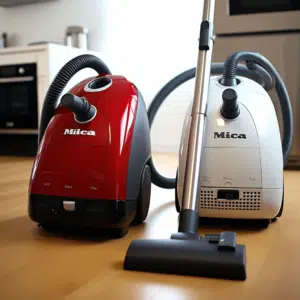 | | | |
| --- | --- | --- |
| Features | Riccar Prima Power Team | Miele Complete C3 Dog and Cat |
| Allergy Filter system | Yes | No |
| Bagged or Bagless | Bagged | Bagged |
| Cord Length | 28 Feet | 36 Feet |
| Clean all flour types | Yes | No |
| Dust or Dirt capacity | 2 Litres | 4.5 Litres |
| Electronic suction power controls | No | Yes |
| Tools and Attachments | Soft Sweep Floor Tool, Deluxe Dusting Brush | Mini Turbo dusting brush, Upholstery tool, Crevice Nozzle |
| Power consumption | 1200 W | 1200 W |
| Price | Between $280 and $700. | Between $300 and $2500 |
| Filtration system | HEPA Filtration | HEPA Filtration |
| Warranty period | 3 years on Components and 5 years on body | 3 years limited warranty |
| Weight | 11.6 lbs | 23 lbs |
Final Verdict
Miele vacuums are impressive, simple to use, and have a sleek user-friendly design. The filtration system and cleaning performance are great, but they don't feature the allergy filter system. Unfortunately, Miele vacuums are too expensive.
On the other hand, Riccar vacuums are cheaper and have a good design for easy maneuverability and strong suction power.
Riccar vs. Miele vacuum cleaners addition, the Riccar vacuums have a more advanced HEPA filtration system, dirt sensor capability, and allergy filter functionalities. The two-stage cleaning technology of Riccar vacuums makes them worth the price.
In conclusion, the Miele vacuum is the ideal choice due to its additional features and great cleaning performance. However, it all depends on where you want to clean. Riccar vacuum cleans all types of floors and environments.