Mattress Shopping a well-known fact that most large mattress chains have some wiggle room in how much they will charge you. Yet, not everyone is open to being a hardball negotiator.
In this quick guide, we'll share some tips on how to haggle for a new mattress with little hassle and no rough back-and-forth negotiations.
The good news is that you can negotiate the asking price of a mattress down by as much as 50% in some cases. If you go to large retailers such as Mattress Firm, chances are you can negotiate on everything. So can negotiate at Mattress Firm? Yes, pretty much. 
Mattress manufacturers often set minimum prices that allow retailers to sell their products at higher prices. Therefore, a store either has to price them at the minimum or overprice them and negotiate. The majority of large chains price them at the minimum, so if a store is willing to negotiate, the odds are they're overpriced.
Can You Negotiate at Mattress Firm? Some Mattress Shopping Tips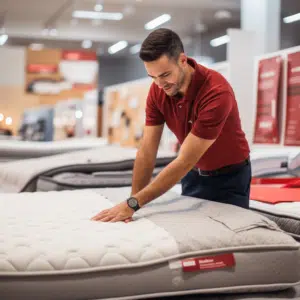 Mattresses are more like cars. You hope that they will last for many years and you spend a good amount of time with them. Not forgetting the fact that both are a relatively sizable purchase, at least for the average person.
Therefore, there are a number of factors that you should consider before purchasing a new mattress.
This article will go through an extensive list of our tips and tricks for getting a great deal on a mattress. So, before you even start your mattress search, we suggest that you check out the following tips:
Wait for the Holidays
Similar to other companies and industries, the mattress industry follows normal seasonal trends. Major holidays and big sale days such as Black Fridays and Memorial Day are huge for purchasing a new mattress.
Therefore if you can hold out until the next major holiday, you almost certainly will land a better deal. During these big days, brands and retailers tend to offer deeper discounts, more coupons codes, and bigger bundles.
That said, however, certain brands don't participate much in the discount frenzy during holidays. For instance, Purple Mattress usually does not offer coupon codes or proper discounts, even though they occasionally bundle in a pillow or sheet set.
Go for Coupons
We've mentioned this before- for most online brands, you'll be wise to search for a coupon code before you purchase. The regular coupon code will knock off $50-$100 from the asking price.
During holidays, you may expect discounts in the $75-$150 range, depending on the brand and holiday. You'll realize that most brands are pretty upfront with their discounts. Some even apply them automatically because they do not want to miss out on a sale.
Consider Bundles
Most brands will offer bigger discounts based on how much you spend. For instance, if you purchase a bed frame and a mattress, the discount will likely be larger if you just bought the mattress by itself.
Usually, brands will offer around $50 off the mattress, but over $100 off if you spend, maybe $2,000 or more.
The prices and discounts differ considerably by brand, but bundles can be a smart way to nab a deal, particularly, if you were already shopping for a new bed frame, a new pillow, or a new set of sheets.
Check the Warranties
 Mattress Shopping always a good idea to look over warranties before you make any large purchases. Mattresses are no exception.
The majority of brands out there offer a 10-year limited warranty under which they will replace, repair, or re-cover your mattress in case of any manufacturing defect or problems related to workmanship.
The warranties typically only cover the original purchaser and do not extend outside of the United States.
Look for Comparisons
This may sound obvious but sometimes people don't take the time or don't do much research. It's important to look into a few mattress comparisons before you make your ultimate decision.
Mattress Firm is one of the more popular brands, but if you're dead-set on a particular chain, we don't want to change your mind, but you'll be up for the air a little bit. You may want to take your time and look into a few comparisons.
Look for Samples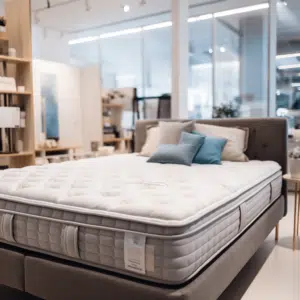 Note that any particularly distinctive mattress will often provide some sort of miniature sample that you can order and feel for yourself.
For standard foams such as memory foam, or latex foam, it's always easy to find samples out there. In fact, your best bet is to test a mattress in-store if you aren't familiar with the material.
Based on reviews, most people seem to know what memory foam and poly feel like, but latex foam is a bit less common and therefore may be worth experiencing in person.
Latex foam is usually more responsive, bouncy, and airy than memory foam or polyfoam. Perhaps the best way to describe latex foam is "spongy". Some people like it, some don't.
Buyer's Remorse       
Most online brands are known to offer some kind of trial period. These trials allow you plenty of time to test out the bed. You should take several months to truly consider if it is the right mattress for you.
However, in the event that you get buyer's remorse sometime after the trial period is over, certain brands offer protection for you there, as well.
For instance, whether you're looking for a larger, smaller, softer, or firmer mattress after the trial period has expired, you can purchase another mattress 50% of its current selling price.