When buying a used couch make sure it matches your money. Used couches vary in price depending on their current state. If the sofa is in great condition, it will be at a higher price than when it shows even minute signs of wear and tear.
There are several factors that you will have to look for in order to assess how much you can pay. The condition of the couch is one of the major factors, while others include the sofa size and other forms of damage to the couch.
Let's have a look at some of the factors that determine the price of a used couch.
Factors that Determine Used Couch Prices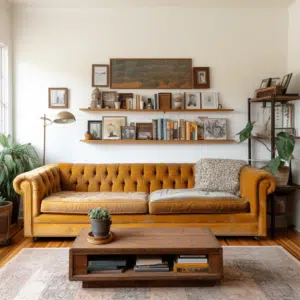 Current state
When checking out a used couch, it is important to look at its structure carefully. A used sofa in great condition will be sturdy. The legs should not wobble at all. Inspect to make sure that everything is intact before you make a purchase. Another crucial aspect to ascertain the current state of the sofa is the condition of the wood.
Check for water damage or even the infestation of termites. Cracks are also a no-no when you want to buy a used sofa set. When you make these checks you will be able to come up with a price. Bear in mind that most used couches have a price range from 30-200 dollars. Ascertain the value of the item and pay accordingly.
Damage
Heavily upholstered sofas are not a good idea because the fabrics might be worn out and repairs will add to your budget. If possible stay away from such items. Saggy pillows or sofa lumps are difficult and expensive to repair.
Shape or Design
The shape and design of a sofa greatly determines its price even if it is a used one. If the design is intricate, you will pay more but if it's a simple traditional design, the price will be cheaper.
Size
Size is also another factor that affects couch prices. The bigger the couch, the more expensive it will be. Another tip is to make sure you buy a couch that will fit in the intended space.
Comfort
Choose a sofa that has solid cushions avoiding those that sag. Even a used sofa should offer you maximum comfort because you are spending cash to buy it.
Frame
The best frames are made of hardwood ensuring that the sofas are long-lasting. If the sofa is made of a different material, the price will be cheaper and the material will not be durable as such.
Color
Even though colors do not affect the price so much, bright colors call for more attention and might hike the price a little bit. It is more expensive to maintain colors like white and yellow than maintaining grey and brown.
It is important to make sure that the couch you are buying is not recalled. It is illegal for a seller to put up recalled furniture for sale unless the necessary repairs have been done. As the buyer, you have to ensure that you are not buying such an item. You can look up the used couch on Safer Products website for the items that are on the recall list.
Keep in mind that most used items like sofas will sell at the price of about 70% to 80% of the original price. So, when you identify an item, do your own calculations as well coupled with the item's current state, you can make a proper cost estimate.
Mistakes to Avoid When Buying Used Couches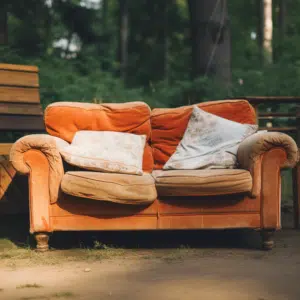 If the sofa you want to buy requires some minor repairs, do not be afraid to buy it. If you like the framework of a couch because it is sturdy but the cushions are old for your taste, consider replacing them. Scratches are different from cracks so don't leave a good seat because of repairs that you can easily fix.
It's good to ask your seller why they are selling the couch. Even though they might not be totally truthful, you might get a vague picture. Do your inspection thoroughly to avoid surprises when you get home.
Strong smells and odors are not welcome when buying a used couch. Cooking smells, urine or even smoke will linger for a long time. Also, make sure you inspect for bugs to avoid frustration and headaches. If you don't like such don't buy it, you don't want to spend a ton of air fresheners just to mask the smell.
Be sure to buy a used couch if and only when you need it. Do not buy something just because it looks good, or it's on sale. Buy it because you need it. There is no need of spending money just to satisfy your impulse buying.
It is almost a crime not to sit on that sofa before you buy it. Before you transport it to your home, see how it treats your body. Inspection is paramount to getting value for your money. Is it comfortable? It should be. The arm rests and the back of the couch should be sturdy for maximum comfort.
How to Get Good Deals
Search different websites and by location for those selling second-hand couches. You should always compare prices used couches to get the best option for a good price. If you have great negotiation skills, you can even end up with a discount. Make sure to look for tags if any and ensure the brands measure up to the price.
When communication with the seller, ask whether they offer delivery. It might not be easy for you or it might inconvenience you to do the pickup. If you are making a quick and straightforward offer, the seller might deliver to you if you buy on the same day.
Conclusion
Now that you know what affects the price of a used couch, do you think you can buy one at a reasonable price? Your choices will determine whether your used couch will require repairs but it's best to buy a used couch that is in great overall condition.