Eames Lounge Chair replicas, Over the past 65 years, the Eames Lounge Chair has been arguably the most distinctive furniture piece on our market. With its dark, grainy wood shell, comfortable leather seat, and aluminum base similar to that of an office chair, this chair has endured the test of time and continues to be an exceptional piece of furniture among many designers and people looking to unwind after a busy day.
The hefty price tag linked to Eames Lounge Chair has remained constant over the past sixty-plus years. As you might expect, many replicas of the Eames chair have been manufactured over the years. Some of these replicas come at a lower price than the original chair.
This post will walk you through the top 3 replicas of Eames available in our market that will give you much bang for your buck while keeping your house looking stylish. But before that, let's have a glance at the original Eames Lounge Chair.
What is an Eames Lounge Chair?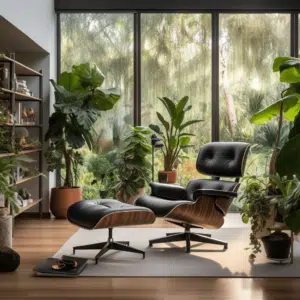 Possibly the most famous chair ever created. This piece of furniture, designed by Charles and Ray Eames in 1956 for the prominent Michigan-based Herman Miller furniture company, consists of a chair made of molded plywood and leather and an ottoman made of similar materials.
Its leather seat is exceptionally comfortable, allowing you to sink right in. The chair is also fantastic for entertaining because it has a swivel base that allows you to look at the entire area if you are seated in a room with other people.
But, most crucially, the furniture has been in production for the previous 65 years, demonstrating its enduring popularity. Today, you can order this sofa directly from Herman Miller, with even more customization possibilities than in the 1950s. There are various colorful leather alternatives and "shell" possibilities, which refer to the plywood bottom.
As previously indicated, various replica chairs have appeared over the years in the market. Use the list below to locate the most incredible Eames Lounge Chair replica for your living room to avoid spending a fortune on an actual Eames Lounge Chair.
The Best Eames Chair Replicas
TOME Premium Mid-Century Lounge Chair and Ottoman
The Eames Chair is becoming such a legendary furniture piece that premium versions of its copies are now available.
The TOME Premium Mid-Century Lounge Chair and Ottoman is a number one pick for Eames chair replicas. The chair comes with specifications almost similar to the original Eames Lounge Chair. It is 32 inches in height, 35 inches in width, and 35.5 inches in length. The ottoman measures 21 inches in width, 27 inches in length, and stands 16 inches tall.
Below are some other features you might like about this chair:
The chair features a kiln-dried shell made with 7-ply natural wood grain veneer

The chair has a buttery soft full-grain aniline leather cover sourced from Italy. It should be noted that the company claims that this is one of the finest grade and most superb quality leather available. Even yet, the moment you touch and sit on this chair, you will notice that it has a luxurious feel to it.

This chair has rubber shock mounts similar to those found on the Herman Miller original behind the armrests. These mounts add a lot to the chair's overall comfort.

This lounge has 5 legs on the chair and 4 legs on the ottoman, much like a Herman Miller original.

Unlike the original Eames that utilizes aluminum, this chair has a stainless steel frame, enhancing its longevity and making it a little heavier.

This chair is straightforward to assemble and should take no more than 15 minutes.
However, it is essential to note that you won't find chairs in other hues, such as brown or tan. The TOME chair keeps black leather over a natural plywood shell aesthetic just like the original Eames Lounge Chair.
TOOMOO Leather Recliner with Ottoman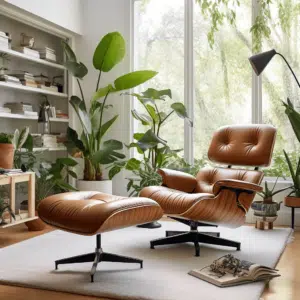 The TOOMOO Leather Recliner with an ottoman appears to be an original Eames Chair at first glance, not until you see how much it costs.
This recliner is one of the most cost-effective Eames replicas available today. As a result, it has gotten much positive feedback, with people applauding it for its build quality and comfort.
Below are some features about the chair that you should be aware of:
This chair can support up to 300 pounds.

The delivery of this chair is fast. In only two days, you could have a new couch in your doorway.

Excellent materials are utilized in the construction of this chair. Genuine leather is used to make cushions and ottomans. The wood backing is made of an eight-layered laminated wood that closely resembles the plywood backing in Eames. In addition, the legs are composed of top-quality aluminium.

This chair is approximately comparable in size to the original Eames chair
It is critical to remember that, just like the original Eames Chair, TOOMOO's reproduction version is quite heavy, making assembly challenging. To make things easier, try building it with another person.
Genniyz Mid Century Lounge Chair and Ottoman
The Mid Century Lounge Chair and Ottoman by Genniyz are hard to match for outstanding replicas of Eames Lounge Chairs. You'd believe you were looking at an actual $6,000 Herman Miller chair if you didn't look closely. Fortunately, this one is inexpensive.
Below is some more information on this chair:
The chair utilizes materials of the highest quality. Genuine leather is used, and the cushion has a giant sponge that lets you sink in while maintaining firmness. The plywood shell is almost perfect.

The chair is durable. It can hold persons weighing up to 330 pounds. If you have a height of more than 6 feet 3 inches, this chair may be too tiny for you, but it's still comfortable to sit in. It is unlikely that anybody with a height of more than 6 feet 8 inches will be able to enjoy this seat.

Excellent packaging is used. The chair is delivered in 2 well-packed cartons that provide adequate protection. If you encounter any issues with quality (scratched leather, damaged wood shell, etc.), save the boxes and begin packing as soon as possible.
You should enjoy this chair as long as you are aware of what you are dragging yourself into when it comes to an Eames Lounge Chair replica. It has the same 15° recline angle and 360° swivel as the previous model.
It's slightly lower to the ground than an original Eames, but the difference isn't that noticeable. These seats, as with most replicas – including the original – cannot be adjusted in height.