Screen Houses, In our homes, the ability to make them a comfortable refuge is the appeal that draws us there every day.
With more people staying home than ever, you may be looking for methods to maximize your outdoor space for year-round living and hassle-free outdoor living.
Unfortunately, heat, rain, and insects often end patio grilling and other outdoor activities. If you don't use your deck enough, a screen room might help you enjoy your garden without the elements.
We reviewed the greatest deck screen houses in this article. These handy screen houses are perfect for camping or adding protection to your patio during warm, bug-filled seasons.
Best Screen House For Deck: A Number of Selections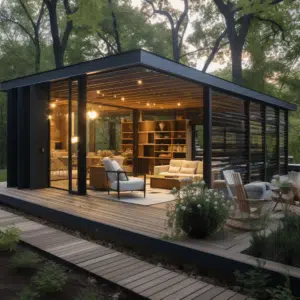 The following selection includes options made with durable frames and fade-resistant fabrics that can withstand harsh sunlight. Some feature adjustable heights and detachable roofs, while others allow for easy portability. These are the best screen house for deck:
Alvantor Screen House Room Outdoor Camping Tent
Very nice and big, the Alvantor Gazebo allows you to experience the great outdoors and indulge in luxurious creature comforts at the same time. The whole thing is super spacious and provides impressive air circulation. And it is backed by a one-year warranty.
Another major highlight is that you don't have to use the ropes to secure the sides. It pops right up straight out of the bag and you just need to tie down the bottom and use sand to keep it secure.
Besides, Screen Houses is designed to collapse so it doesn't get damaged in the process. Plus, it can easily be moved if you ever need to.
On the flip side, however, this product has a few issues. The stakes included are not the best for wind and sand as they pull up easily from the ground. The top of the tent is not domed and may collect water quickly.
We would recommend offering a fly for the top and better stakes. Aside from that, the Alvantor Screen House Room Outdoor Camping Tent is an excellent option worth considering.
Coleman Screened Canopy Tent with Instant Setup
Another great product. Very easy and fast setup, you can leave your Coleman Screened Canopy Tent fastened onto the frame when you pack it up and still fits nicely into the bag/case. It is a great shelter that can be used for dining during a camping trip.
The screen is detachable and the carrying case features a pocket on the side for storing the screen. It installs easily with hooks top and bottom to vertical supports.
However, be sure to lubricate the zippers on the screen because they tend to corrode after a few uses. The frame and canopy are excellent and you can comfortably use them outdoors for shade.
Wenzel Magnetic Screen House, magnetic Screen Shelter
Ideal for camping, travel, picnics, tailgating, and more, the Wenzel Magnetic Screen House is an excellent shady bug-free zone; cool off in the shade, and strong enough to help you escape bugs at your next outdoor gathering.
Screen Houses is large with easy entry and boasts style doors with magnetic closure. The sturdy fiberglass frame set up easily and can fit over a picnic table, making it an essential part of your summer parties and picnic.
Plus, the stated magnetic front and back door provide hands-free entry with automatic closure to make moving in and out with kids and pets easy.
The steel uprights and shock-corded fiberglass roof frame couple with fast feet for easy setup. Safety-wise, the entry mat is meant to prevent tripping or falling when entering and exiting. The large mesh walls will keep bugs out and let the breeze in so you can enjoy warm, summer days.
Abba Patio 10×13 Feet Fully Enclosed Garden Gazebo
If you want a classic outdoor gazebo, this light brown Abba Patio 10×13 Feet Fully Enclosed Gazebo will wow. This product comes in 10×10 if you want something smaller.
It has a robust frame and a UV-treated polyester canopy to protect you and your family from the sun. It's easy to set up and take down. This screen house includes zippered mosquito netting around the outside, which you may open as much or as little as you want for your outdoor pleasure. The canopy is designed to allow rainwater to drain off the top so it doesn't pool in the center and droop, creating breakages and other issues.
Suntime Fully Enclosed Canopy Instant Popup Gazebo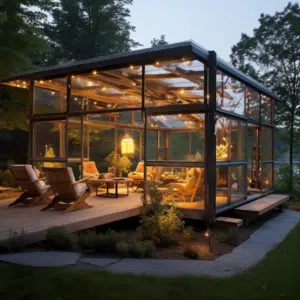 If you're looking for a high-quality gazebo for your yard; something that won't break the bank, check out this Suntime Fully Enclosed Canopy Popup Gazebo. It is spacious and comes with everything required to set it up and secure it to the ground for months of excellent relaxation.
One thing that makes this screen house stand out is that you can up this tent without any assistance, whether you have experience or not. The tent also comes with built-in LED lighting to make it even more comfortable to use a night.
Clam Quick-Set Escape Shelter
Bugs and rain are no worries in the Clam Quick-Set Escape Shelter. Designed with a center height of 90 inches and 94 square feet of interior floor space, the Clam Quick Set Shelter can comfortably hold six to eight people.
This best screen house for deck comes with sturdy tent stakes and tie-down ropes that allow it to withstand forceful winds. The durable and sturdy construction as well as the no-seem-um mesh ensures that this screen shelter will last for years of use.