Consider using Peel-and-Stick tile in areas that need a little pampering, but you don't have the time or resources to devote to installing a tile floor or wall. The installation procedure of peel and stick tile is simple enough that most do it without hiring a specialist.
Can you use Peel and Stick Tile in a Shower?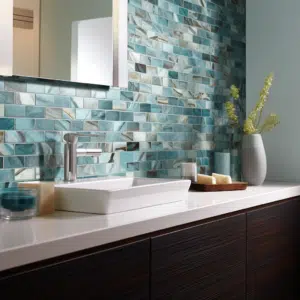 After thoroughly cleaning the kitchen and the shower, you can use the Peel-and-Stick tiles. They are waterproof since they are made from multi-layer vinyl, which makes them moisture and water-resistant in humid environments.
Unfortunately, if water is left on Peel-and-Stick tiles for too long, it can penetrate through the gaps and damage the subfloor or the walls. To avoid such problems, clean up the spillage, cover the Peel-and-Stick tiles with sealant.
Vinyl, glass, and even metal may create Peel-and-Stick tiling. These tiles' adhesive backing ensures quick and easy floor updating or backsplash installation on various surfaces.
However, if the surface isn't adequately prepared or the space isn't measured and planned out well, the powerful adhesive on the reverse of the tile might lead to issues. Factors that affect installation of Peel-and-Stick tile involve broken or cracked tiles, twisted tiles, or inconsistent patterns.
Some surfaces are not ideal for Peel-and-Ptick Smart Tile installation and may even hinder the tiles from adhering to the backsplash or wall. Because of this, it's crucial to choose the right surface peel and stick Tiles.
Surfaces That Peel-and-Stick Tiles Are Not Recommended
Some areas may make it difficult for Peel-and-Stickl tiles to attach, while others may distract from the backsplash's aesthetic appeal. Therefore, it's recommended that you don't apply the Peel-and-Stick tiles on some surfaces.
Porous and Dusty Surfaces
Surfaces that are dusty, porous, or in disarray reduce the longevity of Peel-and-Stick Smart Tiles. The tiles adhere to the dust on the walls before the surface. The Peel-and-Stick tiles risk dropping on your bathroom floor since they won't entirely adhere to the wall.
The following is a sample list of porous, dusty surfaces to that you should not apply the Peel-and-Stick tile:
stucco wall,

brick wall

stone wall

drywall or plaster unfinished wall

unpainted plywood.
Peel and adhere. Smart Tiles won't adhere effectively on most porous surfaces, but with further preparation, they will.
Uneven Surfaces and Relief-Carved Walls
Additionally, it's not advised to place Smart Tiles on a chipped, scratched surface or has reliefs, such as uneven backsplash tiles.
The backsplash's aesthetics must be considered while using these sorts of surfaces. Concealing flaws using Smart Tiles will be challenging if the reliefs or crevices are large.
Depending on the Smart Tiles model, the uneven distribution of the backsplash will be more or less obvious.
With basic Smart Tiles such as the Subway White, the flaws in the wall will be pretty obvious. The backsplash will lose its aesthetic appeal because of the soon discernible differences in texture levels.
However, Smart Tiles with various hues and textures will conceal modest wall reliefs. Even though the flaws will still exist, many people won't even realize they exist.
Regardless of the peel and stick Tiles model you choose, if the reliefs are very thick, they risk remaining visible. Therefore, placing the Peel and sticking tiles on walls with substantial reliefs is not advised.
Places to Avoid Using Peel and Stick Tiles
Peel and stick tiles shouldn't be set up on surfaces that will be utilized as a work surface or submerged in water. Additionally, placing them where they will come into contact with steam or flames is not a good idea. Therefore, don't install Peel and stick tiles in the following areas;
On the floor

The ceiling

The countertop

Hot shower bathrooms
Despite these limitations, Smart Tiles can be mounted on a fireplace mantel, kitchen, or bathroom.
The Surfaces That Peel-and-Stick Tiles are recommended
Peel and stick Smart Tiles can be installed on any flat, damage-free surface. Therefore, a smooth wall is ideal for using Smart Tiles since it will have an excellent grip.
The recommended surfaces for peel and stick Tiles are listed in part below:

Gypsum that has been painted (the paint must have been applied at least 21 days prior),

Smooth glass or ceramic tiles for the backsplash,

An acrylic wall panel

Wall linoleum,

A mirror,

Wallpaper (if other corners are peeling, peel them off and install Peel-and-Stick Smart Tiles over them)
Peel-and-Stick works well with smooth ceramic tiles that have few joints. 'Smart Tiles .'For Peel-and-Stick Smart Tiles, smooth ceramic tiles with minimal joints and grout lines are ideal. A flat surface doesn't require any further preparation. Peel-and-Stick Smart Tiles will stay on your kitchen or bathroom backsplash for as long as you want them to with a thorough cleaning.
Benefits of Peel-and-Stick Tile For Your Bathroom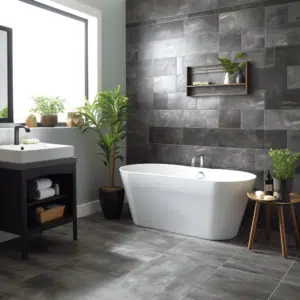 Peel-and-Stick Tiles are Available in a Wide Range of Materials and Costs
Unbelievably, Peel-and-Stick tile is available in materials including vinyl, metal, gel, glass, and stone. It's popular because it is inexpensive. However, that is mainly true of vinyl and gel choices. The price might be three to five times as expensive as the less expensive choices if you start considering glass, metal, or stone.
Faster, More accessible, and More affordable
If you've ever used a wet saw to cut tiles, applied glue on your walls, or grouted newly installed tile, you know how time-consuming and expensive the process can be. Peel-and-Stick tile installation may be completed quickly, affordably, and with less mess. You need a sharp blade, ruler, and level in terms of equipment. You'll need some time, preferably not more than a day, but at least a few hours.
The Peel-and-Stick tile might be the best option if you're the kind of person who has always desired a uniquely designed kitchen with a distinctive backsplash. Before you decide on a design, familiarize yourself with the most recent bathroom tile trends. Consider customizing your closet on a budget if you like to be creative and save money.
If you want to save time and money, peel-and-stick is the best option. But in actuality, nothing can truly compare to natural tile. Peel-and-Stick tile could be an excellent option for rental properties or if you want to upgrade the aesthetic of your kitchen but aren't yet able to finance a redesign.