Small galley kitchens are the worst. They're often so small that they don't even have room for a stove, let alone an extra countertop. But with a little imagination and creativity, you can make your galley kitchen work for you.
If you live in a small apartment or a house with an awkward-shaped kitchen, you might think that it's impossible to create a functional and beautiful space. But it's not! Small galley kitchens can be just as fabulous as any other type of kitchen.
The key to making the most of your small galley kitchen is to focus on function and practicality. You don't want to waste precious square footage on unnecessary items; instead, use your available space wisely by incorporating some clever storage solutions into your design.
Small Galley Kitchen Ideas On a Budget: Design Tips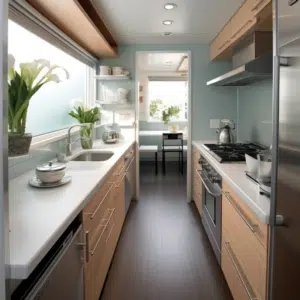 If you're just getting started on your design journey, we've got some tips to help you get started on a budget. Here are some of our favorite small galley kitchen ideas:
Maximize Storage Space
The first step is to take stock of what you have. You might have some drawers, cabinets, and shelves that are empty or underused. Take a look at each one and decide whether it's worth keeping or not. If it isn't, consider getting rid of it and replacing it with something better suited to your needs.
Use Vertical Space Wisely:
Galley kitchens typically don't have much vertical space, which means any unused wall space needs to be put to good use! Hang shelves above windows or doors where they'll get plenty of natural light while still being out of reach from little hands grasping at them.
Choose the Right Appliances:
When designing your small galley kitchen, select appliances that fit your budget, cooking style and aesthetic. Look for appliances that can double as storage solutions, like a microwave that comes with a turntable and vent fan.
Make sure that your appliances are sized appropriately for your space. A large refrigerator or stove can take up valuable floor space and makes it harder for you to reach everything inside them. Also, make sure that they're energy-efficient, so they don't eat up all your electricity bill each month.
Organize Your Cooking Area:
The best way to make the most out of your cooking area is by organizing it so that everything is within arm's reach (and preferably not buried under other items). A good rule of thumb is that if you can't reach something without having to move anything else around first, then it needs its own spot on the countertop.
Maximize Cabinet Space With Pull-Out Pantries and Lazy Susans
Your kitchen will be more efficient with greater cabinet space. A pull-out pantry lets you store products out of sight but still retrieve them fast. Because it turns like a turntable, a lazy susan can hold a lot of food without taking up much space. Both are perfect for small galley kitchens since they store a lot without taking up cabinet space.
These shelves can store cups, plates, and other goods you need near your kitchen.
Consider Stacking Appliances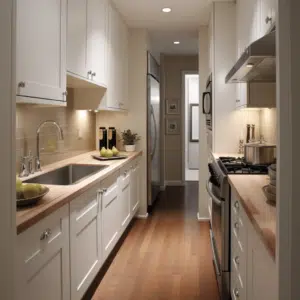 Stacking appliances allows you to save space by combining two appliances into one unit, like a microwave oven and stovetop burner in one appliance with two functions or a refrigerator/freezer combo unit that includes an icemaker in the door!
If your appliances can be stacked on top of each other, do it! This will save you from having an island or peninsula that takes up valuable floor space in your small galley kitchen.
Add Pops of Color With Accessories and ArtWork:
A small galley kitchen doesn't need to be bland and boring! You can really make it beautiful by adding some accessories, artwork, and other things that will make it stand out. For example, if you want to add a little bit of fun to your kitchen, try adding a fun rug or even a chair that has bright colors on it. Another way to add color is by using accessories such as colorful plates and bowls or even colorful utensils such as spatulas and ladles that match the theme of your room. By adding these items into your small galley kitchen, you can really make it look amazing!
Remove The Wall Between Kitchen and Living Room:
Rather than separating the living room and kitchen with a wall, remove it altogether and create an open space that flows from one room to another. This opens up the room, giving it a larger feel and better use of space.
If possible, try opening up your galley kitchen to the living room, so it feels more like one big space rather than two smaller ones separated by cabinets, walls, and counters.
Use Open Shelving for Storage:
Open shelving is one of the best ways to save space in your small galley kitchen because it allows you to store your dishes without taking up valuable countertop space. It also gives your home a more modern look which is great for a small galley kitchen style which is usually more contemporary than traditional.
Conclusion
You know what they say, bigger is better—but that doesn't always mean you have to look elsewhere for the space you need (or even want). The trick is to work smarter, not harder: by rethinking the way your small galley kitchen operates and maximizing on space and efficiency, you can still make one of these smaller-sized kitchens into the home of your dreams.
Cheap and simple do not have to mean ugly or outdated. In fact, you can even achieve the appearance of a modern kitchen by adding elements that may seem outdated. With a creative eye and some elbow grease, you can transform any galley kitchen into a dream space.
You don't have much room to play with when it comes to the layout of these kitchens, so everything has to be used wisely.