Disney Plus streaming issues on Samsung TV, Everyone can find something to enjoy on Disney Plus, a streaming service. It's a terrific source of news and sports material and a hub of entertainment for families, teens, and young adults, making it the ideal app to use when entertaining guests, grilling outside or watching a big game.
This article seeks to assist Disney Plus subscribers who recently attempted to watch a Disney Plus streaming video on their Samsung Smart TV but were unsuccessful since the film wouldn't load for some reason.
Disney Plus not Working on Samsung TV: Troubleshoot and Diagnosis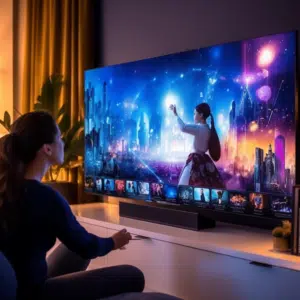 Execute a Power Cycle
We know that unplugging and restarting a broken TV is the best course of action. Even though this may seem like a straightforward solution, nobody has ever thought to attempt it with a Samsung TV.
Try unplugging your Samsung TV from the wall socket for roughly 60 seconds if the Disney Plus app won't load on your TV so you can stream Marvel or other Disney movies. This one is one of the most popular remedies for Samsung TVs that refuse to load apps or run programs.
After the 60 seconds have passed, plug the TV back in, turn it on, and press the Disney Plus sign-in button.
Here are a couple more ways to fix the issue if it persists.
Reset Smart Hub
If you're using a Samsung TV and try to access Disney Plus only to see a blue or black screen, your device has technical issues.
You can resolve a blue or black screen fault on your Samsung TV by performing a Smart Hub reset. You can do this by selecting Settings > Support > Self Diagnosis > Reset the Smart Hub after holding the Home button for 2 seconds.
Keep your login saved since you must enter it again after resetting the hub.
Reinstall Disney Plus App
Apps on your Samsung TV might get corrupted or damaged if you don't take adequate care of them, just as with any other software you download. Fortunately, there is a quick cure for this, and it only requires uninstalling and reinstalling the offending application.
For information on uninstalling and reinstalling an app on your Samsung TV, consult your user manual.
The application ought to open and operate without a hitch after installation.
Disney Plus Buffering Timeout
Buffering is one of the most irritating things that might occur while streaming on your Samsung TV with the Disney Plus app.
There might be a buffering timeout if Disney Plus on your Samsung TV is functioning slowly. First, try closing the app and restarting your Samsung TV. If this does not work, turn off the internet for about 60 seconds and try streaming from your Disney app again.
Clear Cache
Disney Plus is a subscription-based service that provides fantastic TV series, movies, and original content to your Samsung Smart TV. Try clearing the cache if the app doesn't start after you sign in.
This is under System Apps > Disney Plus in Settings. Click OK after Clear Cache. After clearing the cache, reload Disney Plus and sign in.
Check if the Disney Plus Servers are Down
Disney Plus won't function on your Samsung TV if the Disney plus servers are down. For this reason, if you experience a problem with your Disney app, it is always a good idea to check to see if the servers are up and running.
Fortunately, you can find out in advance whether your favorite TV shows or other streaming services will be interrupted thanks to websites like Down Detector.
Update Your Samsung TV
Samsung TV customers may experience troubles that can't be fixed by a reboot or reset, like with any new technology. If your equipment is malfunctioning and your handbook's troubleshooting methods fail, check for software updates. Navigate to "Settings" and select "Support" to update your TV. Click Update Software after selecting Software Update.
The update will now need to be installed, which will take a few minutes. Your TV will notify you when it's ready after upgrading. A Samsung Smart TV may automatically look for updates and download the most recent software when connected to the Internet. Make sure your Samsung TV is running on the most recent TV firmware if you wish to use the Disney Plus app with it. This will guarantee the app's compatibility. If you can't update your operating system, the Disney Plus app may not work on your TV. New versions are often released.
Factory Reset Samsung TV
Try performing a factory reset on your Samsung TV and reinstalling the app if you are experiencing streaming problems.
Consult your user's manual for the steps to factory reset your Samsung TV. After the factory reset, reinstall the Disney Plus app and test it to see if it works.
Frequently Asked Questions
Why Won't Disney Plus Load on Your Device?
If Disney Plus isn't working, it can be because of a bad internet connection. Try testing other apps that require the internet to see if they work. You can also try a different device if you're using Wi-Fi.
Why does Disney Plus on Smart TV Keep crashing?
Some frequent reasons why the Disney Plus app crashes include internet connection speed issues, a device not being compatible, and corrupting Cache.
Why is Disney Plus on TV constantly closing?
Your device's operating system may be at blame for the Disney Plus issue. The Disney Plus app may crash because it depends on your operating system and could malfunction due to a bug or issue on your device. Update your OS to the most recent version to resolve this and prevent further difficulties with compatibility.
Final Take
The Pixar, Marvel, and Star Wars film franchises, as well as dozens of other TV episodes and movies, are all available to subscribers of Disney Plus, a streaming service. Unfortunately, with so many titles available at once, there may be times when the Disney Plus app stops and prevents you from accessing your preferred material, even if your subscription is still active.
If you have followed these instructions and the problem has not been resolved, your Disney Plus app may be down due to maintenance.