Cleaners for Travertine Floor, When cleaning the Travertine floor, it is obvious to assume that you can use any traditional cleaner because the floor is durable. But which is the best cleaner for this stone flooring? 
This piece will take you through various best cleaners for travertine floor, what travertine floor is, its advantages, a step-by-step guide on how to clean it, and other maintenance tips. So, without much ado, let's unmask the details.
What is Travertine?
Travertine is a natural stone quarried from the earth in mineral springs such as limestone caves, rivers, or hot springs. It is smooth and particularly hard like a rock, although with a porous surface. It is refined into tiles for architectural purposes.
Travertine stone is popularly used, especially on flooring, because cleaners for travertine floor is durable and resistant to stains and corrosion. It is often used as a substitute for marble due to its affordability, and its flooring results, when polished, are identical to marble flooring.
Unlike marble and granite, which undergo a metamorphosis process (putting a stone under pressure and heat to become shiny as marble or sparkling as granite), Travertine is formed by condensation; thus, it is natural.
As a result of small pores due to the presence of carbon dioxide bubbles in the material as Travertine stone forms,  it has specific inherent susceptibility that requires consideration when cleaning and taking care of travertine floor. 
These include long-term and routine concerns, specific guidelines, and precautions to adhere to while working with such surfaces. Therefore, to ensure this particular floor is kept in a tiptop state, we have compiled the best cleaners you can use and preserve its natural look for years in the immediate section.
5 Best Travertine Floor Cleaners
To get a perfect result with Travertine floor, you must find the right cleaner for a seamless cleaning process. Unfortunately, getting them on the market is a hassle as the product has numerous choices.
However, you don't have to bother yourself because we have compiled a comprehensive list of the best Travertine floor cleansers below:
Black Diamond Stoneworks Limestone and Travertine Floor Cleaner

FILA Surface Care Solutions

Granite Gold Daily Cleaner

Marblelife InterCare Marble and Travertine Cleaner

Stone Floor Cleaner Stone Care International
Black Diamond Stoneworks Limestone and Travertine Floor Cleaner
Cleaners for Travertine Floor product provides a nice integration of benefits. First, its packaging design matches the value it offers. It draws its name from minerals and works to leave your Travertine tile shining bright.
Some of its benefits are:
Simple to use- This cleaner reduces stress and delivers great results.
Long-term results- unlike other products that give substantial loss of shine when applied, The Diamond has a futuristic outlook; thus, it improves Travertine's appearance each time you use it. Therefore, not only do you maintain the floor, but you develop it.
Safe for Home Use- If you are concerned about its safety, you can take a sigh as Diamond uses natural ingredients, which are eco-friendly and safe for household use.
The versatile- Diamond cleaner isn't restricted to Travertine floors only but is suitable for other types of floors such as limestone and others. It is a multipurpose cleaner.
Pros 
Easy to use

Improves the floors over time

It gets better with time
Cons
Lack an all-round scent appeal
Marblelife InterCare Marble and Travertine Cleaner
Cleaners for Travertine Floor translucent design makes it difficult to overlook in a store while shopping. Cleaners for Travertine Floor is a great buddy for cleaning the Travertine and other pure floors.
Results- Marblelife is a reliable product with a higher penetration capacity. Therefore, Cleaners for Travertine Floor enters into the tiny pores of Travertine material and cleans and removes dirt, leaving your floor with a fine polish.
Versatility- Cleaners for Travertine Floor has high adaptability levels to various floors hence a good consideration if you have a different type of floor or perfect if your house consists of diverse floor designs. You can apply it on finished wood, grout, artificial and natural floor surfaces, including glass.
Complaints- Unlike most products, if you are dissatisfied with the product, the manufacturer has permitted you to lay your claim, and where applicable, you will receive a refund or help within your home.
No streaks- Cleaners for Travertine Floor is a once-to-do type of cleaner as it leaves no spots behind, contrary to other products in a similar category 
Pros
It has great ROI

It is economical

It is simple to use

It doesn't leave streaks
Cons
Some customers have raised issues with mold inside the bottle
FILA Surface Care Solutions
Stoneclean is a great way to prevent dirt and long-term stains which your Travertine floor is vulnerable to, as it is designed for convenience and gives good results.
Surfaces- It improves the appearance of various floor surfaces. It is secure for use without causing any harm or streaks/ residue after use. You can use it in both daily cleaning routines and cleaning after installation.
Compatible with cleaning Equipment– It is amenable to various cleaning appliances without any issues.
Economical- you can do several cleaning projects as only one cap per gallon of water is needed. As a result, the house incurs a low maintenance cost.
Ease to use- The Stoneclean only requires you to mix a single cap with a gallon of water and get set to mop your floor.
Pros
It is worth the value for your money

It saves time as there is no residue

It is simple to use

It is weather-friendly

It has a pleasing scent
Cons
It doesn't help with mold removal
Stone Floor Cleaner Stone Care International
This cleaner is highly effective in cleaning your Travertine floor.
Easy to use- the product doesn't require any special skill. Just apply it to the surface using a wiping material or mop. You only need to familiarize yourself with the instructions, and you're good to go.
Residue-free- The product doesn't leave any residue after use freeing you from the stress of post-cleaning streaks due to its addition of streak-free components. Cleaners for Travertine Floor guarantees no unfavorable effects on your surfaces.
Versatility- this cleaner is multipurpose, meaning it cleans other floors and surfaces such as granite, terracotta, Travertine, marble, quartz, and slate.
Safety- The product secures your natural stone and doesn't contain any harsh substances that may be detrimental to the floor. The components of the cleaner are safe for home use.
Use- the StoneCare Cleaner is distinct as you can apply it in various use, both in residential and commercial setups.
Pros
Great value for your money

Leaves no streaks

Safeguard the surface's integrity

It has a pleasant scent that lingers for hours long after use
Cons
Some users have raised concerns about streaks
Granite Gold Daily Cleaner
It has a superb design that matches a dirty removal use nicely.
Safe for Home Use- the product focuses on non-toxicity. Its ingredients are crafted for all uses, from kitchen countertops to bathroom surfaces. It doesn't subject food to any poisoning; thus, you can use it confidently even if there are kids in the house.
Versatility-  You can apply it on different floors like Formica, ceramic tiles, terrazzo, granite gold, quartz, Travertine, etc. With pure extensiveness, it reaches all corners of the house. It is a favorite of many users because it serves more than one purpose, thus cutting costs.
Scent- It cleans debris, oil, and other stains. It leaves a trail of nice scent after use.
Natural Stone- It doesn't cause any damage to the surface. Instead, it keeps its quality and maintains its appealing nature over time.
Pros
It doesn't leave any streaks.

It is economical as it is available in different packages that fit your scale. 

It is Simple to use

Formulates a refreshing hue on the floor/ surface

It doesn't expose any health risks

It is lightweight
Cons
From customers, they say it is incompatible with black granite, and some say it leaves wipes.
How to Clean Travertine Floors
Regular cleaning of the Travertine floor aid in its maintenance as it prevents scratches and ruin. Consistent removal of loose debris and dirt using a microfiber dust cloth and a weekly mopping with Travertine-friendly cleaners will assist in removing buildup and grime. Sealing of your Travertine floor is  equally paramount
Supplies:
Broom or Vacuum cleaner

Bucket

Towels

Sponge/mop

Tiny narrow scrub brush for Grout
Materials
Stone cleaner

Non-acidic detergent

Warm water 

Mild, non-acidic soap
Choosing a Cleanser
Harsh cleansers cause damage to your Travertine floor. Consider purchasing cleaners designed for Travertine, which you can check from the product's label. Go for neutral cleansers with a pH of 7 or less.
Alternatively, you can use mild soap 3-4 times annually to avoid scum.
Any product with chemicals such as ammonia or bleach is not ideal for use on the Travertine floor as they harm them leading to aging before time.
Don't use citrus, vinegar, or anything acidic, as they will ruin your stone surface.
Overall, use the recommended cleaners as highlighted in the previous section.
Cleaning the Travertine Floor
Remove the loose Dirt- Using a dust mop made of microfiber, remove any loose debris or dirt from the floor's surface.
Fill your bucket with warm water and the cleaner- Ensure you read the instructions on the cleanser label. Add the cleaner to the warm water as per the instructions. Add a tiny squirt to the bucket if you use a mild detergent.
Wring a mop in the cleaning mixture- Put the mop inside the cleaning solution and wring out the mop of the excessive water.
Mop the floor using the cleaning mixture- After removing the extra water from the mop, use side-to-side movements to clean the floor systematically from one side to the other while rinsing your mop in the solution often. Ensure you squeeze the mop after each rinse
Change your solution if the cleaning area is large after completing half of it.
Rinse the Floor with Water – After washing your floor with the mixture, you may rinse it with plain clean water. However, this step may not be necessary if your cleaner is streak-free.
Dry the Floor- With a soft microfiber cloth or a non-abrasive cloth, dry the floor to prevent smudges and streaks from forming as the water escapes the floor.
Travertine Floor Maintenance Tips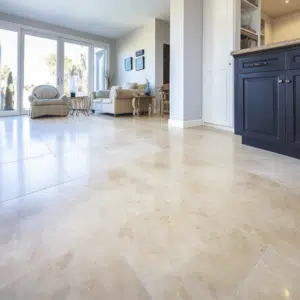 Travertine floors don't draw dirt and dust like carpets, so they are easy to maintain and keep looking fresh. Here are some top tips to get you on the right foot
Sweep regularly
You can clean your Travertine floor by sweeping using a dust mop or soft broom to remove the loose dirt particles to prevent scratches. A vacuum cleaner with a soft attachment will work too. Doing it a couple of times a week is okay.
Mop weekly
Restore the floor surface and remove any buildup/ stains by mopping it weekly. Keep in mind the cleaning guidelines for awesome results.
Clean Spills Immediately
Clean the spills immediately and if it has settled, use a poultice to clear them and consider the type of stain on your floor. All you require is to apply the paste uniformly to the stain mark, cover it with plastic and let it settle for 24-48 hours to take effect.
If the stain doesn't clear, you may repeat the procedure until you achieve desirable results.
Use Rugs/ Carpets
 Use rugs/carpets to protect your floor from scratches in areas with much traffic. Doormats are highly preferable to remind people to take off their shoes before entering the house.
How to Seal Travertine Floors
Due to the pores in the Travertine stone, it absorbs liquids left on the floor, which eventually can lead to discoloration, material degradation, mold, or stains. Preventing these effects is crucial to seal your floor during installation.
Penetrating Sealer
It is a type of sealer that breaches down into the stone and clogs the pores making it relatively hard for any moisture or liquid to enter.
Surface Barrier
 This sealer forms a clear coating on the tile top, preventing the stains and liquids from settling.
Benefits of Travertine Floors
Durable

Prestigious

Easy to repair

Long-lasting
Common Issues with Travertine Stone
Stains

Mold/ Mildew because of its porous nature

Cracking and Chipping

Scratching

Etching as a result of acidic cleaners
How to Find the Best Travertine Cleaner?
It is a hassle to get the right cleaner with multiple choices in the market. However, some stand out. It is recommended that you check on the customer's reviews to help you make an informed choice that will be worth your money and give you the best Travertine cleaner with great results.