A Dutch oven is irreplaceable kitchen cookware for good reasons. It is a deep pot with a lid made of heavy cast iron. It is versatile, from roasting chicken to baking bread to simmering stews.
Most people use it in meal preparation, especially in the oven, without knowing other options. The question that always lingers in their mind is whether "Dutch oven might be compatible with your glass top stove?" Yes, multiple Dutch ovens in the market are particularly made for glass top stoves
We have compiled a comprehensive guideline on the best Dutch ovens you can use on a glass top stove, how to go about cooking, different types of Dutch ovens, and the advantages and disadvantages of using them on a glass stove. Let's dive right in.
What Is a Dutch oven?
A Dutch oven is a heavy deep pot made from cast iron or enameled steel, ideal for gradual cooking. It is suitable for an oven or glass top stove though you need to be cautious to avoid damage.
As a result, ensure the cookware's bottom is smooth and evade dropping or sliding the Dutch oven through the glass surface.
Best Dutch oven For Glass Top Oven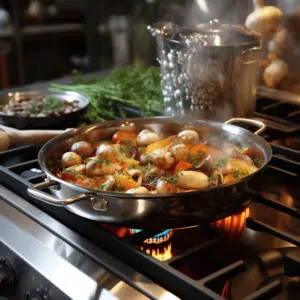 Edging Casting Enameled Cast Iron
Its is a large pot made of thick heavy-gauge cast iron with a glossy enamel finish. It is ideal for cooking family meals or when you have guests to entertain.
Evenly retains heat well, giving you an assurance that your food will evenly cook well and taste delicious. It has a self-circulation water locking feature that keeps your food moist and tasty.
It covers 5.5 Quart with dual handles. Slate Blue is a great choice for those using a glass-top stove cooking.
Pros
Cons

Its has a glossy enamel finish.

It has a self-circulation water locking feature.

Heats evenly and retains heat well thanks to its enamel finish

It is large and thus accommodates people up to 7 people

Its May be hard to clean.

The enamel coating may chip over time.
Legend Cast Iron Dutch oven
If you want the best in durability and versatility, this is the perfect pot equipped with modern features for today's cooking. It is crafted from pure premium-grade steel and iron.
The Dutch oven is 20 inches enabling you to blister meat or even gradually cook stews and casseroles to perfection.
Pros
It contains two removable silicone heat-resistant grippers

Crafted from pure, premium-grade steel and iron

It has a smooth finish

It contains two integrated handles

It gets better with each use
Cons
It is slightly heavy

To season the pan requires some learning.
NutriChef Enameled Cast Iron Dutch oven
It is a durable and versatile Dutch oven for baking, frying, braising, searing, and roasting. Its is an induction set that matches all heating methods, such as gas, electric, and glass ceramic.
Has a 5-quart crafted heavy cast iron metal coated with a porcelain enamel that is good for spreading heat and keeping uniform and reliable temperatures throughout the pot.
Pros
It is easy to maintain and clean.

It has a self-basting ridge-lined lid that directs vapor and heat onto food.

It is a versatile pot.

Made of heavy cast iron with a porcelain enamel coating
Cons
Lodge Manufacturing Company EC6D18
Are you looking for a reliable and long-lasting pot? This kitchen pot is cast iron, chip resistant, and has a porcelain finish. It is best in braising, braising, baking, broiling, and roasting in ovens up to 500 degrees Fahrenheit
Pros
It is an ideal size for most cooking needs.

It has a seamless cleaning process as you only hand wash

It is produced from high-quality materials

It is multipurpose and long-lasting
Cons
It is not dishwasher safe or oven safe.
Enameled Cast Iron Dutch oven
Very durable and perfect for those looking for an adaptable pot that can handle a range of methods. It does distribute heat evenly and retains flavor. Its design is thick and heavy-duty cast iron with a shiny enamel finish.
It is well sealed; thus, water isn't lost during cooking, thus enhancing the water locking role leading to mouth-watering dishes. It is used for many cooking methods.
Pros
It has a great design

It heats even for longer durations

It has a thick lid that seals well

Crafted of thick heavy-gauge cast iron

It is ideal for all cooking methods like frying, baking, braising, stewing, etc.
Cons
If not carefully handled, the enamel coating may chip

Not dishwasher safe
Amazon Basic Enameled Cast Iron Covered Dutch oven
Its has great heat distribution and heat retention due to its enamel coating. It is perfect for beginners. It matches well with a glass top stove, is simple to use, and is ideal for small families.
Pros
Has an enamel heat circulation and preservation

It is oven friendly

Good for making frying chicken, tossing pasta, or soup

It is a medium size
Cons
It is not dishwasher friendly- only hand wash

Lacks the non-sticky function
Lodge Pre-Seasoned Cast Iron Double Dutch Oven
It is a versatile kitchen pot for baking, stewing, and braising. Its lid is exchanged for a 10.25 –inch skillet with loop handles for safety control.
The Dutch oven is cast iron and pre-seasoned with 100% natural vegetable oil for a non-stick surface. You can use it on the stove, grill, oven, or above the campfire.
Pros
It is crafted from cast iron.

It is pre-seasoned with pure vegetable oil for non-stick functions

The lid changes to a 10.25-inch skillet
Cons
It is heavy

Sometimes it can flake.
How to Use a Dutch oven For Best Results on a Glass Top
Dutch ovens seem durable enough to handle everything. Nevertheless, not all cooktops can handle certain Dutch ovens. The glass top stove can handle a lot, but its glossy surface needs a certain level of mechanisms to know how to ensure it doesn't get ruined and will use the pot you're proposing to use
It is significant to note that some pots and pans work better, contrary to others on a cooktop. Regardless Dutch oven is not banned from a glass top stove. They need extra care than other cookware.
Best Results on a Glass Top
This section gives tips on getting the best results while using a Dutch oven on a glass-top stove. Let's dive right in. First, preheat the oven to ensure even cooking of food. Next, when placing the Dutch oven on heat<span style="font-weight: 400;">, place it at the center of the burner Dutch ovens work at any set temperature. However, they work best when set on medium or low heat temperatures. Once the Dutch oven has heated, you can add food, though ensure you add sufficient liquid to cover the pan's bottom.
It would be best to cover the Dutch oven to help lock in the heat and keep food from drying out. Let the food cook. Cooking time varies depending on the type of food you're preparing. Take off the Dutch oven from the stove once the food is ready. Use oven tongs or mitts to avoid burns. Allow the Dutch oven to cool to avoid burns and for easy cleaning.
Does Use of a Dutch oven on A Glass Top Stove Have Any Benefits and Shortcomings?
Benefits
Dutch ovens have low maintenance as they are easy to clean

They're compatible with glass top stoves as they're suitable in any heat setting

Dutch ovens are versatile as you can cook different dishes in them

They're durable and thus a superb investment

They're suitable for camping trips as they can be placed on coals of fire.

Downsides

The Dutch can be hard to lift as they made of heavy cast iron

With the many excellent qualities comes a price.

They are not readily available- rare.
What to Look at When Choosing the Best Dutch oven For Your Use?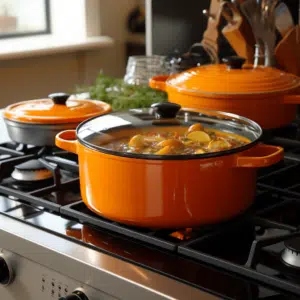 When you're looking for the best Dutch oven, there are some crucial factors you should consider, such as:
Material
Dutch ovens are mostly made of two materials- cast iron and enameled cast iron and each one has pros and cons.
Cast Iron is popularly known for its ability to retain heat and even heat distribution. In addition, it is durable, making it ideal for families that like outdoor cooking. Nevertheless, it can be heavy and hard to clean.
Enameled cast iron- Unlike cast iron, it is lighter and has seamless cleaning with minimal maintenance. However, it is more costly and doesn't keep heat as cast iron.
Size
Dutch ovens are available in several sizes, from small sizes of 1 qt for one person or desserts to large sizes of 15-qt pots to feed an entire family. Therefore, it is important to choose the right size based on the food and quantity you're cooking.
A Dutch oven of 5-6 quarts is suitable for main meals and side dishes; smaller pots are recommendable.
Shape
Most Dutch ovens are produced in oval or round shapes. So, your overall choice will depend on your tastes and lifestyle. How you intend to use it will help you make your choice. For instance, standard roasts, soups, and stews require a round-shaped Dutch oven, and pot roasting is better done in an oval Dutch oven.
Material
Stainless steel- are easy to clean but poor in heat retention
Cast iron- is the most popular material for Dutch ovens because it retains heat. It is excellent for frying, slow, outdoor, and campfires.
Dutch ovens from cast iron require cleaning, seasoning, and maintenance to keep their effectiveness. They are durable and produce tasty dishes. However, they react to acidic food like tomatoes, chili, etc.
Enameled cast iron- they retain heat without seasoning or special maintenance. They're easy to clean and available in multiple colors to match your kitchen's décor. Like cast iron, they are heavy and pricier but worthy of investment.
Ceramic Dutch Oven- These are adaptable in cooking as they're used on the stovetop and in the oven. They're the lightest but prone to breaking.
Features
Handles- As the entire pot will be hot while in use, it is important to have handles to hold. The handles should be strong to support the pot's weight with content inside without breaking.
Knobs- Dutch oven with stainless steel lid knobs or handles are great.
Lids– prevent food from drying out and prevent water from escaping. Some have glass lids to allow you to monitor your food as it cooks.
Warranty
When purchasing any kitchen appliance, it is important to look at the warranty. Dutch ovens come with a limited warranty covering any faults in material and craft. It is advisable to go through the warranty before committing to buy to verify all that is covered therein.
Usage
Are you a camper? You would love one that is durable and suitable for a campfire. If you're a home chef, you may prefer one that is easy to clean against durability. The choice trickles to your personal preference.
Cost/Price
For any purchase, price is a factor to consider. Dutch ovens range from about $ 30 to $ 500. Nonetheless, choose the one that suits your budget and meets your expectations.
Types of Dutch oven
Dutch ovens are available in varying types. For instance:
Ceramic Dutch oven
It is a Dutch oven usually used in ovens or microwaves and is made of glazed ceramic. They are not suitable for use on a glass-top stove.
Camping Dutch oven
Similar to its name, it is a Dutch oven designed for a campfire. These ovens are made of cast iron or enameled cast iron. They contain two legs to allow them to sit directly on a coal fire.
Dutch oven with legs
They're similar to camping Dutch ovens.
Enameled Dutch oven
They are Dutch ovens that are enamel coated to prevent rust and make them easier to clean.
Stainless Steel Dutch oven
It is crafted from stainless steel, and usually, they are used on a stovetop but is not ideal for oven use.
FAQs
What makes Dutch Ovens Unique?
The versatility of the Dutch oven makes it indispensable as a kitchen must-have. You don't have to worry as you can explore various cooking methods, from searing, and simmering, to braising, baking, or frying.
What makes the Dutch oven stand out from other cookware?
Their versatility is unmatchable. You can use the Dutch oven in the oven or cooktop and serve with it.
What Makes a Good Dutch oven?
Various factors like the cast iron's consistency, quality, enameling even, spotless finish, closed lid, and thickness make it decent cookware in your kitchen.