For hundreds of years, the Baker's rack has been a piece of furniture confined in the kitchen. Its primary use is to store freshly baked bakeries. Made of wrought iron or some metals, it has been a part of most homes globally.
Nowadays, it has a variety of uses such as general storage, house plants, kitchen use, décor, houseplants, etc. It stores non-baked foods like fruits, coffee, and liquor in the kitchen, while other people can use it to display books, photo frames, or game boards.
As the functionality of the Baker's rack became more adaptable, its design has changed too. Some have drawers, cabinets, and other storage uses like having stands. They have also become embellishing, serving as an accent piece in many homes.
Good general decor rules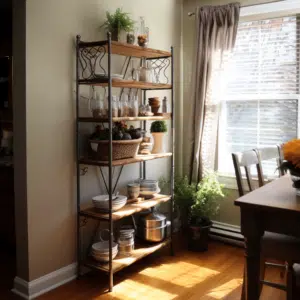 The decorating ideas contribute to transforming your room into a fantastic display corner. The decoration of a baker's rack depends on the type of rack and its location. The general décor rules for any showcase, regardless of the place, are as seen below:
Clutter-free:

The rack is open; thus, each item adds its weight and can get fast stuffed. Therefore keep it clutter-free.

Attractive bins:

Small objects that don't require display can be put on the lower shelves using receptacles.

The middle rows are for displaying cups and mugs.

The addition of rivets to the frame is perfect for hanging mugs elegantly

Add vases with flowers to pull a charming atmosphere.

Ensure even distribution of items across all shelves and ditch the idea of one shelf overwhelming the entire rack.

Use rustic signs to decorate the rack's top-shelf.
Ways to Decorate a Baker's Rack in the Dining room
The biggest mystery to decorating your stand is to stay true to your style. A beautiful baker's rack presents the perfect place to offer your fine dinner dining. Get the incredible piece to make your utensils readily available whenever you need them at an affordable price.
To illuminate your dinner dishes and obtain attention, consider a bedazzling lamp.
A simple plant can add some freshness to a space that might be lacking color. Ensure you stick to a coffee bar as it is most people's favorite in the morning and even to guests. Your Baker's rack should have enough space to hold the coffee machine with some hooks to dangle your mugs.
Drawers are also essential to put your various coffee pods and must-have creamers, sweeteners, etc.
You can personalize the space with Quirky quotes and Funky little details
What about the night that you want to retire from the day's activities, and you would like to grab a glass of wine? Some baker's racks come with in-built wine storage, which is good news for a wine connoisseur.
Whether pre-designed or not, create a cozy and pacifying, captivating, and classy space right at home. Store your wines as it delights you. Add some personality to the area with a pin holder, classy cacti, or a beautiful tray.
The rack presents enough space to store your family memories like photos and books of your origin. A picture of your Grandpa, family memories, etc., can be hung right in this space.
You can add some vases with blooms with a twist of lights to bring the Baker's rack to life during the night.
5 Bakers' Racks for Your Dining
Bakers Rack Hutch
It is suitable for the dining room. The shelves are extensive, giving you the needed storage for your Sunday dishes, glasses, or cups. It allows you to expand your cabinets, creating more storage. Organize and add style with this rack.
The solid metal and wood bakers rack
They are suitable for your dining hall, providing space for your favorite vases, flowers, cruets, and other decorative epergnes. It makes a different spot with its accent.
Elegant bakers rack
It is a rustic/dark brown metal and wood baker's rack with a bright, tasteful design due to its clutter-free look. The combination and shelves make it perfect for storing dining room equipment.
Bakers rack with Cupboard
A baker's rack with a mixture of closed and open storage is a great idea to achieve an aesthetic display of items like books, souvenirs, and plants and to store your crockery in the dining room, among other functions.
Rustic metal and wood bakers rack
Having three primary shelves, it can take many shapes. It is of metal or wood with a superb finish marking it as an accent piece in your dining.
Factors to look out for before purchasing
Benefits of Bakers rack
As one of the primary versatile furniture pieces or storage for the home, the Baker's rack is suitable in small spaces, minimal room spaces, and if you love displaying dinnerware. To know more about the storage must-have, keep reading to learn more.
Baker's racks provide slim and accessible options for bulky china hutches
Features and Types
Bakers' racks come in different types and styles, enabling you to store everything. When selecting one for your home, consider its use and whether your wants are for storage or surface area.
Sizing
Baker's racks come in different sizes and shapes with various inches. There are smaller and more prominent styles. The number of shelves depends on the type.
The number of items you purpose to store will act as a determinant of the rack's tiers. Those with two to three shelves have more space between the decks, unlike the five to six.
The two-three rack is suitable for storing small appliances, tall items, and dishes because they have much height in between shelves. Tall and narrow bakers' racks are ideal if you need more storage.
Baker's rack structure styles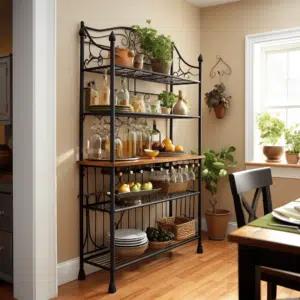 Consider your dining room arrangement, from the furniture and paint color to the window décor. Get the baker's rack that compliments your house.
There are several ways to decorate, and it comes down to a particular style and your concept of how you want it to appear. It is an excellent selection for any dining room and offers a lovely space to keep your great china. Likened to the heavy, pricey cabinets, it is a cost-effective yet stunning space for your dining room.
A baker's rack is universal and adds space for storage and display. You can explore this space however you like based on your distinctive personality but be careful not to overdo it, or it can be messy and junk.