Smooth Bathtub, There are times when an existing bathtub won't function as required. Instead of replacing it, you opt for other solutions like refinishing, which is also referred to as bathtub reglazing, resurfacing, and re-enamelling.
Resurfacing is the process of getting your bathtub surface to receive a makeover to refresh its look. But are you aware that reglazing, if done improperly, will lead to disappointments, such as leaving your bathtub to feel like sandpaper?
No one would enjoy taking a bath in a bathtub that is gritty no matter how clean it is. Why does this happen, and how can we fix the problem? In this write-down, we will answer in detail so that you receive a smooth bathtub for your relaxing bubble baths.
BathTub Feels Like Sandpaper: Reasons Why and How to Fix it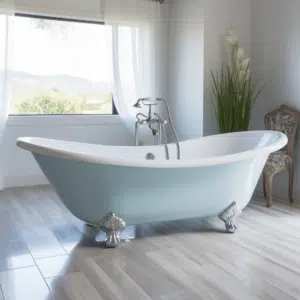 Refinishing entails sanding, cleaning, and coating to give it a brand new look. The primary purpose of this process is to get the bathtub's surface smooth.
Resurfacing is the only option to attain a new look on your bathtub without breaking the bank. But with a risk of the job getting done erroneously or vaguely, it is recommendable to hire an experienced expert to do the job seamlessly.
However, you may end up unlucky and bump into someone unprofessional. The bathtub may look brand new after the process is complete, only to realize issues such as roughness on its surface.
The gritty surface could be brought about by various reasons such as:
Bubble On The Surface
When enough attention is not given, air can get trapped between the layers causing bubbles.
A solvent reaction with the old coating layer can also form bubbles.
Solid evidence of a previously resurfaced bathtub is its peeling or chipping around the drains.
Before applying the new coating, strip off the former layer from the initial coating as it is crucial. When this step is imperfectly done, it leads to air presence in the coating, leaving you with no other way out, resulting in sandpaper feel on your bathtub surface.
Solution
If bathtub resurfacing is done previously, then ensure the stripping of the former coating is correctly done. Remove the former layers to enable the new coating to bond perfectly with the original surface.
Once the fresh coating has been applied, allow it to cure for at least 24 hours and away from any water contact.
Texture Finish
Your bathtub should feel smooth, even whenever your skin gets in touch with your bathtub. Unfortunately, this may be contrary, and you will have a rough-like feel.
A rough texture is one of the commonly experienced problems which indicates the surface was unclean or inappropriately sanded.
Mostly, it is due to debris and dust inside your bathroom being stuck between the coating layers during the resurfacing process.
Solution
Before you begin refinishing, ensure the surface is dust and debris-free. So, perfect cleaning of the bathtub surface is vital.
Ensure the sanding is perfectly done.
Please note that slight imperfections might occur during settling, but they should not cause discomfort.
If there is dust after the bathtub has fully cured, clean it off as per the recommendation given by the professional.
Fading Finish
A faded finish will not have a smooth feel on the bathtub surface. Still, it will not look fabulous in your bathtub.
Fading occur when the coating during the refinishing work is thinly mixed
Improper mixing of materials during the coating process and lack of sufficient curing times can also lead to fading.
Another cause of a dull finish is the use of unauthorized and abrasive cleaners ruining your bathtub surface. Powdered cleaning substances like Ajax, Comet, and Barkeepers Friend will sand off your bathtub due to continual use leaving your tub exposed to unattractive stains.
When the job is done hurriedly, there is no proper curing time causing roughness on the surface. The quality of the cleaner has a vital role too.
Solution
Using vast experts with knowledge on how to mix the coating materials appropriately is paramount. In addition, ensure the worker will take care of the surface and resolve any issue.
Sticky Residue In The Finish
After the resurfacing job, let some time pass, and if the surface is still sticky, that means the coating didn't cure properly. It would be better to wait a bit longer; if the issue worsens, you must respray the surface.
It would be best if you were sure that this problem is caused by improper rationing of product mixing during the coating.
Therefore, it is advisable not to touch the surface, for it will worsen the issue.
Solution
If the surface feels sticky after the curing time is over and waiting for two days, restrain from touching the bathtub's surface and call a professional to fix the problem.
Is Bathtub Refinishing Necessary?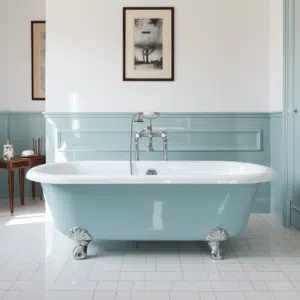 Why incur an extra cost of replacing a bathtub when you can achieve a new finish just by refinishing? There is no need to throw away a perfectly usable bathtub when you can make it reusable.
It is also cost-effective compared to entirely replacing the bathtub. It is suitable if you have a budget constraint.
Resurfacing process is not easy and requires utmost care.
Even brand new bathtubs may have a rough surface; hence to avoid disappointing and expensive costs, the refinishing work has to be outstanding.
Refinishing is the best inexpensive way to revamp your bathtub without replacing it. If you have time and patience, you can do it yourself as a DIY project using some DIY kit or call on a professional.
There is no need to throw away your bathtub if it is workable and still in good condition. Thus, please refinish instead of replacing.
Refinishing is a delicate process and consumes a lot of time, but if it is correctly done, the results can be great, and you will restore your bathtub to an appealing new look. Use an expert refinish worker if you wish for long-lasting results of up to 10-15 years, but even with the pros, a resurfaced bathtub can't be as good as a brand one.