Tile Types aren't just for the bathroom or the kitchen anymore. Porcelain, ceramic, and stone tiles are versatile materials that may today be found in nearly every room of a modern home. The tiles are exceptionally robust, do not shatter or distort as the temperature rises or falls, and are water-resistant. They've come a long way in design, texture, and color.
Mud Cap Tile vs Bullnose: Difference Between the Two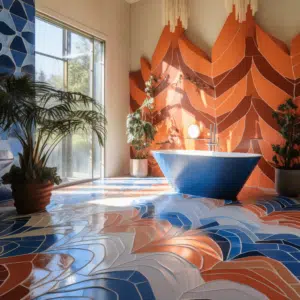 You will likely come across various tile shapes and sizes while looking for new tiles. Mud cap tile and bullnose are two of the most perplexing tile shapes. So, what exactly is the distinction between the two?
Mud cap tiles, also known as cove tiles, have a curved, concave radius on one edge and are used to produce a junction between the wall and the floor or an inside corner when placing wall tile. The bottoms of these tiles are flared to create a smooth transition from one surface to the next. There are two types of mud cap tiles:
On the other hand, Bullnose tile, also frequently referred to as a surface cap, is utilized as a cove base replacement. A single bullnose has one rounded edge and can be used to complete an area or change direction horizontally or vertically.
To help you better understand tile shapes and sizes, the next section of this article will walk you through the different tile shapes and sizes and the application of each shape.
Types of Tile Shapes and Sizes
Field Tiles
A field tile is a tile used to cover a wall, countertop, or floor. These tiles are usually flat, have a single color, and require a border or trim tile to finish the installation's edges.
The most typical shape for field tiles is square, but they are also available in rectangular, octagonal, hexagonal, and customized designs. These tiles come in various sizes, ranging from one-inch mosaics to 24-inch and bigger format tiles.
Mosaic Tile 
Mosaic tiles are small tiles (usually less than 3″x 3″) composed of porcelain, ceramic, colored glass, natural stone, and even pebbles. They come in various shapes, including round (dots) and hexagonal.
For easy installation, mosaic tiles are set out on paper, mesh, or adhesive dot-attached sheets. Straight or divided mosaic tiles can be paired with colors to create a surface design, ornamental inset, or distinctive pattern.
Trim Tile
Trim tiles cover the cut or raw edges of field tiles, especially on walls and countertops. These tiles are an essential transition component that protects the raw edge of the field tile; without them, the field tile could be destroyed easily.
Trim tiles come in various shapes and sizes to help you achieve the sanitary and architectural look you want for your installation. 
The two broad categories of trim tiles include:
Surface Trim:

Often the same thickness as the field tile and is put directly to the wall or countertop surface.

Radius Trim:

A curving trim tile used to cover a deep setting bed or a tile piece.
The typical surface and radius trim shapes include the already discussed bullnose and mud cup, plus quarter-round and V-cap.
Border Tiles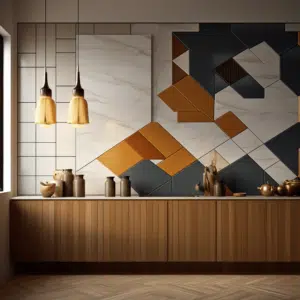 Border tiles are mostly decorative field tiles that define a transition. The forms, sizes, designs, colors, and textures of these tiles distinguish them from the field tiles.
The v-cap of a counter, which can be a different color or have a design or hand-painted border, can be utilized as trim tiles. Many manufacturers now make ceramic borders and profiles for the base, crown, and chair rails that match the wall tile and add aesthetics to the installation.
Frequently Asked Questions
What is the Difference Between V-Cap and Quarter Round?
The front border of a countertop has a v-shaped trim called apron trim. The front border of this tile is delicately curved upward to prevent water from overflowing. Quarter round, also called as Bead, trims piece edges. From the side, Tile Types looks like a quarter circle. This can be modified with a half-round trim.
What are Porcelain Tiles?
All porcelain tiles are ceramic. Not all ceramic tiles are porcelain. Porcelain ceramic tiles absorb less than 0.5 percent water. These tiles can be used indoors and outdoors because they have low water absorption rates and are resilient during freeze-thaw cycles.
Fine clays, feldspar, and quartz are fired at high temperatures to make porcelain tiles denser and more water-resistant than ceramic tiles. Some manufacturers now make high-density ceramic tiles that are stronger than porcelain.
While porcelain's structure provides durability, cutting and adhering the tile to vertical surfaces can be challenging.
Where are Tiles Used?
Homes use tiles mainly on interior floors, walls, and worktops. Floor tiles are thicker and stronger than wall tiles for foot traffic. They might be glazed or unglazed. Textured floor tiles improve slip resistance.
Floor tile works on walls and countertops, while wall tile should only be used on walls and countertops. The majority of wall tiles are high-gloss or semi-gloss. This shiny, glazed surface is slippery when wet and inappropriate for floor tiles.