Aim Controllers, Nowadays, there is a vast computer and console hardware and accessories market! There are hundreds, if not thousands, of various console accessories and equipment available, particularly for Sony consoles. It is not easy to navigate through all of the stuff.
As a result, this article will concentrate on the two most common PlayStation controllers, the Aim controller and the Scuf controller, so you can decide which one is the best for you.
The article will also help answer any other questions you may be having concerning Playstation controllers.
Aim Controllers vs  SCUF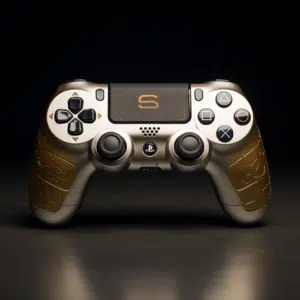 Aim controllers and Scuf are currently the only two competitive firms on the market in terms of quality, popularity, and personalization features. Before diving into a quick comparison of the two controllers, let's give a brief overview of the two brands.
Aim Controllers
Aim Controllers is a slightly younger firm compared to Scuf, but it is still one of the most popular, supplying high-quality gaming accessories. This fast-expanding firm sells the latest PlayStation and Xbox hardware and fun PC accessories like gaming mats, mice, and keyboards.
Their incredibly customizable controllers for PS5, PS4, and Xbox One, which will gratify even the most demanding gamers, are undoubtedly their most incredible pride and joy!
SCUF Gaming
SCUF Gaming was established in the year 2011. It is also known as "SCUF®" and is a global innovator and producer of high-end gaming controllers, providing gamers with the finest quality accessories and personalized solutions.
SCUF controllers are mostly console and PC controllers used by both pro and amateur gamers. They are built to specifications and have various customization options that improve the user's comfort and gaming experience.
Aim Controllers vs. SCUF: Quick Comparison
Design
The Aim controller has the highest number of design options available in terms of design. They have STANDARD (1), MAT (9), NEW DESIGNS (7), SPLATTER (3), DIGI CAMO (5), HYDRO (11), JOKER (5), STORM (3), GRID (4), REAPERZ (3), NEON SHADOW (4), and SOFT TOUCH (2).
On the other hand, Scuf has only four design options available. The design options include DESIGNER (25), SPECTRUM (15), SIGNATURE DESIGNS (13), and NEW (8).
Price
Compared to Aim controllers, Scuf tends to be on the more expensive side. You can acquire the Aim controller at £69,14, while Scuf will cost you £174,99.
Thumbsticks
Aim controller features PS SMALL, MEDIUM, and HIGH thumbsticks. On the other hand, Scuf has Concave and Domed thumbsticks.
Rings
Aim features rings with nine color versions, while Scuf features rings with ten color versions.
Grips
Regarding grips, Aim controllers have Aim grip without paddles that come in 11 color options, Aim grip with paddles available in three color versions, and New Grip PRO with paddles available in 3 color versions.
On the other hand, Scuf can either have a Military Grade grip, High Performance grip, or none.
Bumpers
Aim controllers have Standard and Smarts bumpers. Digital mechanisms have replaced the buttons on the Bumpers. They work quickly with a short click, much like a mouse click. Because of the innovative, digital mechanism, Smart Bumpers allow you to operate more swiftly. In many games, a brief click will improve your accuracy and precision.
On the other hand, Scuf has standard and Digital Tap bumpers available only with digital tap triggers.
Trigger Systems
Aim controllers have both standard and Smart triggers. A digital mechanism replaces trigger buttons, improving precision and reducing input lag. The movement range of these buttons is much shorter, and the sound is crisp, similar to a mouse click.
On the other hand, Scuf has a Digital Tap trigger and Trigger Control System.
Warranty
Aim offers a lifetime warranty. However, this warranty comes with some exceptions. When the complaint entails shipping a new product to the customer whose prior product has malfunctioned within 90 days of delivery, the guarantor is responsible for the delivery expenses (up to 12€).
On the other hand, Scuf offers six months to two years warranty. Here the cost of transportation of the new product is catered for by the customer.
Aim Controller vs. Scuf: Which Should You Go For?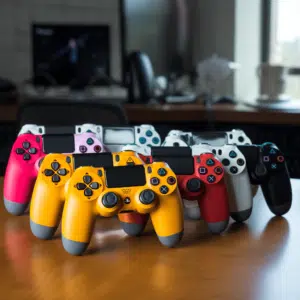 The SCUF and AimControllers, as you can see, are the latest generation of controllers that will gratify any player. However, due to the additional customization choices, the number of colors, and other features such as AimGrip, Smart Triggers, and Smart Bumpers, as well as the price/quality ratio, the PS5 controller from AimControllers comes out on top!
However, you won't be disappointed if you get the SCUF controller because the two are similar in technology, but you'll pay a lot more for it.
Is Dual Sense the Best Controller For Playstation 5?
The official PlayStation 5 controller is undoubtedly the most fantastic and most popular option for most gamers today. The Sony DualSense has an ergonomic design, a built-in microphone, adjustable triggers that allow developers to tune it to certain game actions better, and, last but not least, haptic technology that makes it function fantastically in most games.
But don't forget that the games made by Sony's in-house studios will profit the most from it. This is because they're made just for this controller. The haptic technology in the PlayStation controller replaces the worn-out classic vibrations recognized, for example, from Sixaxis or previous DualShock models, which will be most noticeable in these games.
For the finest possible reproduction of individual motions in gameplay, a given technology uses the sensation of touch. This tells us if our avatar is moving on a hard surface or in a swampy environment.
Although Sony DualSense comes standard with the console, and getting it would be a miracle, nothing prevents you from purchasing it separately. The question is whether it's worth it when dozens of cheaper alternatives are available that employ comparable technology and offer more features.
If you are playing games made by Sony's in-house studios, you will profit the most from the Sony DualSense. But if you are playing other games not made by Sony's in-house studios, we suggest you try other controllers available in the market.