Spotting the right window for your house can be a challenging task. This is because many window installation companies are in the market these days. In this article, we will walk you over a quick comparison of Alpine windows and Milgard so that you can decide which one is best for you.
Alpine Windows vs Milgard: Alpine Windows Overview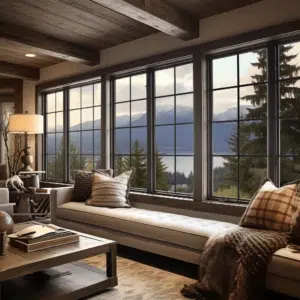 Alpine is a Washington company based in Fife. Its primary goal is to provide windows and doors for newly constructed homes and aftermarket replacements and upgrades. It offers custom-made home openings in various shapes, sizes, and styles.
The company is a subsidiary of related materials, the parent company of several other North American construction material producers. "The quality you expect, the value you deserve," says Alpine Windows.
All of the products feature Solar Therm, the company's patented insulating glass technology. The innovative technology improves thermal efficiency while lowering energy expenses. They're also built to survive fluctuating weather, which is particularly important in Washington, where it's usually raining.
Below are the company's products:
Montrose Vinyl Replacement Windows
Alpine Windows is known for its high-quality vinyl windows, including the Montrose Windows. It comes in five different types, including dual sliding and awing. You can also pick from five colors, five different types of obscure glass, and nine different grid possibilities.
New Construction Series Windows
It's impossible to discuss Alpine Windows without mentioning its new construction line. It comes in two models: 70 series and 80 series, which are nearly identical. These models only differ in the number of window styles and color possibilities, with the 80 series having more.
Westbridge 6500 Series Sliding Patio Doors
This series has three types of sliding doors: classic, French, and contemporary. It features six color variations and different handle options for each kind. The Westbridge 6500 series is also available in nine grid options.
170 Sliding Patio Doors
This product is more modern than Westbridge 6500 Series. It comes in seven colors and has the same grid and opaque glass options as the other items.
Advantages of Alpine Windows Installation
Alpine Windows ensures that its products are cost-effective, weather-resistant, and energy-efficient. They have various patents for every nook and cranny:
Horizon. Improves durability and rigidity by creating a narrow-line frame and sash.
Solar Therm. The insulated glass keeps heat in during the summer months while preventing heat from escaping during the winter months.
Triton. Improves the locking mechanism
SmartCore. It has a non-conductive core that improves thermal performance.
Cascade. The true sloped sill of Alpine Window that creates a flawless and effective drainage system.
OcuSeal. It makes installation simple while blocking any light between the window frame and the screen.
Barrier. Protects the items from the elements while also increasing their stability.
InterSync. It makes the sash sit properly on the sill, reducing bowing when there is a strong wind.
Alpine warranties and coverage
Alpine offers a limited lifetime warranty. The warranty covers all vinyl windows and sliding patio doors. The fiberglass, moving parts, frames, screen, and insulating glass are all included.
Some basic warranty information is as follows:
The exterior color is covered by a 10-year warranty (three years for commercial application).
There are no costs for replacements or repairs.
The warranty can be transferred, but only within the first ten years of installation.
Alpine windows vs.Milgard: Milgard Overview
Milgard is a door and window company situated in Tacoma, Washington. Vinyl, wood, aluminum, and fiberglass windows for new construction, replacement, and remodeling are among the company's most well-known products.
Milgard has been delivering gorgeous frames, designs, and materials to brighten any house for over 50 years, making them window experts. It windows make a significant impression in any home.
Milgard has six product lines:
Trinsic
This line offers vinyl windows with slim frames and a large viewable glass surface. Here, the available styles are awning, double horizontal slider, casement, horizontal slider, radius, picture, and single hung.
Tuscany
This line features premium vinyl frames with conventional style and premium functionality. The available styles are awning, casement, picture, bay and bow, double-hung, double horizontal slider, horizontal slider, radius, and single-hung.
Quiet line
Noise-reducing vinyl windows that are ideal for busy areas. The available styles include casement awning, double-hung, horizontal slider, and picture.
Ultra
This line offers durable fiberglass frames with a modern appearance. The available styles include awning, casement, bay and bow, picture, horizontal slider, radius, and single-hung.
Style Line
This line offers vinyl frames designed with slender style and clean lines. The available styles include casement, awning, picture, horizontal slider, radius, and single-hung.
Aluminum
A line designed for new construction and replacement window projects that require strength and longevity. The available styles include bay, awning, casement, picture, horizontal slider, radius, and single-hung.
Advantages of Milgard Window Installation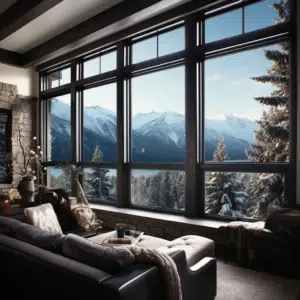 The following are some of the advantages of installing Milgard windows:
Outstanding quality
Milgard windows are frequently listed among the top three brands in overall quality and performance.
Variety
Milgard windows come in various styles and functionalities and different window frame materials.
Cost
Milgard prices are considered mid-range and are relatively competitive compared to other top brands and even standard window suppliers.
Innovation.
Milgard windows have unique product features that are not available from other manufacturers.
Milgard Warranties and Coverage
It offers a lifetime warranty. The warranty guarantees that any defect in your windows caused by material or workmanship will be repaired or replaced.
It will also cover part and labor costs. The warranty covers the original purchaser for the window's life and a subsequent owner for ten years from the warranty's start date.
Alpine Windows vs. Milgard: Which One is Better?
Alpine and Milgard are renowned window manufacturers in the United States with solid market reputations and high-quality products.
Milgard is the only option if you want fiberglass or aluminum windows, and they have various high-quality options. If you are looking for vinyl windows, you can try looking at vinyl windows offered by both brands.